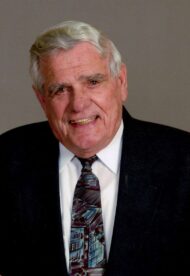 Kenneth W. Martin, 85
January 05, 2022
Kenneth W. Martin, 85, of Lititz, PA passed away on Wednesday, January 5, 2022 at Hospice and Community Care. Born in Lancaster, PA he was the son of the late Homer E. and Margaret (Wagner) Martin. He was the loving husband to Gladys (Sangrey) Martin for over 62 years.
Ken graduated from Warwick Township High School. He was a proud veteran of the U.S. Army where he was a paratrooper with the 101st Airborne Division from 1954 to 1958, serving 27 months in Germany. He completed 47 jumps. He worked for Wengert's Dairy, formerly Graybill's Dairy, for over 45 years. He was manager when he retired in 2007.
Ken was an active member of Lititz Church of the Brethren and the Friendship Sunday School Class. Ken was very active in the community. He was a member of numerous organizations including: The Lititz Rotary Club, The Lititz Library Board, The Lititz Rec Center, The Lititz Craft Show, The Lititz Historical Foundation, Meals on Wheels. In his free time, he enjoyed golfing and attending his grandchildren's activities and sporting events. He and Gladys enjoyed taking cruises. Most of all Ken cherished spending time with his family.
Ken is survived by his wife Gladys Martin; his children: Tamara M., wife of Leonard Pelsinski of Lancaster and Keith A., husband of Joanne P. Martin of Lititz; grandchildren: Kenneth Martin (Cassie), Jon Martin (Shannon), Elise Perez Torres (Luis), Julia Solano (Esteban), all of Lancaster; great-grandchildren: Clayton David Martin, Dylan Perez Torres; brother James Martin of Manheim and sister-in-law Wanda Martin of Lititz. He was preceded in death by his brothers, Homer Martin, Jr. and Glenn Martin and sister, Lois Martin.
In lieu of flowers, memorial contributions may be made to the Lititz Public Library, 651 Kissel Hill Road, Lititz, PA 17543, or the Lititz Historical Foundation, 145 East Main Street, Lititz, PA 17543. A Memorial Service will be held at 11 AM on Tuesday, January 11, 2022 at Lititz Church of the Brethren, 300 West Orange Street, Lititz, PA 17543. Family and friends will be received from 10:30 AM until the time of service. At the request of the family, masks will be required, and CDC recommendations will be followed.
Leave a condolence on this Memorial Page
Condolences to the Family
January 10, 2022
Sorry to hear of your loss. Franklin Myers
January 10, 2022
I just received news of Kenny's passing. To say he was one in a million is an understatement. So many great memories with the Lititz Rotary Club. Lititz is certainly a better place because of him. Alas, I cannot make the service as I am in Egypt now but my thoughts and prayers are with you and the family. We are all from God and to Him we shall return. Peace be upon him.
January 10, 2022
Soo sorry to hear about Kenny's passing, Thoughts and.prayes ate with your entire family
January 09, 2022
Dear Martin Family,
We are very sorry for your loss.We enjoyed his company when we were at your house for many family gatherings. Our thoughts and our prayers cover you all. May his memory be eternal.
With love and sympathy,
Mark & Angie Moshos
January 09, 2022
Kenny Martin was a really good person. He was a great, husband, father, grandfather and friend. He was a fellow whose enery often times made things happen. As an avid and dedicated volunteer, the Lititz Rotary Club, the Lititz Historical Society and other organizations in which he participated were for the better.
He was full of fun and loved to laugh and discuss current events. Our families vacationed together for many years with Star /Craft pop up campers in the 70's. I will never forget those days. They were pure gold.
My deepest sympathy to the Martin family who will miss him most of all. We all rest in the knowledge that Kenny lived a full and very substantive life. Lititz truly lost one of it's best.
January 09, 2022
Dear Gladys and family …Lary and I send our sincerest condolences to you all at this time of your loss..may God wrap His loving arms around you and comfort you.
We have so many wonderful memories of knowing you and Kenny and our times at Benners for our coffee chats…and just so many more memories with you both…God bless and comfort you all
Love, Lary and Cheryl McCowan