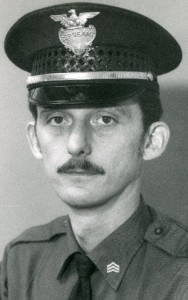 Kenneth S. Armentrout, 68
September 11, 2013
Kenneth S. Armentrout, 68, of Lancaster, PA, passed away on Wednesday, September 11, 2013. Born in Pomeroy, he was the son of the late Russell and Catherine (Giannotta) Armentrout. Ken was the loving husband of Shirley J. (Yannetti) Armentrout, with whom he celebrated 44 years of marriage.
Although Ken had many passions, his family and friends always came first. He loved to tell stories and entertain people with his humorous anecdotes. Ken was always willing to lend a helping hand and even with his busy schedule, he always made time for his children's activities, often attending in uniform. He loved his grandchildren and from the first grandchild on was known as "Grandfather."
Ken proudly served his country in Vietnam from 1965 to 1969. He was an Aviation Ordnanceman on the USS Franklin D. Roosevelt and USS John F. Kennedy. Following his military service, Ken was a Police Officer for the Lancaster City Police Department, retiring in 1990 as a Lieutenant after 20 years of service. During his career as a police officer, Ken was a bomb technician for the police department. He was the former owner and operator of K&S Photography in Lancaster. Ken was a private detective and did consulting work with Robson Lapina Forensic Engineers. He also worked for Rohrer's Hardware and Colt Plumbing.
Ken participated in many organizations; he served as President of the USNA South Central Parent's Association, was a member of the Fraternal Order of Police, coached a Little League baseball team in Lancaster, was a 3rd Degree member of the Knights of Columbus Council #867, participated in Pre CANA at St. Anthony's Catholic Church, was a member of the Social Justice and Social Welfare committee at Sacred Heart Catholic Church, was a Cub Master for Boy Scouts Pack #4, a Charter Member of the Italian Cultural Society, and served on the PTO at Wheatland Jr. High School. Ken also had a passion for motorcycles, planes, music, art, and photography.
He was a member of St. Leo the Great Catholic Church.
In addition to his wife Shirley, Ken is survived by a daughter, Angela M. Miller, wife of David, of West Lampeter Township and a son, Scott E. Armentrout, husband of Erika, of Millersville; six grandchildren, Alexis, Hailey, Jackson, Brett, Brooke, and Bridget. He was preceded in death by his brother, Edward Armentrout.
A Mass of Christian Burial will be celebrated on Saturday, September 21, 2013 at 10:30AM at St. Leo the Great Catholic Church, 2427 Marietta Ave. Lancaster, PA 17601 with Rev. Peter I. Hahn as Celebrant. A viewing will take place at the church from 9-10:30AM prior to the Mass. Final farewell and commendation will be in St. Joseph's New Catholic Cemetery Mausoleum with Military and Police Honors. Memorial contributions in Ken's memory may be made to Hospice & Community Care 685 Good Drive, PO Box 4125 Lancaster, PA 17604 or to The Salvation Army 131 S. Queen St. Lancaster, PA 17603.
Leave a condolence on this Memorial Page
Condolences to the Family
September 30, 2013
We are very sorry about your Dad. We know how difficult it is to lose a loved one. We know how much your family will miss him
Our thoughts are with you at this difficult time.
Take care.
Your friends at West Lancaster Animal Hospital
September 21, 2013
There are no words that can express the sadness I feel. You and your family always treated me like your a part of your family. For that alone, I will be eternally greatful. We love you and will miss you tremendously. Thank you for letting me share all those wonderful times with you guys. You are in my heart and will always be in my mind. You will truly be missed. Love, Stevie, Denise and the boys
September 20, 2013
Shirley, Angela,Scott and family, There aren't enough words to comfort you at this time. We are thinking about you and pray you find some solace knowing he is free of pain. So sorry for your loss. Loretta and Ozzie Moore
September 17, 2013
Farewell my friend. Your strength was an inspiration to me, and your smile filled the room. My condolences to your beautiful bride, wonderful children and their children. I will miss you greatly.
Dan Forman
September 17, 2013
Shirley,
so sorry to hear of Ken's passing – Our prayers and thoughts are with you
Colleen and Mike Hozella
September 16, 2013
Dear Shirley,
I am so sorry for your loss.
Susan Gray

September 16, 2013
My condolences to the Armentrout Family.
I was a classmate of Ken's, at S. Horace Scott Senior High School. Ken was one of a kind, and a "Great American" serving his country and community.
His life and endeavors should be celebrated, remembering the good times.
His presence inclass at S. Horace Scotte Senior High, seems like yesterday.
Best Regards, Jonathan B. Mullin, Manassas, VA.

September 16, 2013
Dearest Shirley and Family,
We are so sorry to hear of Kenny's death. The obituary was right…he always loved helping others, all the time, never an inconvenience to him. He served his family, country and community in exemplary fashion. I know he will be missed. We will miss him too. I am so sorry neither Reitzel nor myself are well enough to attend the services, but we will be praying for all of you as you go through this time of loss and grief. We will send a memorial to the Salvation Army as stated.
Blessings,
Reitzel & Doris
September 16, 2013
I am so sorry to hear of Ken's passing. My deepest sympathy to Shirley, Angela and Scott and families.
I have always had much respect for Ken and knew him to be a kind, pleasant and helpful person. God Bless.
Linda Thompson
September 16, 2013
So sorry to hear of Ken's passing. I have many fond memories of him growing up in Pomeroy and from our years at Scott High School. My prayers are with the family. Sincerely, Peggy Copeland Collado
September 15, 2013
Ken was good neighbor. We loved our talks with him about the neighborhood and how to solve the problems of the township. He will be sorely missed. Our deepest sympathy to Shirlley and the kids. George and Amy Parr
September 15, 2013
I knew and worked with Ken from the time he joined the Lancaster City Police Dept. He was a dedicated and faithful Police Officer and worked in all aspects of Police work. He was well trained in bomb disposal both in the Military and also while on the Police Dept. He could always be depended upon to take charge of a suspected live bomb situation, without hesitation. Ken received many accolades and accomplished many and varied pursuits in his life but the one that I recognize and respect most is the genuine love and affection displayed by his wife and children. The best and highest honor any Husband and Father can receive in his life is the undying love, devotion and gratitude of his family. Ken can meet his Maker with the assurance that he was a good and faithful servant. Luther L. Henry
September 15, 2013
I miss you so much Dad! Look over Mom, Scott and Me. Love You More Mom!
Angela
aka Ali Baba
Visitation

Saturday, September 21, 2013
9:00 AM - 10:30 AM
St. Leo the Great Catholic Church
2427 Marietta Ave.
Lancaster, PA 17603

Map and Directions

Services

Saturday, September 21, 2013
10:30 AM - 11:30 AM
St. Leo the Great Catholic Church
2427 Marietta Ave.
Lancaster, PA 17603

Map and Directions