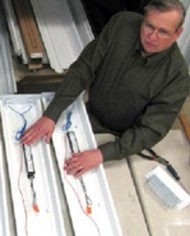 Kenneth G. Gabron, 67
April 01, 2015
Kenneth G. Gabron, 67, of Lancaster, PA, passed away on April 1, 2015, at Mercy Medical Center, Baltimore, MD. Kenneth was the loving husband of 15 years to Dorothy (Rosenberry) Gabron.
From early in his adult life, Kenneth had been involved in the lighting industry. He began his career as a teller at Fulton Bank. Through much hard work he was able to start a business, working out of his truck. From there, his business grew to the sale of lamps and design & manufacturing of lighting fixtures. Kenneth developed several businesses: BronTECH, 1st Recycling Service of Pennsylvania, Gabron Lighting Services, and NDS Delivery Service. He lived for his business and was passionate about what he did.
During his career, Kenneth received a Small Business Owner Award from the Lancaster Chamber of Commerce. In the operation of his businesses, he utilized employees provided by Goodwill. He was very outgoing, very kind, and would give anyone the shirt off of his back.
In addition to his wife, Kenneth is survived by his mother, Gloria Sweigart, wife of Richard Sweigart, Sr.; stepdaughter, Cynthia Louise Frey; stepson, Joe Crissman (Sherri); stepdaughter, Kendra Crissman Rice (Matthew); grandsons, Brian Frey, Benjamin Rice, and Devin Rice; granddaughters, Amanda Miller (Mark) and Kimberly Crissman; and great-grandchildren, Zion, Selah, and Rhema Miller; sister, Brenda Burkholder (Jerry); a brother, Richard Sweigart, Jr.; and nephews, Brandon and Brett Burkholder.
A graveside service will take place at 2 PM on Saturday, April 11, 2015 at Intercourse United Methodist Church Cemetery, 39 Queen Road, Intercourse, PA 17534.
In lieu of flowers, contributions can be made in Kenneth's memory to Hospice & Community Care, 685 Good Drive, Box 4125, Lancaster, PA 17604.
Leave a condolence on this Memorial Page
Condolences to the Family
April 06, 2015
Dear Gabron family,
I have served as Ken's business insurance agent for the past 6 or 7 years. When I first met Ken, he let me know exactly what he expected from me and if I delivered, I would have a client for life. If I didn't deliver, then he would find someone else. I must admit, I was a little intimidated at first but once I got to know Ken a little more our relationship became pretty easy. I enjoyed visiting Ken at his shop and hearing about he most recent plans for the business. I also looked forward to Ken's visits to my office. He would often stop in just to pay a bill but always made time to join me in my office and talk for a while. He complimented me on the pictures I have of my family and routinley asked how they were doing. I remember when he gave me an abreviated version of his life's story, how he started in the lighting industry, etc. His success was impressive. I will miss these interactions with Ken.
The last two times he stopped in the office I was on the road, so I missed him. I regret not getting to see and talk to him one last time.
My condolences to all of you. I am honoreed that I got to share a small piece of Ken's life.

Sincerely,

Luke A. Mosch
Hinkle Insurance Agency, Inc.

April 05, 2015
Dear Gabron family,
I worked with Ken through his association with Penn State Electric . He was always a gentleman and had a great laugh. I will also remember him as sweet and kind and an excellent businessman.
I am very happy to know that he found love and you made a family. Healing wishes to all of you.
Lisa (Strother) Schober
Services

Saturday, April 11, 2015
2:00 PM
Intercourse United Methodist Church Cemetery
39 Queen Road
Intercourse, PA 17534

Map and Directions