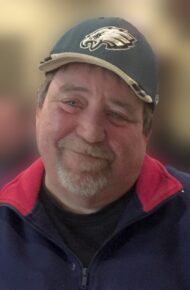 Kenneth E. Byers, 63
June 06, 1959 - September 13, 2022
Kenneth E. "Wally" Byers, 63, of Landisville, passed away peacefully at home, in the company of family and friends, on Tuesday, September 13, 2022. Born in Lancaster, he was the son of Fay (Meshey) Byers and the late Earl Kenneth Byers. For the last 15 years, Kenny was the loving fiancée of Marla Stuchel.
Kenny graduated from Hempfield High School with the Class of 1977. For the past 20 years, he owned and operated his own delivery service business. He had a very outgoing personality, was popular with friends and neighbors, and was often referred to as the unofficial Mayor of Landisville. Kenny enjoyed accompanying Marla on business trips and travelling to places such as London, Paris, the South of France, and Cancun. He loved all sports, especially golfing and football, and was a huge, dedicated Philadelphia Eagles fan.
Along with his mother and his fiancée, Kenny is survived by his daughter, Jasmin Byers, of Harrisburg; his brother, David Byers, of Landisville, and his sister, Deborah Hoffman and her husband Ed of Lancaster. Also surviving are three nephews, Dexter Hoffman, Bradley Hoffman and David Byers, Jr; and several nieces and nephews of his extended family with Marla. He was preceded in death by his father and his maternal grandparents, Paul and Florence Meshey.
A Memorial Service will take place at 2:00 PM on Saturday, September 24, 2022, at the Charles F. Snyder Jr. Funeral Home & Crematory, 3110 Lititz Pike, Lititz, PA, 17543, where the family will receive guests beginning at 1:00 PM. Interment will follow at Millersville Mennonite Cemetery. In lieu of flowers, donations in Kenny's memory may be offered to Hospice & Community Care, P O Box 4125, Lancaster, PA 17604-4125.
Watch the tribute video
Leave a condolence on this Memorial Page
Condolences to the Family
September 25, 2022
Ken was one of my best friends that I've ever hadwe did everything together from riding motorcycles to fishing hunting and even going out in the ocean i n my dad's boathe was there for me when I lost my leg on a motorcycle to help me and make my first stepbig Wally was there for a lot of people all his lifeand was a great man he will be missed on this Earth but is in

a better placeI'll miss you brother and I love youyour brother Mike bu c h
September 19, 2022
It wasn't long ago that we ran into each other at my work. We talked about playing baseball as kids in the HYA leagues and spent time getting caught up on everything else. It had been a long time since we saw each other but seemed as though it was just yesterday. My sympathies to Ken's family. I have nothing but fond memories of our youth together.
Tom Longenecker
September 18, 2022
Deb and family
I am so very sorry for the loss of Ken. My heart goes out to all of you! Just know he is at peace and pain free. Fly high Ken!
All my love
Lynnie
September 18, 2022
My deepest condolences, to the entire family, for the passing of Ken, "Big Wally". He was a sweet man who will be fondly remembered by the many lives he touched, throughout his life. Lifting you all in prayer for God to comfort you and bring you peace. Much love and sympathy, Deb (Warmkessel) Black.
September 18, 2022
Going to miss you… Good times at your house playing cards with Terry Sabol… Rest in peace…
Visitation

Saturday, September 24, 2022
1:00 PM - 2:00 PM
Charles F. Snyder Funeral Home & Crematory
3110 Lititz Pike
Lititz, PA 17543

Map and Directions

Services

Saturday, September 24, 2022
2:00 PM
Charles F. Snyder Funeral Home & Crematory
3110 Lititz Pike
Lititz, PA 17543

Map and Directions