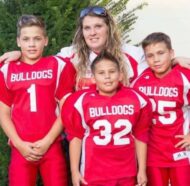 Kelly Marie Enck, 41
December 16, 2021
Kelly Marie Enck, 41, of Lancaster, passed away on Thursday, December 16, 2021.
Born on July 23, 1980 in Lancaster, Kelly was the daughter of Brenda (Enck) Balogh and the late Charles Balogh. She was also preceded in death by her brother, Tyler Balogh.
Kelly was known for her great sense of humor. She loved watching football, particularly if The Giants were playing. She loved listening to music, especially hip-hop. Most of all, she loved her family, and adored her sons.
In addition to her mother, Kelly is survived by her sons, Tayton Espinosa, Mikai Espinosa, and Aizaer Portalatin; her step-daughter, Kierstin Portalatin-Jones; and many cousins, nieces, and nephews.
Services are scheduled for a later date.
Leave a condolence on this Memorial Page
Condolences to the Family
December 30, 2021
Kelly I'm missing you so very much always made me smile. I'm so sorry to see you go … But also know you wanted to be with Tyler. I'll try to look after the boys until weeet again … Heavens such a beautiful place
Jeane
December 29, 2021
So shocked to hear this! My condolences to the family!! 😔🙏
Frankie Collazo
December 28, 2021
Much love Kelly sad to see good people go so young! You were always a lovley person to be around I enjoyed many laughs over the years, you will genuinely be missed by many. There will hopefully be alot of people that will learn from you and your brother how fast things can spiral out of control when you get caught up with a certain lifestyle. I always respected you and your family and somtimes you never know the demons people are hiding. Brenda sorry for your loss again and I hope all is well with you if not please get help there are plenty of people that are here for you. And that message goes out to all of you, yes you KNOW who you are please learn from other peoples mistakes dont fall into the pit its just not worth it! Life is to short to to throw it away, chasing that high. Love ya KEL rest easy see you again someday tell Ty we said Hi. Mike Geib
December 24, 2021
Forever a bulldog legend ❤️ Rest easy
December 24, 2021
RIP Kelly! I'll never forget being the loudest on the sidelines with you & my momma! I know you'll be up there cheering your boys on for the rest of their lives! Rest easy! – Alissa
December 24, 2021
I remember her being so sweet and loving as a child. She loved giving hugs! You were a friend of my Jimmy, now you will be together in Heaven. RIP sweet girl!
December 23, 2021
I am so sorry for your loss. Kelly always made me smile. I am gonna miss her.
December 23, 2021
Was ambitious and kind hearted.. Always helpful to others and would give you the shirt off her back… I will always miss and Love her