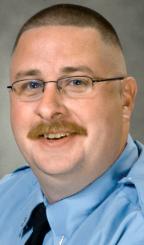 Keith G. Rankin, 38
Keith G. Rankin, 38, of Lancaster, passed away unexpectedly on Sunday, September 25, 2011 while on performance of his duties. He was born in Lancaster to Nancy L. (Meisky) Rankin Crawford and the late J. Martin Rankin.
Keith is survived by his wife, Abby L. (Zerfoss) Rankin, of Lancaster. They were married on May 6, 2006.
Keith was a graduate of J.P. McCaskey High School class of 1992.
Keith was employed as a PA State Constable.
He was a volunteer firefighter for 23 years. Keith began his love of firefighting at the age of 14. He was a life member of the Lancaster Township Fire Department. He was a Lieutenant and former Assistant Chief with the Lancaster Township North Station. He was awarded "Firefighter of the Year" after rescuing a civilian from a burning building.
Keith was a member of the First Reformed UCC Church.
His hobbies included routing for the New York Yankees and Notre Dame Football, photography, playing with electronic gadgets, cooking, traveling to Jamaica and Portugal, and playing with his two dogs, Otis and Bear.
Surviving in addition to his wife, are two step-daughters, Sarah E. Zerfoss, and Meaghan L. Austin, both of Lancaster, brother, The Rev. Christopher M. Rankin, of Cleona, two sisters, Nicolle "Nikki" L. Crawford and Heather L. Crawford, both of Lancaster, step -sister, Angela, wife of Jason Stoudt, of Manheim, step-mother, Tina Balmer Rankin, of Manheim, mother-in-law, Virginia "Ginger" Dorr, of Zephyrhills, FL, two aunts, Jackie A. Meisky, of Lancaster, Jill L., wife of Dennis Lucas, of Columbia, and an Uncle John Meisky, husband of Connie, of Lancaster. He was preceded in death by both his maternal and paternal grandparents.
Relatives and friends are respectfully invited to attend a Funeral Service on Thursday, September 28, 2011 at 2:30pm at the Charles F. Snyder Jr. Funeral Home & Crematory 3110 Lititz Pike with the Rev. Dave Bushnell officiating. Viewings will be held on Wednesday from 5-9pm and again on Thursday from 1-2:30pm at Snyder's at 3110 Lititz Pike. Interment will be in St. Joseph New Catholic Cemetery. In lieu of flowers, memorial contributions may be made in Keith's memory to Lancaster Township Fire Department, PO Box 210, Bausman, PA 17504. To send the family an online condolence, please visit SnyderFuneralHome.com. Charles F. Snyder Jr. Funeral Home & Crematory 717-560-5100
Leave a condolence on this Memorial Page
Abby and girls,
I am so sorry about the passing of Keith. He was a big teddy bear. I remember as a happy baby boy and growing up into the fine man he has become.
Love and Prayers ,
Eileen Rineer Miller
To the Rankin Family,
My husband and myself knew Keith from the North station my husband ran with that station for a number of years,we were saddened to hear of Keith's sudden passing.
May you take comfort in knowing an angel is watching over you, may your memories give you strength, and the love of the ones around you help you through the days ahead. Keith will be missed
Steve and Sheila Bair
Our heart goes out to the Rankin family and his extended Lancaster Twp fire family on the passing of Keith. We had the pleasure of being friends with Keith for over 10 years. He was a huge part of the success of IPN. He will be missed.
God Bless,
All of us at 911 iMedia (IPN)
To The Rankin Family,
I'm so sorry about the terrible loss of such a wonderful person, Keith. I remember him also as a very happy little boy and it saddens me deeply that the good die so very young. He accomplished so much and brought a lot of happiness to those whose lives he touched but especially to his family and many friends.
You're all in my thoughts and prayers.
With heavy heart,
Stephanie J. Flory-Schlinkman
Dear Abby,
I wish I had some real words of comfort to offer you. What I know is that you were his heart, his rock; and while others before left Keith conflicted and in pain; you filled his heart with your love. He was happier than I can ever remember seeing him in the 23 years that I've known him. You turned on the light that shone so brightly that all of us knew he was finally at ease and filled with joy. My prayers are with you, Abby, and I hope is that your inner strength sees you through these very difficult days. Thank you for loving our friend, and may all of our collective arms surround you with our love and gratitude now when you need it most. My most sincere sympathy to you in the loss of your husband.
Audrey Kenny
Abby,sarah,meaghan..
Please accept my sincere condolences in the passing of keith. I got to work with keith for a few years.. he was a great guy and committed to whatever task he had ahead,whether it be fire or work as a constible.
Wayne Morrison
Abby,

You and the girls are in our thoughts and prayers. Our deepest sympathy for you and Keith's family in this great time of loss. Time may heal all but never forget the times that were shared together. Our Love.

Kevin, TJ, Paige and Stephanie Scott
My sincerest condolences to the family of Keith. I left Lancaster, PA in 1990 after dropping out of school and moved to Ephrata. In 1992 I joined the US Air Force and haven't been home but once in 1993. After all these years, Keith was one of the first Reynolds/McCaskey people to add me. We even typed about how we needed to hook up when I came home to see friends that I haven't seen in years.
Sorry I missed ya brother! Between your fire brethren and your military friends, we now have your watch. Thank You for your service and the sacrifices you and your family made for your service.
Gone, but never forgotten.
Shawn Darrenkamp
so sorry for your loss keith is with god now and at peace may god bless you in the days to come
sincerly,
the forry family
To Rev. Chris and the entire Rankin Family,
I was so sorry to read of this news. Chris, you and the family have been in thoughts and prayers and I know that God is watching over all. God must have a special job for Keith to have taken him so young. God Bless and watch over you all.
Bev Moran
I did not know Keith but I felt honored to watch the funeral parade today. It was an impressive celebration of his life. Keith put Service above self in every way. My Sympathy to his family.
Paul B. Murray
dear abby
i am sorry keith was a alsome man i will miss him doing costable work at pequea valley high school tonight at the scooer game the american flag was at half past in memory of keith on 9-29-11 we will miss him praying for you guys tommow night on 9-30 we will do some thing else to honor keith with 2nd moment of slience keep in touch the prayer warrior if you need any thing dont haste to call 951-0527 we will miss him was a great day now with the loard amen mr kevin g high and pequea valley staff
Dear Chris,
Moyra and I extend our deepest sympathy to you and your family in the untimely passing of your brother. I met keith recently at a 9/11 memorial service at Hamilton Park UCC. I sang a solo and outside, after the service, he approached me and said how much he liked my singing and introduced himself to me as your brother. (I could see the family resemblance.) He was a very pleasant and dedicated person and I'm sure will be sorely missed.
Our thoughts and prayers are with you and your family.
Gary and Moyra Glass
How lucky I was to have met Keith as my student at Reynolds Junior High in Lancaster! Both he & his brother, Chris, were polished young men and a joy to have experienced in my life. How sad I was to learn of his passing while here where I type-now while volunteering at the "Chicago-area-based", Cancer Treatment Center of America. I will arrive in Lancaster Co. late this evening surely still-saddened & with "mission accomplished" (so much like Keith).
How lucky I was during my own medical problem requiring an ambulance-assist to have Keith be a member of the responding-team to care for me. Yes, Keith & family thereof, as I laid there on the stretcher Keith looked down in his sincere & caring fashion asking, "Mr. Sheely is that you?". I felt safer being in my former student's hands and abilities.
Yes Keith…that was me and I'm so glad to have known you young man. "Angels watch over you" 'til we meet again.
God bless.
"Mr. Sheely"
I have warm memories of Keith as a 5th grader in my classroom at Wharton. He always wore a smile.
My thoughts and prayers are with all of you.
Sharon Bell
Abby,
I am so very sorry to hear of your loss! You, your girls, and family are in our prayers and thoughts. If you need anything please do not hesitate to let us know!
Kristy & Jarrad Berkihiser
The Rankins and their family,
It was with much sadness that I read about Keith's passing in the paper this week. The world has truly lost a wonderful human being.
You are in our thoughts and prayers,
Butch and Cheryl Staub (from McCaskey)
To all of Keith's Family members,
Right now you must all be so confused and want to question everything right now. You all can be so proud of Keith, what he did and what he stands for. He was a pillar in the community and died a HERO!!! His legacy will continue and never be forgotten. You all are forever in my prayers and thoughts.
Many Blessings,
Amber Remash
My sympathies to you at this time. Keith was a fine young man and was respected in his calling to serve the community in fire fighting. I will have your family in my prayers.
Susan Hafner
Abby,Sarah, and Meighan,
our deepest condolences to all of you in the loss of Keith..you are in our thoughts and prayers at this most difficult time.
Larry and Deb Lahr, Megan Lahr, and Chris and Jamie Lahr
Abby and the girls.. I am at a loss for words. Nothing I can say to you will console the pain and sorrow you must be feeling with the loss of our dear Keith. May God grant you the peace and strength to cope with your loss. He was loved by many and will be seriously missed. He already is. 🙁 Sending nothing but love and hugs your way. God Bless you today and always.
Vanessa
The Fredericksburg Ministerium and its member congregations send our deepest sympathies to the Rev. Rankin and his family. Please be aware that you are in the thoughts and prayers of your friends and colleagues.
The Fredericksburg Misiterium
Dear Rankin Family,
God's presence and comfort be with you at this time of shock and bewilderment at Keith's passing. Please know that there are many people in your area and beyond who are holding you in prayer.
Pastor Leigh Pick,
Northern Association, Aaronsburg Charge UCC
Dear Ones:
We want you to know that you are all in our thoughts and prayers. We were so sad to hear about Keith.
We know your hearts are hurting. Please be kind to yourselves and be in this the way you need to be.
His love and his selfless giving to all of us will not be forgotten. We are all so very grateful to him for protecting us the way he did.
Sincerely,
Susan Minasian
God bless you in this time of sadness. Keith was one of a kind. He will be greatly missed in this community. You will all be in my prayers.
Sincerely
Kate Dunkle
Abby,
We are so very sorry to hear about Keith. You and your girls will be in our hearts and prayers.
Much love,
Nancy, Scott, Benjamin, and Evan Dillow
Dear Abby,
I'm so sorry to hear of your loss. My thoughts and prayers are with you and your family.
Sheila Barrow
I've gotten to know Keith pretty well over the past few years and i am truly shocked with this news.as one keiths barbers i can tell you that his laughter will be missed in this barber shop.his family and closest friends are in our thoughts and prayers.
Rick,and the entire Manor Barber Shop staff
Abby,
Your father and I were both so saddened to hear of the sudden and tragic loss of your husband. Please know that our thoughts and prayers are with you and your girls. God bless all of you.
Mary Lou Zerfoss
On behalf of Keith's family, I thank all of you for your wonderful memories of my brother Keith! We were aware that he knew a lot of people and that he touched so many lives, but it is comforting to hear from all of you about how he touched your lives. Keith, we will all miss you!
Love you brother!
Chris