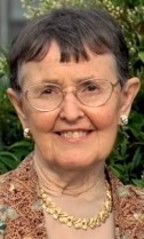 Kathryn D. "Kim" Thompson, 85
Kathryn D. "Kim" Thompson, 85, of Lancaster passed away on Saturday, March 23, 2013, in The Glen at Willow Valley. Born in Mahanoy City, PA she was the daughter of the late John and Mary (Vargo) Geci. She was married to John H. Thompson for over 63 years.
Kim was of the Catholic faith and attended St. Philip Catholic Church. Her greatest joy later in life was reading to and playing with her grandchildren and great-grandchildren. Kim's smile lit up a room.
In addition to her loving husband, she is survived by a daughter, Judith M. wife of Frank Tidikis of Stuart, FL. 2 sons; Mark Thompson (Mary), of Millersville, Matthew Thompson, husband of Laurie, of Elizabethtown, PA. Also surviving are 5 grandchildren, Dana, John, Adam, Joshua, Zachary and 4 great-grandchildren and two sisters, Margaret Gabuzda and Cecilia Leonidas. She was preceded in death by six siblings.
A Funeral Liturgy will be at 11AM on Thursday, March 28, 2013 from St. Philip the Apostle Catholic Church, 2111 Millersville Pike, Lancaster PA 17603. Friends and family will be received from 10:30-11AM at church on Thursday. A luncheon will follow the service at The Manor at Willow Valley. Interment will be private in St. Joseph New Catholic Cemetery. In lieu of flowers, contributions can be made to Hospice & Community Care, PO Box 4125, Lancaster, PA 17604-4125. To send the family online condolences, please visit SnyderFuneralHome.com. Charles F. Snyder Funeral Home & Crematory 717-872-5041
Leave a condolence on this Memorial Page
Mr. Thompson, Judy, Mark and Matt,
Please know that Jim and Tina and Mike and I are thinking of you. We have so many wonderful, happy memories of the years that we spent together as neighbors and friends. We truly cherish every one of them. Perhaps right now our loved ones in Heaven are chatting and remembering all of those happy times!
My warmest condolences,
Barbara Work
Mr Thompson, Judy, Matt and Mark, I am so sorry to hear about Mrs Thompson. You have my deepest sympathies and prayers. She was a great person and I have many fond memories of her. All my love, Stephanie(Gegg) Bradshaw
As a fellow resident of Willow Valley Manor, it always blessed me to see Kim and Jack walking, hand in hand, to and from the dining room. Jack always treated Kim with tenderness and Kim was always smiling her beautiful smile.
When the time came for Kim to move to healthcare at The Glen, Jack would spend a large part of his day with her. I was never quite sure how much she understood when I spoke to her; her face would make some responses but she didn't speak. The one constant was her beautiful smile.
I'm sorry that I didn't know her when she was younger. I'm sure she was a lovely and delightful person. You don't get a smile like that if you're not.
My condolences to Jack and the family. May God bless you all with wonderful memories of Kim and give you peace. My prayer is that she is now safe and free in the arms of Jesus and enjoying the beauty of Heaven; healthy and happy again with an even more beautiful smile. May the LORD be with you all and comfort you at this time.
In Jesus precious love,
Carol Rappaport (c-310)