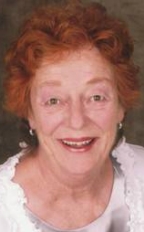 Katheryn Yerger, 78
Katheryn Yerger, 78, passed away at the Mennonite Home in Lancaster on October 4, 2010, at age 78. Born in Newark, NJ and raised in Scarsdale, NY, she lived most of her life in Lancaster County. She graduated from Linden Hall in Lititz where she built lifetime friendships and was a supporting alumni member throughout her life.
Kathy retired from the cartographic offices of R. R. Donnelley where she actively lead the Donnelley Club in its early years; arranging numerous tours to introduce others to her favorite city, New York. An accomplished bridge player, Kathy enjoyed the game throughout her life as well as being an avid gardener and golfer. She also loved the beach and was well traveled abroad. During the holidays she enjoyed making decorations, crafts, and baking, especially at Christmas. In an era when women weren't taught to be independent she lived her life on her own terms in her own way.
She is survived by her children, Mark and Leslie, as well as a brother Elliott residing in El Paso, Texas, a granddaughter Aimee, and great-grandson Donovan.
A Memorial Service is being held at Grandview United Methodist Church, 888 Pleasure Rd., Lancaster, PA, on Friday October 22 at 11 AM. The family will receive friends at the church from 10:30 to 11 AM. Donations can be made to Hospice of Lancaster County, PO Box 4125, Lancaster PA 17604-4125. To send online condolences please visit SnyderFuneralHome.com. Charles F. Snyder Jr. Funeral Home & Crematory, Lititz, PA 717-560-5100
Leave a condolence on this Memorial Page
Condolences to the Family
I knew Kathy from when I worked at Donnelley Cartographic Services, beginning in 1987. I particularly remember how much she loved decorating the Christmas tree we had every year in the lobby. I always enjoyed talking to her because she had such a dry sarcastic wit and she was never hesitant to say exactly what she thought and in no uncertain terms. She was always professional on the phone, but often what she said just before she answered a ringing office phone and just afterwards was sarcastic and very funny. What a wonderful character she was!
–Laura Hartwig
I was sorry to hear about your loss. I live in Florida now so will be unable to attend the funeral. My best wishes to all of you.
Ann Schein
I have worked with Kathy for all the years she was employed at R.R.Donnelly Cartographic Services. A very professional secretary and co-worker, with a strong personal mind and good display of humor. She was very proud of her New York background. She introduced my wife Heidi and myself to the life of New York City on some very memorable company bus trips. We called her the lady with the Golden Hat.
Together we saw our small Cartographic unit grow into one of America's well recognized map making facilities, she was a great part of that endeavor.
Herwig and Heidi Schutzler
Leslie,
I was very sorry to hear about the loss of your mother. My thoughts and prayers are with you and your family at this difficult time. I truly have missed your mom and her sense of humor, as well as her witty comments.
— Jean Fratti
During a candle light ceremony I attended to honor my mother's passing this year I was saddened to see Kathy's picture among people who had passed in 2010. I worked with Kathy many years ago at Donnelley Cartographics in Lancaster. I remember her as being a vibrant and intelligent woman. I enjoyed interacting with her immensely. She no doubt has and will be missed. My thoughts and prayers are with you at this difficult time.
Craig Robinson