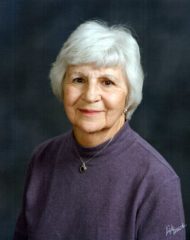 Kate L. Adams, 86
May 11, 2020
Kate L. Adams, 86, of Lititz, passed away on May 11, 2020 at Luther Acres. Born in Lancaster, she was the daughter of the late Arthur R. and Hattie E. (Eshleman) Long.
Kate was no ordinary woman of her time; she was fiercely independent and a go-getter. She embodied a modern-day woman, long before it was modern. She woke up each day with a plan and wouldn't stop moving until it was complete. She always worked hard, even after retirement – volunteering at the local elementary school, working in the garden at the Amos Herr House, gardening at Landis Valley Museum or spending warm afternoons in her own garden in her dream house on Hillcrest Drive. An avid gardener, Kate's garden beds were always lush and abundant, mostly of Hostas. Her grandkids loved her baked macaroni and cheese and her shoofly pie – she was a fantastic baker. Always an early riser, she loved her coffee black in the morning and a cold Keystone Light in the evening. She was kind, quick-witted, and always willing to lend a hand. Her family will remember her as the loving matriarch who was somehow tough and warm at the same time.
She will be missed greatly by her children; Daniel Burns of Mountville, Cathy Mangini, wife of Louis of Manheim, and Mary Susan Westman, wife of Cliff of Maryland; grandchildren, Cassie Westman, Max Westman, husband of Colby, Patrick Westman, Tony Mangini and Joe Mangini; a great-grandchild on the way; step-daughters, Becky Reever and Vickie Kegel; and her sisters, Joann Glackin, Ruth McSparran, and Annabell Bushong, wife of Charles. She was preceded in passing by her parents, and her siblings, Fred A. Long, Arthur Long, Charles Long, Janet Hegener and Mary Etta Null.
A private memorial service will be held at the convenience of the family. A public memorial service will be held later this summer. In lieu of flowers, memorial contributions in Kate's name may be made to Wayside Presbyterian Church, 600 Stony Battery Road, Landisville, PA 17538 or Alzheimer's Association, 225 N. Michigan Ave., Fl. 17, Chicago, IL 60601.
Leave a condolence on this Memorial Page
Condolences to the Family
May 17, 2020
I was so sorry to hear about your mom….. she was truly a beautiful lady! I remember the chemistry between Janet, Joanne, and her, when they were together….. so much fun!
Joyce Hegener
May 17, 2020
Danny, Cathy and Mary Sue, I will always remember my Aunt Kate for her fun and funny nature. She invited me to dinner often. She helped start off my gardens here at my new house by giving me several hosta transplants. She helped start me on my love of gardening. We had several fun adventures together. I will miss her so much. Sending you all my love and prayers. Hugs from your cousin Faye.
May 17, 2020
To the family of Kate's
I have fond memories of your Mother working at Manor Mutual Ins. Company. She was a wonderful friend and co-worker.
I had visited her a few times at her house on Hillcrest. We always had a good laugh and lots to talk about.
She was just a wonderful person and fun to be with.
My prayers with the family at this hard time.
Linda Mowrer Nuss