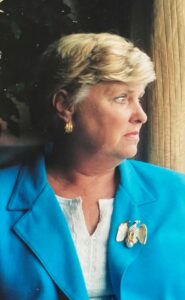 Karen Marie Davis, 75
December 16, 2021
Karen Marie Davis passed away on December 16th, 2021, in Lancaster, Pennsylvania. She was a devoted wife, mother, and friend.
A lifelong volunteer, Karen spread joy everywhere she went in her 75 years. Born in 1946 in Lancaster, Pennsylvania to Olga Marzinko and Frank Wheeler, Karen was the younger of two sisters. She attended Sacred Heart, Lancaster Catholic School, and completed her cosmetology degree at Willow Street Vocational Technical School.
Although Karen worked as a hairstylist for much of her life, her true happiness stemmed from serving her community. She was an active member of the Sertoma Club, Leadership Lancaster, American Legion, and AmVets. She volunteered her time at Habitat for Humanity and was an avid writer, favoring poetry and prose. She served on Penn Manor School District's Board and PTO for many years, holding key leadership positions, including President. This is where she met Captain Edward Davis, whom she married, and traveled across the nation together to give speeches about freedom, patriotism, heroism, and American virtues. They lived together with great happiness, and they enjoyed many adventures until his passing.
Karen was given another chance at love. Her life with Lou Krisay spanned a decade where they cared for each other until his passing earlier this year. They enjoyed traveling together, spending time with their large group of friends and two small dogs.
Of Karen's many skills and talents, her most unique ability was to make people feel special. She was an amazing listener. She could stand in a grocery store check-out line for ten minutes, and leave knowing everything about the life of the stranger standing behind her.
It is with heavy hearts that we say goodbye to Karen who was such a dear friend to so many.
Karen is survived by her four children: Mark S. Roda, Tara McNaughton Kinney (Adam), Kimberly R. Moorhead (Tim), and Tim D. Roda (Allison). She is also survived by her beloved grandchildren: Emily, Zach, Hamilton, Eve, Violet, Georgia, Claire, Noelle, Ethan, Rocco, Tre, and Andre
Karen will be buried in Arlington National Cemetery, Virginia next to her husband Edward. A Memorial Service celebrating Karen's life will be held at 12 PM on Tuesday, December 28, 2021 at the Lancaster Country Club, 1466 New Holland Pike, Lancaster, PA 17601. The family will receive friends from 11 AM until 12 PM.
Leave a condolence on this Memorial Page
Condolences to the Family
January 20, 2022
Karen was a very good friend of mine from grade school to high school. I am sorry I did not get to come to the service you had for her. I will miss her deeply she had such a wit about her and she always made me laugh. I would come to her house when she lived on Walnut St and we would hang out together. We both lived near Sacred Heart . May you Rest In Peace Karen. You will be missed deeply.
December 29, 2021
Karen was my neighbor for the 6 years I've lived on our block. She was kind, thoughtful, generous, and funny. She made meals for me occasionally because I didn't cook and lived alone. We had a lot of laughs, and checked on each other during nasty storms. I will truly miss her friendship.
JANE E SHULL
December 26, 2021
It is difficult to believe Karen so full of love and life has left us. Always smiling, positive and making a person laugh. We walked to and from grade school together every day for many years and moved on to be high school classmates. After many years we reconnected in our 60s and she was the same gal.
Yes, we are the boomers and proud of it! Karen will always be remembered.
Blessings to her family.
December 23, 2021
Karen was a true friend I miss our chats and laughs 😪
Visitation

Tuesday, December 28, 2021
11:00 AM - 12:00 PM
Lancaster Country Club
1466 New Holland Pike
Lancaster, PA 17601

Map and Directions

Services

Tuesday, December 28, 2021
12:00 PM
Lancaster Country Club
1466 New Holland Pike
Lancaster, PA 17601

Map and Directions