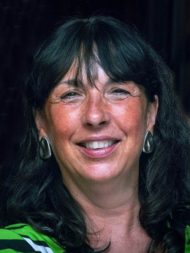 Karen (Bleacher) Adams, 66
April 16, 2021
Karen (Bleacher) Adams, 66, of Airville, PA passed away on Friday, April 16, 2021 with family by her side. Born in Lancaster, PA she was the daughter of the late Enos and Annamary (Young) Bleacher. She attended McCaskey High School.
Our mom never did things halfway. Always hardworking, she gave every endeavor her full passion and effort. She was always ready to lend a helping hand to a neighbor even when she could have used a hand herself. She was dedicated to giving her three children a great start in life as well as many children in Lancaster County through her early professional days as a Head Start teacher and then after earning her degree with honors from Millersville University, a teacher with Solanco School District. She was passionate about environmental protection and was an avid gardener; she was an entrepreneur; owning a greenhouse business for many years that she operated from her home. She loved living near the river, being on the water and listening to the train horns at all hours of the day and night. Mom was always reading and enjoyed walks with her beloved four-legged companions. She was a knitter, a seamstress and she found great joy in handcrafted items made by others.
She is survived by her three loving children, Terra Adams and husband Jim Rothenberg of York, ME; Jake Adams and wife Cassie of Phoenix, AZ; Jeremy Adams and wife Jen of Phoenixville, PA; her adoring grandchildren, Oliver, Brody, Jack, Juliet and Willa; her former husband John Adams of Drumore, PA; her three siblings Richard married to Alice Bleacher of Albrightsville, PA, Barbara married to Robert Heisey of Gilroy, CA, Joan Bleacher married to Stan Jozwiak of Boulder, CO; as well as many cousins, nieces and nephews. She is preceded in death by her sweet grandson, Henry John Adams.
Karen was a loving person who touched the hearts of many with her warm friendly smile and kind gestures. She will be greatly missed.
In lieu of flowers memorial contributions may be made to The Sierra Club, www.SierraClub.org, 225 Market Street, Harrisburg, PA 17101.
A Celebration of Life will be held at 11AM, on Wednesday, April 21, 2021 at the Charles F. Snyder Funeral Home and Crematory, 414 E. King Street, Lancaster, PA 17602. Family and friends will be received from 10AM to 11AM. Interment will be private.
Leave a condolence on this Memorial Page
Condolences to the Family
June 09, 2021
I will miss her dearly ,and our many phone calls Rest in Peace Cousin
Deborah Cameron
May 03, 2021
It is with sadness that I offer my sympathy to the family of a lady I came to know as Ms. Karen. We became acquainted several years ago when she responded to my notice in the local paper seeking odd jobs. The list of things to be done around her home grew to the point that I became her regular handyman. In the past two weeks, I was unable to make contact with her by telephone and decided to drive up and visit. When I arrived, this past Saturday, I realized something had happened and began searching online only to discover her obituary. Ms. Karen and I enjoyed an understanding work relationship and I will miss our conversations. Rest in peace my friend, your labors are ended.
James Turnbaugh
717-844-0576
April 25, 2021
It was with great sadness that I read of Karen's passing. She was a kind and caring friend and colleague of mine during my years at Solanco. One of my best and favorite memories of my teaching career was when Karen asked me to help chaperone the middle school gifted group on a field trip to Baltimore's Inner Harbor. It was an amazing day, all organized by her. She and I would work on schedules that would "share" the best students, and she was so great to work with. She always asked about and supported my wife and I through all our struggles with our adopted children, always a sympathetic ear when I needed one. The world is a better place for her being here, blessings to her family at this difficult time.
Glenn Dotterer
April 22, 2021
My Condolences to Karen and Joan's Family. My Brother Don Styer and Karen were in the same class in school and I recently found out they were King and Queen at their 9th Grade Dance at Reynolds Junior High. Karen sounds like she was an amazing woman and I know she will be sorely missed by all those who loved her.
Kathy Styer
April 21, 2021
One day Karen knocked on my door because she liked the color of our houseand we became fast friends. I will always treasure our chats and my heart breaks to know we will never have another. Thank you Karen, thank you for being you, I will miss you dearly.
Erin Poole
April 21, 2021
So sorry to hear about Karen's passing….her picture reminds me exactly as I remember her….smiling! Remember her bubbly countenance and caring attitude towards her students. Met her at Clermont years ago as support staff… Will think of her as I also overlook the river and hear the trains going by…Sincere condolences to her children, family, and friends.
Vicki Netting
April 21, 2021
Dear Terra, Jake and Jeremy, so sorry to learn of Karen's passing. May your sorrow be comforted by wonderful memories of your Mom. She was an amazing woman.
Kathy McGinnis Taylor
April 21, 2021
Dear Terra and Family,
We are very sorry for your loss. May good memories lift you up as you grieve.
Most sincerely, Don and Mary Ann Farrell
April 21, 2021
Joan and family My extreme condolences I had a chance to chat with Karen not long ago. She always was a beautiful person Jere Bagenstose
April 20, 2021
Karen was always interactive, communicative and committed to educational excellence. She worked enthusiastically with students, families and colleagues. Problem solving skills were always shared with all. I'd loved how Karen asked questions and found answers. Her genuine interest and quest for success was always well thought and relevant. Thank You Karen for always inspiring others to be better. You set high goals and accomplished excellence. Your Grace in Giving brought much Joy!
J. Alan Szymanski
April 20, 2021
It such sad news to hear about the passing of Karen. Good old memories from the past being with her and at her home will always be cherished. My condolences and prayers to her family.
Annie Goeke
April 20, 2021
So sorry to hear of Karen's death. I taught with her ar Swift, and we often ate lunch together. She certainly loved all of you and the ricer. I have bisited the unique home where she lived. She will be missed. Condolences to All.
Sincerely, June Shultz
April 20, 2021
I'm so very sorry for your loss. I knew Karen through her school years and Remember her well. She was full of energy and so smiles.
Sincerely. Sandi(Beck) Maxwell
April 20, 2021
I'm so sorry for your loss. I will miss my friend, Karen. We had fun evenings at the Fulton and shared commraderie as Solanco teachers. I met Karen when we taught together at Drumore. They were great years and she was an outstanding educator. I know how much she loved her family. You are in my thoughts and prayers.
Betty Bollinger
April 20, 2021
We are all very sorry, it's a sad time and we are thinking of you everyday. Love always,
Mandy Meiler
April 20, 2021
My heart goes out to Karen's family. I attended McCaskey HS the same year as Joan, and my older sisters Merry and Nancy were close to Karen. Heal in peace.
Sue Mark Young
April 20, 2021
Dar Jake, Cassie, So sorry for ye loss! W will be holdingyou all in our hearts! Hugs Tom Chapman!
April 20, 2021
Our deepest sympathy and heat felt condolences to you, Terra, Jim and Juliet, and all of your family. While your Mother Rests in Peace, take some small measure of solace that she will always walk beside you in all that you do. You will see this in things and at times that you never imagined. Such is the way of such things. The Zeras
The Zeras
April 20, 2021
Rest in peace, dear friend. You are missed.
Deborah Sellers
Visitation

Wednesday, April 21, 2021
10:00 AM - 11:00 AM
Charles F. Snyder Funeral Home & Crematory
414 East King Street
Lancaster, PA 17602

Map and Directions

Services

Wednesday, April 21, 2021
11:00 AM
Charles F. Snyder Funeral Home & Crematory
414 East King Street
Lancaster, PA 17602

Map and Directions