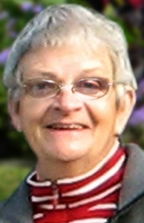 K. Barbara Reed, 68
K. Barbara Reed, 68 of Lancaster, Pa died September 30th.
Born in Pottstown, Pa and raised in Marion, Indiana, she was the daughter of the late Robert G. and Katherine Koslesky Reed. She was the wife of James C. Reed. They would have celebrated their 47th wedding anniversary on October 24th.
Barb graduated from Reading Hospital School of Nursing, Class of 1964.
Barbara worked in OB while accompanying her husband in the service at Washington, DC and San Diego, CA. After again returning to PA, she worked almost exclusively in geriatric nursing, notably 19 years at Moravian Manor, Lititz, and 8 years at Luther Acres, also in Lititz. Barbara retired in the spring of 2009.
In her later years, Barb learned to appreciate fine wines. Unfortunately, she did not find any on her annual trips to the Maryland shore with her long- time Palmyra friend Nancy, nor on the yearly road trips to the NY wine country with her dear friend Terry of Lititz, accompanied by husband James as driver and box bearer.
Surviving besides her husband are two sons, Thomas R. married to Sharon of Akron and Matthew B. married to Patrice of Lititz, and four grandchildren; Emily, Gabriella, Lucy, and Jack.
A Mass will be held at St. James Catholic Church, 505 Woodcrest Ave. Lititz, Pa on Thursday, October 6th at 11am with Fr. James O' Blaney as Celebrant. A greeting time will be held at the church from 10:15am until the time of Mass.
Please omit flowers. Memorial contributions may be made in Barbara's memory to the Humane League of Lancaster Co., 2195 Lincoln Highway East, Lancaster, Pa 17602. To send an online condolence, please visit: Snyder Funeral Home.com. Charles F. Snyder Jr. Funeral Home & Crematory 717-560-5100
Leave a condolence on this Memorial Page
J. C. and family,
I was so saddened to see the passing of your wife and mother. You all will be in my thoughts and prayers.
Kelly Gerhart
(Heart Group employee)
Dear JC,
So sorry to hear of Barbara's passing. She surely put up the good fight. Our thoughts and prayers to you and you children and grandchildren. Please know that she is at peace and no longer suffering. What a brave lady. And she had you to help her. Hang in there JC. Again, the best to you and your family at this sad time.
Sincerely,
Ellen Snader
To the Reed Family,
Sending my condolences to you all. I worked with Barb at Luther Acres and kept in touch via email after her retirement. I considered her a good friend and we shared many stories about our kids and grandkids, many laughs and a few tears. We were always going to do lunch and somehow never got there.
May God be with you all as you go through this very difficult time.
Joan McEvoy
J.C.,
I was shocked & terribly sorry to read in the Lititz Record about your loss of Barbara. How recent did I see you both at Stauffers??
I also lost my partner when we were married 47 years and I know from experience that the love and support from my family and friends made the grieving process tolerable.
My deepest sympathy to you and your family.
Hep ( Ruth m. Hepler }