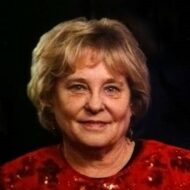 Justine K. Rogevich, 77
January 21, 2023
Justine K. Rogevich; beloved wife, mother, Yaya, dear friend, and animal lover, passed away suddenly on Saturday, January 21, 2023 at Lancaster General Hospital Penn Medicine. Justine was born in Lancaster, where she lived most of her full, beautiful, and happy life. She was the daughter of the late James and E. Grace (Brasch) Gabriel.
Justine is survived by the love of her life, her husband of 55 years, Dr. Joseph E. Rogevich. They were married on September 16, 1967 in Lancaster, and together began an incredible journey through a life filled with family, love, laughter, and amazing adventures. Justine, or Gus as she was known by those closest to her, lit up the room with her smile and wicked sense of humor. She had many hobbies, but her true passions were anything related to cats, winning at bridge, tending to her spectacular outdoor and indoor gardens, and spoiling her grandbabies. She and Joe traveled the world together and rarely left each other's side. She loved adventures, funky shoes, and vodka gimlets.
Although she dragged Joe to the far corners of the Earth, her happy place was at home in her sunroom or on a beach chair in Hilton Head surrounded by her family. She loved a great party and was always the last one to leave the dance floor, especially when her favorite Elton John songs were playing.
Justine was beloved in the Lancaster community and was a member and supporter of many social and service organizations. She was a parishioner of St. Leo The Great Catholic Church and part of the St. Leo Bible study group. She was an exceptional bridge player, proudly holding the rank of Bronze Life Master. She was very active in cat rescue, Pet Pantry of Lancaster County, The Lancaster Women's Shelter, and was a member of the St. Joseph's Hospital Women's Auxiliary and PA Medical Society. She was a longtime member of the Lancaster Country Club and cherished the many friendships she and Joe had there. She enjoyed being a part of the Ladies' Nine Hole golf group, but her favorite golf partner was always Joey. She was also an active member of The Fulton Theatre Producers Circle and loved getting dressed up for dinner and a show.
Justine attended St. Anne's School, was a graduate of Lancaster Catholic High School in 1963, and attended the School of Nursing at St. Joseph Hospital. Following nursing school she graduated in 1973 Magna Cum Laude from Millersville University with a double major in psychology and sociology. She was employed at St. Joseph Hospital and Lancaster Osteopathic Hospital as a Registered Histology Technician, but her true life calling was devoted wife and mother.
Surviving in addition to her husband are three children, Mary E. Rogevich McLoughlin, wife of Daniel J. McLoughlin, of Manasquan, NJ; Emily Rogevich Garman, wife of Byron S. Garman, of Lancaster; and Nathan J. Rogevich, of Los Angeles, CA. She is also survived by five grandchildren, Michael McLoughlin, Grace McLoughlin, Landon Garman, Paige Garman, and Peyton Garman. She was preceded in death by three brothers, James, John, and Jerry Gabriel, and a sister Jeanneine Otero. Justine was a devoted mother and grandmother who was happiest when surrounded by her family. She loved and protected her family passionately and fiercely, and would do anything for a friend in need. She spent her life creating a warm and happy home for her family and her legacy will live on in the hearts of all who were lucky enough to know and love her.
Relatives and friends are invited to a Mass of Christian Burial on Friday, January 27, 2023 at 11AM at St. Leo The Great Catholic Church, 2427 Marietta Ave., Lancaster, PA 17601 with The Rev. Peter I. Hahn as Celebrant. The family will receive friends Thursday evening from 6pm-8pm at the Charles F. Snyder, Jr., Funeral Home & Crematory 3110 Lititz Pike and on Friday, from 10am-11am at the church prior to Mass. Interment will take place at St. Joseph New Catholic Cemetery. Memorial contributions may be made in Justine's memory to The Pet Pantry of Lancaster, 26 Millersville Rd. Lancaster, PA 17603.
Watch the tribute video
Leave a condolence on this Memorial Page
Condolences to the Family
February 01, 2023
Hi Joe and family,I just heard of Justine's passing and am so sorry for your loss. It was a pleasure knowing Justine for many years while working on her computer issues. I always enjoyed the conversations, the cats, and conversations about cats :).Best wishes.
January 28, 2023
Dr. Rogevich & Family,
esp to my favorite girl, Emily Garman.
I am so so sorry for your loss, I was not aware of it until now or else i would have reached out sooner. I am just a call away – please let me know if I can do anything for you. You were a wodnerufl husband and daugther to her,
Brittany Hart
January 27, 2023
Dear Joe: I am so sorry to hear of your wife's passing. May her memory be a blessing. You and your family are in my prayers. Best wishes, Philip Scalamogna
January 27, 2023
We have lost a warm and loving friend. I am so sad for your loss and our loss also. I enjoyed playing on her team at the club because she always regaled our good hits and could usually find our flubbed balls. It was not easy keeping up with her! May you find peace in remembering her laughter.
Helen Stine
naples, Florida
January 27, 2023
Dear Joe, Mary, Emily and Nate.
There are no words that I can think of to tell you of my personal grief for all of you. Gus, was my sister for almost 50 years. She was my wife Jeanneines closest family member. We both loved Gus beyond anything that you can imagine. She lightened up our lives whenever we were together on those excursions though life. I am so sorry not to be at your side at this time. Covid still has me in its grasp.
Joe, I especilly know first hand the meaning of the loss of your life-mate. The only solace that we will both have is to have been the recipient of her presence as she contributed to making your life, those of her children, sister and me a better place.
God bless you all and we shall be together in the near future to hug and cry together.
Dick Otero

January 27, 2023
Dear Joe and family. I am away and won't be able to attend the mass. Please accept my sincerest condolences in Justine's passing. She was a fellow bridge player and golfer and I enjoyed playing both with her. Again so sorry for your loss. Roseann Romito
January 25, 2023
Dear Joe,
I am saddened to learn of the passing of your wife, Justine. It was a pleasure to meet you both when you came to my home to get your chair caned and to talk about kitten rescue. I will keep you and your family in my prayers to get to a place where when you think about Justine it is with a smile rather than tears.
Darlene Roehm (DKR Cane-Seat Replacements)
January 25, 2023
Joe and Family,
I am sorry for your loss. I fondly remember working with Joe as he had countless stories and good times to share about Justine and the entire loving family. My prayers are with you as you grieve. David Smith.
January 25, 2023
Joe, I'm so sorry for your loss. Justine attended quite a few of our St. Joe reunions. Barbara Bartush Schlager, class of 1966.🙏
January 25, 2023
Dear Joe and family:
Steve and I are so sorry to hear about Justine. We certainly shared some good times and we will miss her. May her memory be a blessing. Love, Gwyn and Steve

January 25, 2023
Joe and family;
Tom and I were deeply saddened by the news of Justine's passing. She brought such joy to everyone she interacted with. Her loving and giving spirit defined who she was. She will be sorely missed.
our thoughts and prayers are with you and your beautiful family.
Tom and Jan Bergen
January 25, 2023
Mrs. Rogevich was always so lovely as a parent volunteer at LCDS. I have such fond memories of her, no matter the activity. Sending so much love, strength, and light to the entire family. May her memory be eternal. Chryssa Moyer
January 25, 2023
To Joe and all your family, my condolences on your loss of your lovely wife. She and I shared many fun bridge games. I wish you all many fond memories of her presence in your lives. Nancy Blechschmidt
January 25, 2023
Joe, so sorry for your loss. Justine was a wonderful person. Bruce and Jane pokorney
January 25, 2023
Justine was a welcome and longtime part of our lives. We could not be more sympathetic and saddened. Joe, there never had been a more devoted husband and nicer individual. Emily and Nate, I feel that your mother devotedly shared in your education when you were in my classroom. Our memories of Gus will always be happy ones. We hope her family can use those memories to heal the grief you are now feeling. Her heavenly star will shine brightly. With a great amount of love, Candy and Peter
January 25, 2023
Emily and the entire Rogevich family, my condolences on your sudden loss. My prayer and hope are that you find some comfort and peace through these difficult moments.
January 25, 2023
My heartfelt condolences to you, Joe, and the entire family. May Justine now forever rest in Paradise. 🙏
January 25, 2023
Dear Joe,
we are so saddened by the loss of Justine. A lovely and caring friend. So many wonderful memories with the two of you. She had a fantastic way of brightening every room she walked into. We just can't imagine how hard this must be for you. Hugs from us.
Bob and Lucy Longo
January 25, 2023
Joe, I am so sad to see the obit of your beloved wife. I did not know her personally but remember well how fondly you always spoke of her. I am so sorry for your loss.
Betty Yoder
January 25, 2023
Uncle Joey, please accept our condolences upon the passing of Aunt Justine. All of the Texas family is thinking of and praying for all of you at this sad, difficult time. With love, Anne Marie (Pawlowski) and Jerry Martin
January 24, 2023
To Joseph Rogevich and family,
We are devastated by the passing of Justine. We are sending to Joe and his family our sincere condolences.
Guy and Christiane David
January 24, 2023
This was a beautiful message to all that know and love her. To have had a life this worthy, with this many people that love you, is something we all strive for. A legend, and a woman to be admired for generations.
I am grieving with you all.

January 24, 2023
To Joe and family,
We are so terribly sorry for your loss.
Shelly & Stephen Gunzenhauser
Visitation

Thursday, January 26, 2023
6:00 PM - 8:00 PM
Charles F. Snyder Funeral Home & Crematory
3110 Lititz Pike
Lititz, PA 17543

Map and Directions

Visitation

Friday, January 27, 2023
10:00 AM - 11:00 AM
St. Leo The Great Catholic Church
2427 Marietta Ave
Lancaster, PA 17601

Map and Directions

Services

Friday, January 27, 2023
11:00 AM
St. Leo the Great Catholic Church
2427 Marietta Ave
Lancaster, PA 17601

Map and Directions