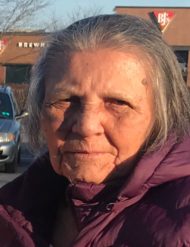 Justa Ramos Gonzalez, 86
March 10, 2021
Justa Ramos Gonzalez, 86, of Landisville, passed away at home, Wednesday, March 10, 2021. Born in Moca, Puerto Rico, she was the daughter of the late Eduardo Ramos and Clara Gonzalez. Justa was the loving wife of Nicolas Valentin Caban who preceded her in death in 1988.
Justa was a dedicated stay-at-home mom, who lovingly cared for her family. She belonged to the Hispanic Community Center in Lancaster. She enjoyed music of all kinds and loved to sing. A fantastic cook, she prepared delicious meals for her family. Justa spent time in her garden, growing both vegetables and flowers. She also had a knack for embroidery and enjoyed playing Bingo and Dominoes.
Justa is survived by her daughter, America Valentin, of Landisville; a grandson, Miguel Angel Rosado, of Landisville; siblings: Epifania Ramos Gonzalez and Rosendo Ramos Gonzalez, both of Puerto Rico; 5 nieces and nephews. She was preceded in death by brothers: Jacobo "Vitin" Ramos and Mingo Ramos.
Funeral Services for Justa will be held in Puerto Rico at a later date to be announced.
Leave a condolence on this Memorial Page