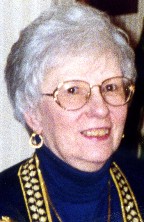 June M. Gallagher, 84
April 19, 2013
June M. Gallagher, 84, of Lancaster passed away on Friday, April 19, 2013. Born in Honesdale, PA she was the daughter of the late P.J. and Cecelia (Walsh) Gallagher.
June retired from Armstrong World Industries where she worked as a secretary for 38 years. After retirement June worked at the former Lancaster Rehab & Sports Medicine and the Urological Associates of Lancaster. She was a long time member of St. John Neumann Catholic Church in Lancaster. She was a proud member of the Lancaster Catholic High School Class of 1945.
She is survived by 5 nieces, Patricia D. "Petey" Jones (husband William) of Lancaster, Debbie Schiebel (husband Richard) of Dublin, OH, Anne Glatfelter (husband Phil) of Houston, TX, Teri Dougherty, of Ft. Lauderdale, FL, and Dana Myers (husband Christopher) of Lancaster. Also surviving are 13 grandnieces and grandnephews, and 2 great-grandnieces. In addition to her parents, she was preceded in death by her sisters, Margaret Whitman, wife of Clifton and Virginia Dougherty, wife of Daniel, both of Lancaster.
A Memorial Mass will be celebrated at 11AM on Monday, April 29, 2013 at St. John Neumann Catholic Church, 601 E. Delp Rd, Lancaster PA with Rev. Edward Gaffney, Rev. Joseph Hilbert, and Msgr. Richard A. Youtz as Celebrants. Family and friends will be received from 10-11AM at the church on Monday. In lieu of flowers, contributions may be made to the Dominican Monastery, 1834 Lititz Pike, Lancaster, PA 17601 or to St. Jude Shrine, 512 W. Saratoga St, Baltimore, MD 21201. To send the family online condolences, please visit SnyderFuneralHome.com. Charles F. Snyder, Jr. Funeral Home & Crematory 717-560-5100
Leave a condolence on this Memorial Page
You all, most likely, do not remember me. I was one of June's many chemists whom she counseled, loved, and, at times, ordered. 🙂 The last time I was back in Lancaster (2 years ago) I stopped in to see June and had a wonderful visit. June was FAR more than a secretary and co-worker. She loved us and it showed. She listened to our stories and gave us much wise counsel; but it was the constant listening ear that meant so much to me. I still carry a little card in my wallet she gave me over 30 years ago. It is entitled "A Cross In My Pocket". What June leaves behind for all of us cannot ever be taken from us. But I am afraid, for a long time, we will all still miss her.
My thoughts and prayers will be with you all. Through June, your family meant a great deal to me (and I loved picking on June with Dan).
Tenderly,
Don Johns, Bozeman, MT
Dear Family, What a wonderful family you are. I knew many of you especially Peggy & Ann. June was a lovely person, always kind & just plain nice. I will remember her in my prayers. Please accept my deepest sympathy.
Fondly,
Mary Anne Aichele