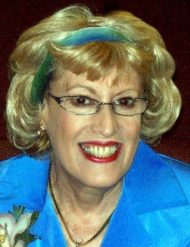 Judith Margolin Anthony
May 01, 2020
Judith Margolin Anthony passed away on May 1, 2020, at Homestead Village. Judy, the daughter of Mark and Sue Margolin, was born in Philadelphia where she grew up with her brother Steve. She was a congregant of Temple Beth El since moving to Lancaster.
Judy was a teacher her entire career. She began teaching at Simon Gratz High School in Philadelphia and later taught at Millersville University and in the Ephrata School District.
Judy was a lifelong Phillies and Eagles fan and enjoyed watching sports with her sons. Judy also enjoyed watching the Honeymooners with her brother, James Bond with her grandchildren, and going to the Fulton Opera House. She was an avid traveler and enjoyed trips to New York City, Ocean City and Israel.
Judy had many friends whom she deeply loved. Along with the company of her family and friends, Judy loved dogs, gardening, needlepoint, decorating, novels, theater, live music, baking and cooking. At her peak, Judy was one of the top cooks of Jewish cuisine in Lancaster. Judy was active in Lancaster's Jewish community and rooted in her faith and tradition. She dedicated her life to the service of others.
Judy is survived by her sons Michael and David, daughters-in-law Stephanie and Tina, grandchildren Sophia, Lucy-Beth, Adda-Lynn, and Max, brother Steve, niece Jenna, and nephew Josh. Her family is grateful for the heroic efforts of the nurses and caretakers at Homestead Village and Hospice that nurtured her after she contracted Covid-19.
Judy's funeral service will be live streamed for family and friends on Tuesday, May 5, 2020 at 11:30AM EST via her obituary link on the funeral home webpage, SnyderFuneralHome.com, where friends may also send her family an online condolence. Judy will be laid to rest in a private ceremony at the Temple Beth El Cemetery. She was a proud supporter of veterans of the United States Armed Forces in which her son, nephew, and uncles served. In lieu of flowers, donations in her name can be made to the Jewish War Veterans of the United States of America or the Humane League of Lancaster County.
Live Stream link will appear before 11:30AM on this page.
Leave a condolence on this Memorial Page
Condolences to the Family
May 10, 2020
David, Michael and family,
We were very saddened to hear of your loss. Judy was caring, warm and compassionate. She was one of my first friends when I moved to Lancaster as a new bride over 40 years ago. May you and your families draw strength from the friends and family that surround you. Sending love and hugs.
Debbie and Steve Rubin
May 10, 2020
Michael and David, I am so sorry to hear about Judy. I hope you will find comfort in the kindness and love of friends and family at this time. Michael Anthony
May 08, 2020
Sending condolences from California to David , Michael and the family on the loss of your mom. I remember her fondly from our years in Lancaster. May her memory be for a blessing.
Susan Levy
May 08, 2020
Dave and Michael. I'm trying this again as I don't see my post from a moment ago. Anyway, wanted to say how sorry I was to hear of your mother's passing. I remember her fondly from growing up and in Hebrew School at Beth El. Hope you guys are doing well. Love, Barry
May 08, 2020
Dear Dave and Michael. So sorry to hear of your loss. I remember your mom's Hebrew School classes and of course from growing up. She will be missed. Love, Barry
May 08, 2020
Dear David and Michael ~ I was so sorry to hear of your mother's passing. As neighbors on Laurel Lane for many years, we knew Judy was a kind and loving person. May your mother's memory be a blessing to you both and to your whole family. Very sincerely,
Rebecca and Chip Cargas
May 06, 2020
Dave and Michael I am so very sorry to hear. I remember your mom as a very loving and caring person. My condolences during this time. Love, Maia
May 06, 2020
The service gave a picture of your beautiful, generous, loving, creative, funny, gentle, intelligent mother and aunt. I feel my friendship with Judy was a gift, that I will always treasure. Whether playing mah or being with Mother's Group, her smile and spirit lite up the room. A glass half full type of person, her boys, and their families made her glass overflow. Bobbe Ragouzeos
May 06, 2020
David, Tina, Sophia, and Max (and family):We were so sorry to hear about Judy. I know you were very close to her and she will be missed. May the Almighty comfort you among the mourners of Zion and Jerusalem. We are thinking of you in what must be a very difficult timeAll the best, The Gottesmans
May 06, 2020
I am very sorry to loose Judy. My condolences to all family members and friends. I wii treasure the memory of Judy's accomplishments and kindnesses. Candace Margolin
May 06, 2020
To David and Michael and their families. We are so sad to hear of Judy's passing. She was a dear friend and a beautiful person, helping others whenever she could. She was involved in many activities and committees at Temple Beth El. She was a great hostess, talking about flowers and music and lots of other interests. She was so proud of her entire family and talked about them often. She was always quick to offer a hug and a big smile to make people feel welcome. We will remember her fondly.
Sandy & Greg Weekes
May 05, 2020
I was so sorry to hear of Judy's passing. Judy was a dear friend of mine from our book club. She was unfailingly kind and genuinely interested in others. I shall miss her friendship very much.
Frances Mary Rafferty
May 05, 2020
Sending love to your family. I worked with Judy at Highland Elementary school. She always had wonderful stories to tell and was so knowledgable when working with the students.
Cheryl Etkin
May 05, 2020
What a beautiful service for such a beloved woman. You captured her essence so perfectly. She was a dear friend to so many, always saw the glass as half full even in her days of hardship. She left an indelible mark on so many in the community, and certainly, on you, her sons, and her grandchildren. Judy will be so missed!
Robin Adler
May 05, 2020
Although by the end of her life Judy and I had lost touch, it was impossible to know her and not be aware of her generous spirit, her never failing kindness. My heart goes out to her sons and to all those whose lives were so enriched by hers.
Carol Solomon Allen, cousin
May 05, 2020
Judy you will be deeply missed. I will miss your kindness and love. Thanksgiving and Passover memories will live forever. You are a bright light and we love you.
Joshua Margolin
May 05, 2020
We remember Judy very fondly. She was a wonderful woman and she will be missed. She had so many interests and passions. She was such a strong part of our life at Temple Beth El, with the Chevre Kadisha, and with the book group. She was a wonderful hostess for gatherings and a great cook. Her kindness and care for others was lovely.
May her memory be a blessing to you all.
Donna and Bob Brosbe

May 05, 2020
David and family, I am so sorry for your loss. It was a beautiful ceremony, honoring your Mother. My thoughts are with you all during this very difficult time. Tara Nowak
May 05, 2020
Deepest condolences to the Anthony family from the Baldwin family. We will hold your Mom in the light. David
May 05, 2020
I am so sorry for your loss. Your mother was such a wonderful person. When I started to teach at Highland Elementary in Ephrata, I was scared and had moved far from home to accept this teaching position, and one of the first persons I met, was your mother. She greeted me with a big smile and welcomed me with open arms. She always had such a big smile on her face and could light up the room. She always called me her birthday buddy because she and I shared the same birthday. I will miss her, but I know she will be watching over you all and smiling down upon you. I will keep you all in my thoughts.
Tammy Deichman(Hollenbach)
May 05, 2020
While I did not know Judy well, I remember her vibrant kind smiles and her presence and name as a beloved member of Temple Beth El. We will miss her.
Zichrona Livracha… May her memory be a blessing and eternal.

Anna Gavrilis

May 05, 2020
Dear David, Michael and families:
Your mother was a beloved and special person to all who knew her. The love and pride she felt for you cannot be expressed by mere words.
I have a really wonderful picture of her with big wax lips taken at Alan Glazer's surprise 70th birthday party in April 2018. Would love to send it to you. Please let me know if you'd like it.
She will be greatly missed. With greatest affection, Ellen Gewen

May 05, 2020
Michael and David,
I am so sorry for your loss. Your mother was a wonderful woman and I know you will miss her. Jane Pokorney
May 05, 2020
Judy was truly a light and a joy at Temple Beth El. I always enjoyed her greeting, our catching up, sharing our news. She made the world a better place, and we are impoverished for losing her. I will miss her. – Lynn Matluck Brooks
May 05, 2020
To Michael and David, your mother was like family to me. I always enjoyed spending time with your family. Your mother was a beautiful woman. She was a good friend to my mother and we will miss her dearly. My haughty and prayers are with your family at this time.

Laura Penchansky
May 05, 2020
Dear David & Tina, Michael & Stephanie, The passing of your mother will leave a hole in my life. She was very dear to me. I was able to talk to her shortly before her death and recalled to her some of the moments we shared, especially our trip to Israel. I then recited the Shema for her. I was told by the hospice nurse that she responded to what I was saying. I hope that you know that I and my family are just one family of many who loved her and will miss her. Our deepest condolences to you and your families. With love.
Dolly Shuster
May 05, 2020
Dear Michael and David – So sorry to hear about your mother's passing. I think of the old neighborhood often and miss it somedays. Hope all is well with you both and your families.
With love,
Mike and Debbie Yeagley


May 05, 2020
Judy was our dear friend for all the many years that we knew her. We know how much she loved her son's, Michael and David, as well as their families. They will all miss her immensely as we will too.
Renee Hartman and Marvin Margolis
May 05, 2020
To David and Michael, your mother will be greatly missed by me as she was a dear friend and a wonderful member of "Mother's Group." She was so generous. I remember fondly how she helpe me prepare to do a Passover meal for the youth group in our church. She even lent me her plates. I will miss her greatly when
peggy Shaffer
May 05, 2020
I did not Judy personally however Josh is like a brother to me. The influence she had on Josh is profound and therefore I must conclude that Judy was a profound person and will be dearly missed.
Matthew Eisen
May 04, 2020
Judy was one of my closest friends, and I will miss her terribly. We shared many years of raising our children, gossiping with friends, celebrating Jewish holidays, and so on. She had a gift for friendship, which I have always envied. Life sometimes was unkind to her, but she took it in stride and was always compassionate to those who most needed it.
Colleen Stameshkin
May 04, 2020
Mrs. Anthony was one of the most vibrant and compassionate humans I ever met. She cared deeply for others. I loved her larger than life personality and her beautiful smile. My favorite thing about her was how much she loved her boys. She made the world a better place. Her memory will live always.
"You keep track of all my sorrows.You have collected all my tears in your bottle.You have recorded each one in your book."
Psalm 56:8
Becky Leatherman
May 04, 2020
Judy was an amazing woman who made an indelible impression upon all she met. She was loving, generous, kiind, and giving. I am blessed to have known her my entire life, and the lessons she shared with me I will never forget. I will honor her memory by being the kind of parent to my children she was to me. I miss you already and love you forever.
Michael Anthony
May 04, 2020
My deepest sympathies in the loss of your mother/grandmother. I was a colleague of Judy at Ephrata Area School District and remember her love of teaching her students reading skills. But most of all, I remember her as a friend. We shared many interesting conversations about music, the Fulton Theatre and education. She knew so much about medical issues and many other topics. It was always a pleasure to see her at various locations after we both retired. Judy was a very special lady!
Barb Denlinger
May 04, 2020
Our heartfelt condolences to all those who loved Judy. When my mother died, I read these words from Dr. Alan Wolfelt: "Love inevitably leads to grief….grief is the price we pay for the joy of having loved." Love to you all from Penny and Jim Larsen
May 04, 2020
Judy worked at Highland Elementary, she was a dedicated teacher helping all students & staff with kindness and understanding. She was a proud mother and so excited about her grandchildren. A life well lived.
Mona Byrne

May 04, 2020
To the family of Mrs Anthony you have (our) the Jones Family deep sympathy ; we have and idea how you must feel and wanted to let in time its gets better ❤
Azzie &Johnny Jones
May 04, 2020
Judy was a very kind and loving woman. When I moved to Lancaster for the brief time that I lived there, she came to visit me and kept me company as a new mother. She was my mother, Randi's cousin, and I know my mother treasured her a great deal. She was also very close to my grandmother, Beatrice. She spoke very lovingly at both of their memorials. May her memory be a blessing.
Marina Gerstemeier
May 04, 2020
Judy I will miss your strong spirit for life which shown through your love of Michael and David, love for teaching and life long learning, recorder music, cooking and needlepoint. You shared your spirit of life with me for many years through friendship, and I will always cherish these memories. With deepest sympathy to Judy's family. Pat Miller
May 04, 2020
Judith will be very much missed. I was one of the people who did work around her house when she lived on Laurel Ln. I also remember we became friends when we discovered our common education background and spoke about our classroom experiences. I'll always remember her kindness and her devotion to the Jewish community. She made an indelible impression in my life.
Bob Vincent
Services

Tuesday, May 05, 2020
11:30 AM
Live Stream
,

Map and Directions