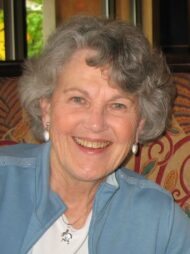 Judith B. Kozma, 81
May 20, 2023
Judith B. Kozma, 81, of Lancaster, Pennsylvania passed away on May 20, 2023 at Carolyn's House hospice residence after a brief illness. She will be missed by many and remembered as an energetic, kind, and loving person. Judy had a zest for life and treasured her relationships with family, her many friends, and with God.
Born in Philadelphia, Judy was the daughter of George C. and Eleanor L. (Fenerty) Beaston. She graduated from Haverford Township High School in 1960, attended Penn State University where she earned a BS in Elementary Education and then subsequently completed a Master's Degree in Education from Millersville University. While at Penn State, she met and fell in love with Robert J. Kozma (Bob). They married on July 10, 1965 and went on to raise two sons, Doug and Matt. Judy has five grandchildren who affectionately called her "Mom Mom".
Judy adored children and pursued her passion for teaching throughout her lifetime. She taught 5th grade at Nitrauer Elementary School in Manheim Township and dedicated herself as a Sunday School teacher and aide at Noah's Ark Preschool at Hempfield United Methodist Church. A consummate educator, Judy impacted generations of children at Hands-on House Children's Museum of Lancaster. She shared her love of the natural world with nearly everyone she met.
Judy was a talented and acclaimed watercolor artist who took pride in capturing the beauty around her. She often said, "the spontaneity and unpredictability of watercolors brings me great joy". Her original artwork has been showcased regionally, most notably through the Lancaster County Art Association. Over the decades, her paintings have won numerous awards, have been donated for charitable causes, and sold to private collections. Many are beautifully displayed throughout her own home and those homes of family and friends.
Fondly known as "Momma Jude" by her children, she was a social connector with a compassionate heart and the self proclaimed "gift of gab". Judy volunteered as a Steven's Minister and as a member of Songs for the Journey. She loved the beaches of New Jersey and North Carolina – sharing countless days there with those she loved. She enjoyed sports as both a spectator and participant. Judy was an avid Penn State fan and lifelong tennis player – still quick and agile on the court past her 81st birthday. Early every morning, she walked with her neighborhood friends, starting her day with sunshine and conversation. Judy will be dearly missed by all.
In addition to her husband, Robert, she is survived by her two sons, Douglas R. (Jodi), of Ann Arbor, MI, and Matthew R. (Nicole) Kozma, of Stroudsburg, PA; and five grandchildren, Keith, Claire, Jackson, Alexandra, and William.
She was preceded in death by her parents; and two sisters, Janet Loss and Joanne Niemiec.
A memorial service will be held at St. Paul's United Methodist Church in Elizabethtown, Pennsylvania at 1:00pm on Saturday, July 15, 2023.
In lieu of flowers, memorial contributions may be made in Judy's name to DoctorsWithoutBorders
Leave a condolence on this Memorial Page
Condolences to the Family
May 29, 2023
Please accept my sincerest condolences in the loss of Judy. I was privileged to work with Judy at Hempfield United Methodist Preschool. Judy also helped my son adjust to his first preschool experience. She knew his love of tractors and brought a Minniapolis Moline tractor in to school for him.
May the memories each of you have of Judy bring you some comfort at this difficult time.
Sherran Payne
May 29, 2023
Dear Bob and family: We are so sorry for your loss of Judith. Whenever we met with her in the Stauffer Grocery store we always had a nice conversation. We also enjoyed her company at the Red Rose Veteran Honor Guard banquets. You have our blessings for the future.
Burnell and Joan Hostetter
May 28, 2023
Dear Bob & Family,
I was so surprised to read about Judy's passing. We lived at Wood Crest for 5 years, Donald passed away on
January 21st 2023. He said to me one day, I wonder what happened to the Kozma's. I said I didn't know. God Bless & take care.
Charlene Butzer
May 27, 2023
Dearest Bob and Family,
It is with a saddened heart that I offer my condolences upon learning of Judy's death. I knew her through Pi Lambda Theta and cherished her friendship. Most Sincerely,
Gail Alexander
Services

Saturday, July 15, 2023
1:00 PM
St. Paul's United Methodist Church in Elizabethtown
398 N. Locust Street
Elizabethtown, PA 17022

Map and Directions