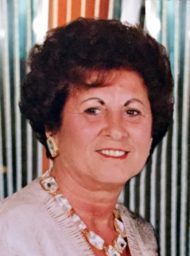 Judith Ann Wagner, 79
December 03, 2019
Judith Ann Wagner, 79, of Lititz, passed away Tuesday, December 3, 2019, at UPMC Pinnacle Lititz Hospital. Born in Mount Joy, Judith was the daughter of the late Oscar and Dorothy Ann (Boise) Frey. She was the loving and faithful wife of Larry E. Wagner, with whom she celebrated 61 years of marriage.
The perfect wife, mother, and grandmother, Judith was a homemaker who devoted her time to her family. Judith was a faithful member of Trinity Evangelical Church, Lititz, who served as an usher. She was a wonderful cook and enjoyed spending time with her family at the beach at Stone Harbor, NJ. Judith had a green thumb and loved tending to her garden. An avid sports fan, she loved playing sports as well as watching. She was a die-hard Penn State Nittany Lions fan. She also loved keeping score for her son's and grandsons' sporting events.
In addition to her husband, Larry, she is survived by her children: Jeff E. Wagner, life partner of Dru Markey, of Lititz and Linda L. Yost, wife of Randell, of Lititz; four grandchildren: Eric Wagner, of Philadelphia, Jason Wagner and his girlfriend, Liz Malleus, of Manhattan, NY, Dustin Yost, husband of Paige, of Lancaster, and Randell Yost, Jr., of Lititz; a great-granddaughter, Amelia Yost; three siblings: Ruth Frey, of Mount Joy, Gene Frey, of Lititz, and Harry Frey, of Manheim. She was preceded in death by two siblings, Charles and Marlin Frey.
Funeral Services for Judith will be held at 11AM, Wednesday, December 11, 2019 at Trinity Evangelical Church, 44 E. Orange St., Lititz, PA 17543 with the Rev. Nathan Fry officiating. A viewing for family and friends will be held at the church from 9AM to 11AM. Interment will take place following the services at Trinity Evangelical Cemetery, 18 Bomberger Rd., Lititz, PA. In lieu of flowers, the family requests that contributions in Judith's memory be made to Trinity Evangelical Church at the address above.
Leave a condolence on this Memorial Page
Condolences to the Family
December 12, 2019
Today my heart breaks as I just received the news of Judy's passing. I remember as a child how excited I would get when I would see Judy's Lincoln pull into our driveway. How much fun it was listening to her and my mother Janet gossip about Mount Joy and talk smack about Larry and Devoe. Pretty sure Judy is the sole reason I have a affinity for the finer things in life. Everytime I visit Lititz I made it a point to stop in and say hi as I did just last August and was able hug her one more time. To Larry, Jeff and Linda my sincerest condolences, Judy was an amazing wife, mother, grandmother and best friend to my mother. She will be missed by all that knew her and loved her. May she now rest in the arms of our Lord.
Gregory Bear
December 10, 2019
I am so so sorry for your loss of your beautiful Judy ! I had the pleasure of getting to know her 21 years ago at Gus's Keystone Family Restaruant I have waited on Judy , Ruth , and Debbie all these years and shared so many laughing moments with them ! I sure will miss Judy and her beautiful smile ! My thoughts and Prayers are with each and everyone of you through this difficult time ! Connie Drace
December 10, 2019
While working at Glassmyers years ago, I always enjoyed seeing Judith and her friends stopping in for breakfast. My condolences to her family. Anna Mary Wenger
December 10, 2019
Our sincerest condolences for your loss of Judy.We always looked forward to seeing her, Ruth and Deb on Tuesdays at Gus.Such a beautiful lady.Always a joy.We are lifting you all in prayer.Kris,Cordell,Quinty,Ray and Joan
December 10, 2019
We wish to express our sympathy to the family, you are in our thoughts and prayers.
Gene & Sara Kutz
December 09, 2019
So sorry Uncle Larry to hear about Aunt Judy. Our thoughts and prayers are with you.

Cristine Wagner Ehrle
December 09, 2019
Thoughts and prayers to Larry, Linda and Jeff. So sorry to hear of Judy's passing. Having worked at GER I remember Judy coming in and always trying to make our environment a little nicer and cheerier. I am deeply saddened by the loss that you and your family have encountered. My condolences. Theresa Smith
December 08, 2019
We wish to extend our deepest sympathy to Larry Wagner and the entire family on the loss of their beloved wife and mother.
John and Barbara Sarafian
December 06, 2019
Our deepest sympathy to Larry Wagner and children. Judy was a classmate of ours and will be missed by each of us.
DHS, Class of 1959
Lorin F. Pardoe, Jr.
December 06, 2019
Dear Jeff and family,
You and your family are held close in heart and wished comfort in the days to come. My thoughts and prayers are with you during this very sad time.
With deepest sympathy,
Candace Leathers
December 06, 2019
So sorry to hear of Judy's passing. I worked at GE Richards for many years and it was always a pleasure to see Judy when she stopped in the office. My thoughts and prayers are going out to Larry, Jeff, Linda and the rest of the family. Missy Chaffee
December 05, 2019
This was a big surprise and hard to accept,she will be deeply missed by all.she has been a loving friend and loved her family very much,our prayers go out to the family and oue deepest sympathy as well. may God bless the family always Russ & Grace Yost

Services

Wednesday, December 11, 2019
9:00 AM - 11:00 AM
Trinity Evangelical Church
44 E. Orange St.
Lititz, Pennsylvania 17543

Map and Directions