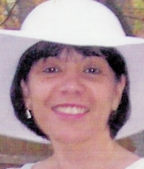 Juanita Alvelo, 44
Juanita Alvelo, 44, of 541 Misty Drive, Lancaster, PA passed away on Thursday morning at the Essa Flory Hospice Center.
She was the wife of Jose Enrique Alvelo, with whom she shared 29 years of marriage. Born in Guayama, Puerto Rico, she was the daughter of Justo Torres of Lancaster and the late Venerada Torres.
Juanita had worked as a medical secretary for Ob-Gyn Associates for 8 years, until 2001.
A woman of many interests, she enjoyed dancing, crocheting, reading, and especially spending time with her granddaughters. She was also a member of The Worship Center.
In addition to her husband and father, Juanita is survived by her two sons: Quique Alvelo of Lancaster and Joshua married to Teresa Alvelo of Virginia Beach, VA; her two granddaughters: Ymariana and JaLyssa; and her sister Zoraida married to Dwight Eshleman of Lancaster.
Friends will be received on Sunday from 6-8PM at the Charles F. Snyder Funeral Home, 414 East King St., Lancaster. Friends may call again on Monday at Bright Side Baptist Church, 515 Hershey Ave., Lancaster from 12:30-1:30PM, with the funeral service to follow at 1:30PM, the Rev. Cheryl Weaver officiating. Interment in Mellingers Mennonite Cemetery. To send an online condolence, please visit www.snyderfuneralhome.com.
Leave a condolence on this Memorial Page
Condolences to the Family
June 27, 2016
You are miseed so much! I think of you all the time <3.
–
I love you mom…you were a great mom and a even greater friend. We had are ups and downs but are love never was lost. My kids were your heart and they will miss you very much. WE LOVE YOU MOM
My deepest sympathy goes out to your family, I have known "Jenny" for a very long time, and my prayers are with you all, she is now your guardian angel with many more like her watching over us all, again, my deepest sympathy and my prayers are with you all.
"Yoli" in CT
You was the best thing that Ever Happened to me.
Your husband Quique.
P.S You will always be in my heart.