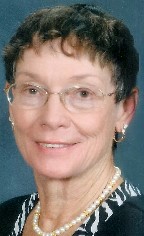 Joyce Ann Addie, 77
Joyce Ann Addie, 77, of Lancaster and Fort Myers, FL, died peacefully on Wednesday, March 6, 2013, at the Hospice and Community Care, Essa Flory Hospice Center.
Born in Columbus, OH, she was the wife of Lee W. Addie. In addition to her husband of 57 years, she is survived by three children: Russell W. of Lancaster, Scott A. of Leesburg, VA, and Lynn E. Addie of Lancaster. Also surviving are seven grandchildren and one great-grandson.
Joyce was a graduate of Millersville University. She enjoyed singing and was a member of the church choirs at First United Methodist Church, Millersville, and Cypress Lakes United Methodist of Ft. Myers. She was very active in volunteer activities with Friends of The Library and with the Millersville Meals On Wheels program, where she was a cook over ten years.
Joyce loved to read , travel, and was an avid mahjongg and bridge player. She had been awarded many honors for her beautiful counted cross stitch work.
A celebration of her life will be held at First United Methodist Church, 121 N. George, St., Millersville, PA on Sunday, April 14, 2013 at 3PM, with Pastors John Laughlin and Mary Burger officiating. The family suggests donations in Joyce's memory be made to Hospice and Community Care, 685 Good Drive, Box 4125, Lancaster, PA 17604-4125. To send an online condolence, please visit SnyderFuneralHome.com. Charles F. Snyder Funeral Home & Crematory 872-5041
Leave a condolence on this Memorial Page
I am so sorry we have lost Joyce. She was always a smiling, friendly presence at our bridge games. I pray that you are feeling comfort in knowing that she is now enjoying God, in his actual presence.
Doris Van Antwerp
Dear Lee and family,
It has been a long time since West High and Ogden Avenue, but I still remember you and Joyce and our classmates in those days. I know you will treasure your many memories of Joyce and the times you shared together. She lived a good and happy life. May God comfort all of you at this sad time.
Carole Elaine Cristee Deily
Dear Lee and Family,
I was saddened to learn of Joyce's passing. My heartfelt condolences to you and your family. I remember many fun conversations and good times we shared together. May God bless all of you.
Sincerely,
Marlene (Tague) March
West High Class of 1953
Dear Lee, Russ, Scott, and Lynn,
I learned recently of Joyce's passing so I wanted to send a note of sympathy to all of you. I know it has been a few years since I last saw you but Joyce has always had a special place in my heart and was always so supportive of me back in the day. I never forgot that.
My thoughts and prayers are with all of you. I wish you well as you celebrate a life well lived.
Sincerely,
Steven O'Day
Dear Lynn, I am so sad to hear of your mother's passing. I have many wonderful memories of her as a Red Cross Volunteer at LGH. May you and your family be comforted in this difficult time. My prayers are with you!
Anne Meier Pryzbylkowski
To the family,
I am sorry for your loss. May you find comfort in knowing that God is "near to those that are broken at heart; and those who are crushed in spirit he saves." (Psalm 34; 18) With sympathy,
Lee, Russ, Scott, and Lynn:
I am sorry to hear of Joyce's passing. She always had a smile and was a genuine and kind person who I was glad to have known. My heartfelt condolences to each of you at this somber time.
John Walt
Lancaster, PA
I was sad to see Joyce's obituary but was flooded with wonderful memories of her when she was a volunteer in the PACU @ LGH in the 1980's. I haven't seen her for years but remember her energy and excitement for life that was contageous; we all loved when it was her day in PACU. I was a young mother at the time and learned wonderful lessons from her that guide me today as a mother of adult children.
You were blessed to have her in your life.
Alice Geib
We were so very sorry to hear about Joyce. She was a dear bridge friend and we shared good phone conversations and laughs. She did it her way and was happy and is now in the arms of God. Our love to you and yours Lee. We will see you in June. love Marge and Bill Keppler
Lee, so sorry to hear of Joyce's death. We often think of our first river cruise and the fun we had with you and the others we met on that trip. We are still traveling Grand Circle. Our thoughts and prayers to you and your family. We're sure she was loved by many. Still use the recipe she gave us for chicken and rice. Blessings to all of you.
Tom and Grace Harvey
Lee, I am sorry to hear about Joyce's death. Although it must hurt right now and will for some time, you have 57 great years to remember. God bless you.
Steve Senkowski
We are so sorry for the loss of your wife, mom, and grandmother. We wish we had gotten the chance to meet her! Thinking of you at this difficult time, The Commero Family
Lee
The entire Shawaryn family send our heartfelt condolences to you and your family. We have so many fond memories of Joyce through our association with the Volleyball teams at Hempfield High School. Our children benefited greatly and we enjoyed all the fellowship (sitting and watching in the stands)and the outstanding good times together after the matches.
Lee, our prayers are with you.
Gene & Debbie Shawaryn
So sorry to read of Joyce's passing in today's (Sunday, March 10th) newspaper. I have many fond memories of seeing her sitting in front of her house on Spring Dr. reading a book and at the Millersville Pool. She was always warm and friendly and had a great smile. My thoughts are with you all at this difficult time. God Bless!
Fondly,
Pam (Mayer) Schwebel
Dear Lee and family: So saddened to hear your recent loss of Joyce. She certinly had a special connenction to our family. You have our sympathy and prayers. Sincerely, Carolyn Stickel Moore and family.