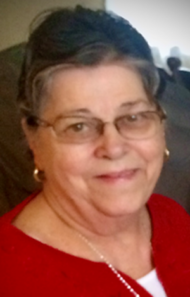 Joyce A. Geiter, 76
November 29, 2020
Joyce A. Geiter, 76, of Lancaster, passed away peacefully in her home on Sunday, November 29, 2020, following a lengthy illness. Joyce is survived by her loving husband, Donald R. Geiter, Sr. Joyce and Don have been together as a couple for nearly 60 years.
Born in Columbia, Joyce was the daughter of the late John H. and Carrie Mae (Peters) Eckman. Also surviving Joyce are her six children, Gere L. Huyck (Fred), Lori A. Williams, Donna R. Houck (David), Debra A. Haldeman, Brenda L. Sokso (John), and Donald R. Geiter, Jr. (Laura); 16 grandchildren and many great grandchildren (all of whom affectionately called her "Nanny"); four siblings, Darlene Parmer, Ronald L. Long, Susan Abel, and Kenneth Long; and three sisters-in-law, Shirley E. Schreiner, Joyce J. Shifflett, and Betty A. Herr. Siblings June M. Coldren, Robert L. Eckman, Patricia A. Long, and Michael T. Long preceded Joyce in death.
Joyce was a devoted wife, mother, and grandmother, and enjoyed nothing more than spending time with family (and holding babies). Joyce was known for her genuine laugh and her caring, but often brutally honest, personality ("bless his/her heart" was among her favorite sayings). She also enjoyed reading, dining out, and traveling. In addition to raising six children with Don, Joyce also worked outside of the home, first, in the baby delivery room at the former St. Joseph Hospital and retiring from the former Bank of Lancaster County in 2008. Joyce was also a proud member of the VFW Auxiliary – Lancaster Post 1690. Joyce was of the Christian faith and is now with the angels she adored and will be missed by all who knew her.
"You are the best Wife/Mom/Nanny in the whole wide world!"
Services will be private and at the convenience of the family.
Leave a condolence on this Memorial Page
Condolences to the Family
December 20, 2020
Gere i am so sorry for the loss of ur mother, i always liked her she was a very nice person i will miss her, Prayers go out to you and the family.tell uncle Don that i am so sorry for his loss
patsy walton
December 08, 2020
I love you nan I miss you. r.i.p.
December 07, 2020
To Darlene and family,
So sorry to read of Joyce's passing. I don't ever remember meeting her, but I think I know Don. It is always sad to lose a loved one, but at this time of the year I think it is even sadder. Prayers go out to you and your family.
Fran Lombardo Spangler
December 06, 2020
So sorry for your loss, my thoughts and prayers are with Joyce's husband and family.
Elaine Peters Klinestever, cousin.
December 04, 2020
so very sorry for the loss of your mom. She was such a very nice lady. Love Donna Speece
December 04, 2020
Love you Nanny! Rest In Paradise <3
April
December 03, 2020
I love and miss u mom
Lori A Williams