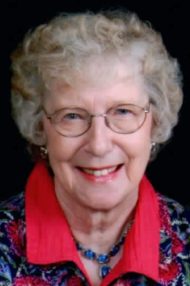 Josephine E. Cooper Kelly, 88
May 25, 2021
Josephine E. Cooper Kelly, 88, of Lancaster, PA passed away on Tuesday, May 25, 2021 at St. Anne's Retirement Community. Born in Cass, WV, she was the oldest daughter of Walter E. and Martha E. Tharp Cooper. She was the loving wife of the late John D. (Jack) Kelly for almost 65 years.
Jo was raised in Elkins, WV and was a 1950 graduate of Elkins High School. While working as a secretary for the West Virginia Division of Forestry after graduation, she went on a blind date with a new man in town. She and Jack were married two years later and over the course of the next 65 years made their home in several states. Jo was a homemaker and, after raising her children, was employed by the House of Cards Hallmark stores in Uniontown and Camp Hill, PA. She was an excellent cook and baker, hostess, seamstress and gardener. She was the best mom a child could wish for and we will miss her dearly. She was a member of Willow Street United Church of Christ.
Jo is survived by her children: James D. Kelly, husband of Carol, of Bloomington, IN; Rev. John D. Kelly of Alexandria, VA; and Janice Wolfe, wife of Darin, of Lancaster; her five granddaughters: Anna and Megan Kelly and Haley, Madison and Claire Wolfe; her sister, Joyce Moore, wife of Robert, of Morgantown, WV; her brothers, Tom Cooper of Elkins, WV, and Ellis Cooper (husband of Pattie) of Morgantown, WV. In addition to her husband, Jack, she was preceded in death by her sister, Mary Cooper Hartman and her half-sister, Doris Loraine Brown.
The family would like to thank the nurses and staff at St. Anne Retirement Community for their amazing and loving care of Jo over the past year especially after the loss of her husband and during the COVID lockdown.
A private graveside service was held for the family. In lieu of flowers, memorial contributions may be made to St. Anne's Retirement Community, Benevolent Fund, 3952 Columbia Ave., Columbia, PA 17512.
Leave a condolence on this Memorial Page
Condolences to the Family
July 11, 2021
Janice I am so sorry to hear this and of your fathers passing also. It is hard losing our parents. I understand you went to school with Todd Brownfield husband of my good college friend Gina. I remember your mother leading our Girl Scout Troop and so much fun. She was a lovely person. Will reach out to you soon. Love and prayers 💕
Kristi Gore Scott
June 21, 2021
I knew Jo when she was in college and worked on my dad's store, Colebank Office Supply and Gifts. She was one of my favorites. I am so sorry for your loss. I know she was loved dearly as she certainly was as a young adult. Joyce Moore and her husband are dear friends. I have kept up indirectly with the family through her. I always meant to look up Father John. Please know I will pray for your comfort in these losses.
God bless. Becky Colebank Duckworth
June 03, 2021
So sad to learn of Josephine's passing. My Deepest Sympathy and Prayers to her family.
Emma Jean Walker
June 02, 2021
So sorry for your loss. Jo was a dear lady! Got to know her during times visiting my Mom at St. Anne's.
Janice Makauskas
May 30, 2021
Dear Father Kelly, Our deep condolences go out to you and your family. We are grateful to Josephine for her marvelous and large legacy– the family she and your dad raised. You have become one of our family in your Catholic ministry and friendship. She stored up her treasure in heaven. God rest her soul and bless you all. Rachel and Jim
May 29, 2021
We are so sorry to hear about the passing of your dear sweet mother, Jo. She and your dad, Jack, left a beautiful legacy of faith and love. Fr. Kelly, you have been an inspiration and influencer on so many and we know how much you love your parents and family. You are in our thoughts and prayers during this difficult time. God bless you all!
Love,
The Zempolich family
May 29, 2021
I am sorry for the loss of your mother. Enjoyed seeing her at her granddaughters musical and sporting events.
Joan Bennett
May 28, 2021
Dear a father Kelly,
I am so sorry to hear about your mom. Sending much love from all Speidel family. We love you
May 28, 2021
With sincere and heartfelt sympathy at this time of great loss. You are in our prayers.
Denis and Barbara O'Keefe
May 28, 2021
Dear Fr. Kelly,
Our hearts are breaking for you. You were blessed to have such a beautiful and loving mother! Our prayers are with you all.
Joayn and Steve Bahr