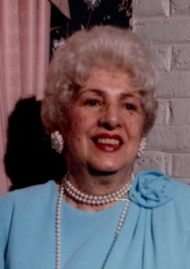 Josephine A. Sabatine, 97
April 20, 2019
Josephine A. Sabatine, 97, of Lancaster, PA, died peacefully in Virginia at her granddaughter's home. Born in York, PA, she was the daughter of the late Joseph and Angelina (Russo) Catalano. Josephine was the loving wife to the late Philip A. Sabatine.
Beautiful lady who was loved by everyone she met. She loved to cook, sew, crafts, play games and read. She loved to watch TV, especially Lawrence Welk. She loved to go to the shore on weekends. Josephine loved her church and had a servient heart.
She will be greatly missed by her entire family, as she was the best mother, grandmother and great-grandmother. She is survived by her daughter, Jodi Wolford and her husband, James; 3 grandchildren: Joseph Szymanski, husband of Gina, Leonard Szymanski, husband of Wendy, and Phyllis Maire, wife of Mark; 8 great-grandchildren: Morgan Maire, Madison Maire and M.J. Maire, Lexie Szymanski, Lynsi Szymanski, Summer Szymanski, Gabriel Strickland and Ryan Strickland; and many nieces & nephews.
A Mass of Christian Burial will begin at 12 PM on Saturday, April 27, 2019 at St. Joseph Catholic Church, 440 St. Joseph Street, Lancaster, PA 17603. Josephine will be laid to rest beside her husband Philip at St. Mary Catholic Cemetery. In lieu of flowers, contributions may be made to St. Joseph Catholic Church.
Leave a condolence on this Memorial Page
Condolences to the Family
April 28, 2019
Jodi, Jim and family-
Heartfelt condolences on the passing of your mother. I'm sorry for your loss.
I wish you peace.
Susan Minnich
April 26, 2019
I am sending condolences to Jodi and the family on the passing of her mother.
Bernie Lowell
April 26, 2019
Dear Jodi and family
You are in my thoughts and prayers. It has been a very long time since I've seen your mother but she became more beautiful over the years. I always say "they" are waiting for us, just around the corner. I'm glad we got to talk last week and I will see you soon. As I told you when we talked, I work Saturday a.m. this week and then my grandson's 1st birthday party is early afternoon or you know I would be there tomorrow for you.
Love and prayers to your entire family.
Josie
April 25, 2019
Dear Jodi and Family,
You are all in my heart, my thoughts and prayers. She was truly a lovely lady, inside and out, and I certainly remember her delicious meals! Praying that God surrounds you with His peace, love and comfort. Love you!
Sandy Heisey
April 25, 2019
Jodi , Jim ,and family. Condolences Jodi , on the passing of your Mother . Sending my prayers and caring thoughts . Deepest sympathy ,Gail Smith
April 24, 2019
I loved your mother. She was the sweetest and nicest person. I can not be at the funeral because I do not have my car anymore. I will be with you in my thoughts and prayers
Shirley LeFevre
Services

Saturday, April 27, 2019
12:00 PM
St. Joseph Catholic Church
440 St. Joseph Street
Lancaster, PA 17603

Map and Directions