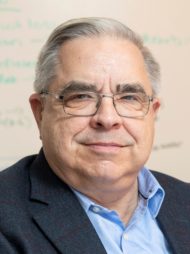 Joseph W. York, 69
April 17, 2021
Joseph W. York, 69, of Lancaster, passed away at his residence on Saturday, April 17, 2021.
He was the husband of Mary M. Gibson, with whom he shared 23 years of marriage. Born in St. Charles, IL, he was the son of the late William W. and Stella Bruchas York.
Dr. York moved to Lancaster in 2014 to join the Pennsylvania College of Health Sciences as the first Dean of Graduate Education and Program Director for the Master of Science in Healthcare Administration program. Dr. York's wife, Mary Gibson, serves as a faculty member at the college.
Dr. York's career included positions in research and health care administration at major medical centers in Chicago and Seattle. He served as Director of the Residency Program at the University of Washington School of Medicine, and the National Dean for Health Sciences at DeVry University. He enjoyed teaching and mentoring students as they embarked on their careers in health administration, and in medicine.
He had earned his Doctorate in Public Policy from the University of Illinois-Chicago, his Master of Business Administration from the University of Chicago, a Master of Science from the University of Illinois-Chicago, and his Bachelor of Science from the University of Illinois-Chicago.
He was a devoted family man and enjoyed traveling with his wife and taking fishing trips with his son. He had a special place in his heart for his two dogs, Chloe and Spencer, and worked with them on agility exercises. Joseph was also an enthusiastic baseball fan, continuing to keep up with his home team, the Chicago White Sox, although he followed his recently adopted team, the Baltimore Orioles. As a man of strong faith, he supported several local and international Christian ministries.
In addition to his wife, he is survived by his son, Taylor Joseph, married to LaNarcis R. York of Jacksonville, FL, his brother David York of Des Plaines, IL, married to Mary York, and his sister-in-law, Rebecca Ann, married to Dan Casagrande of Chattanooga, TN. Joseph was preceded in death by his brother, William R. York, married to Shelly York, of Bloomington, IL.
Services are private and at the convenience of the family.
In lieu of flowers, please make contributions in Joseph's memory to The American Heart Association.
Leave a condolence on this Memorial Page
Condolences to the Family
July 02, 2021
Dear Mary and Family. I just learned today of dear Joe's passing and I am heartbroken. Joe was so insightful and intelligent and a trusted colleague who became a treasured friend. I can't imagine your loss and send prayers to you all. I so enjoyed our long conversations over lunch and eill miss his kindness and wisdom in my life…
May 21, 2021
Sorry to hear about Joe. It was a pleasure seeing him when he visited Austin and getting to know him the times he came for Marianna's graduation and Rebecca's wedding and spending Christmas in Tennessee. I'm keeping you in my thoughts.
Mario
April 27, 2021
Mary and family,
My most sincere condolences on the loss of Joe. He was always a favorite colleague of mine in my time at PA College, and I always enjoyed talking about the Orioles with him. May your fond memories bring you comfort when you need it most.
Molly (Caldwell) Hamlin
April 25, 2021
My condolences. I've only met Dr. York once but have heard so many positive comments about him from other classmates.
April 23, 2021
Mary,
I am so sorry to hear about Joe. I will always remember him as a calm educator no matter what was happening around him. He had a certain presence that I always admired.
My deepest sympathies go out to you and I offer my thoughts and prayers during this difficult time in your life.
Fondly,
Kristen
April 23, 2021
My thoughts and prayers are with you and your family at this time. Joe will be greatly missed. He had such an impact on the students and staff at the college, and I'm grateful to have had the opportunity to work with him.
Nicole Graybill
April 23, 2021
My sincerest condolences to the family. Thoughts and prayers are with you all as you mourn this loss. He was a friend to us all and special part of our College. It was a pleasure and honor to work and serve with him. He will be missed.
Wendell Esbenshade
April 23, 2021
Sorry for your loss. Joe was a special kind of guy and will be missed.
Yvonne M Rosenquist
April 22, 2021
Mary, my prayers and thoughts are for you and your family at this time. Joe was a valuable member of our college community and will be sorely missed. May happy and fond memories bring you some solace during this difficult time. Blessings to you and your family.
Mary Grace Simcox
April 22, 2021
Mary,
My deepest condolences to you and your family. Joe was a kind and gentle man who will be missed at PA College. My hope is that you find comfort in the memories.
Jean Hershey
April 22, 2021
My sincere condolences to Mary and family.-Rebecca Smith, Sciences and Humanities Faculty
April 22, 2021
Mary and family, my sincere condolences on your loss of Joe. He was a man of faith and am thankful one day we will see him again. He will be missed by many.
Mike Whalen

Mike Whalen
April 22, 2021
I had the pleasure of calling Joe a friend after I moved to Lancaster to join the faculty at the college. He was a beautiful person with a kind soul. I will miss our conversations in the atrium. My heart goes out to Mary and the rest of the family. Thola Wolanski, BSN Faculty
April 22, 2021
Mary and family, I am so sorry. Joe was a kind and considerate man and colleague. I repeatedly marveled at his ability to remain calm in situations, even when those around him were not. He will be greatly missed. Prayers for peace and comfort at this time.
Karen Dielmann
April 21, 2021
We have been especially blessed for these many years to count Joe as a dear friend. And, you who are family are, we think, extraordinarily privileged to have had him in your lives. That era was too short for us all. May the God of comfort meet your heart needs at this time. Doug and Patty Bastian
April 21, 2021
Dear Taylor and Narci,
My sincerest sympathy to you during this very difficult time. May your faith bring you peace. You are in my prayers.
Denise Axsmith
April 21, 2021
We are friends with Taylor and Narci. We had the pleasure of meeting Dr. York first in Rochester MN. It was fun to see he and Taylor together. They both carry a level of distinction. May wife Jeanne and I are grieving at a distance with Taylor and Narci. They are very special to us. God Bless this family. We say peace over this situation and to the family.
Love Steve and Jeanne Wilson