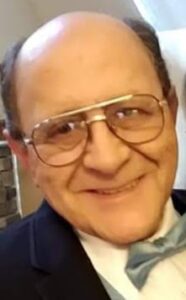 Joseph Vaccarino, 74
August 28, 1947 - November 04, 2021
Joseph "Joe" Vaccarino,74, of Lancaster, departed this world on Thursday, November 4, 2021, after a brief illness. Joe was born on August 28, 1947, in Brooklyn, NY to the late Salvatore and Concetta (Loretta) (Micalizzi) Vaccarino. He grew up on Cheever Place in Brooklyn with his 5 brothers and sisters. Joe loved reminiscing about the good ol' days and loved sharing stories and fond memories of his childhood and life in Brooklyn. It was there that Joe met and later married the love of his life, Patricia A. (Conroy) Vaccarino, on July 16, 1977, and together they celebrated 44 years of marriage.
Joe was a proud veteran who served in the U.S Army in Korea during the Vietnam War. Throughout his life he worked various jobs to support his family, most notably Long Island College Hospital and Lancaster Laboratories. Joe enjoyed gardening, fishing, camping and most of all spending time with his family and friends. He loved music! He could often be found singing along to his favorite oldies songs, fondly recalling childhood memories of singing A cappella on the streets of Brooklyn.
Along with his devoted wife, Pat, Joe is survived by his three doting daughters, Lisa M. Brandimarte Buterbaugh (Todd Odenwalt), Loretta Vaccarino (Chris Donohue) and Mary Vaccarino (Josh Miller). Also surviving are 10 grandchildren, Brandon J. Brandimarte (Kristin), James Buterbaugh (Caron), Heidilynn Buterbaugh, Ash Buterbaugh, Caylee Buterbaugh, Makenzie Gaskins, Taylar Peace Gaskins and Briella Miller; 3 great- grandchildren, Xavier Buterbaugh, Malachi Joseph Brandimarte and Olivia Robinson; a brother Frank Vaccarino (Susan); 3 sisters, Sebastiana Stagnitta (Salvatore), Loretta Palamaro Vaccarino and Leona Varbaro (Joe); and a long list of nieces, nephews and extended family and friends. He was preceded in death by his parents and a brother, Salvatore Vaccarino (Susan).
All those who knew and loved Joe are invited to attend a viewing which will be held from 5-8 PM on Friday, November 12, 2021, and again from 9-11 AM on Saturday, November 13, 2021, at the Charles F. Snyder Funeral Home & Crematory, 441 North George Street, Millersville, PA, 17551. A funeral service will begin at 11 AM on Saturday at the funeral home. In lieu of flowers, contributions in Joe's memory can be made to the Shriners Hospitals for Children, 3551 N. Broad St., Philadelphia, PA 19140, or at donate.lovetotherescue.org/give.
Leave a condolence on this Memorial Page
Condolences to the Family
November 24, 2021
I love you and miss you so much, Pops! I hope you know that you mean the world to me. This world is just not the same without you here with us.
Love you always and forever,
Loretta
November 19, 2021
Hi. This is Louie Esposito. I lived next door to Joe. I kept in touch with him on FB. I just found out about his death. I remember the whole family. I know he is with the Lord Jesus. Im looking forward to seeing him thr. God Bless All. In Christ, Jesus, Lou.
November 13, 2021
Uncle Joe..forever in my prayers and heart..what lovely memories at grandma and grandpas singing he playing the guitar you playing the spoons and everyone at Sunday dinner gathered around pure love respect and tradition those were the cornerstones of family..May God protect you always and may eternal rest be upon you..so glad you came with aunt pat and aunt Loretta that weekend. Truly a very grateful and cherished moment..you will always be missed..loved and in so many peoples thoughts and prayers..love you..Marie Torlone
November 13, 2021
I am so sorry to hear about Joe.I was very close to the family as a teenager and young adult. His brtother Frank and I were great friends and I have only fond memories of Joe and the entire Vaccarino family that I loved only after my own. Joe and i often talked about those days and the people we knew and the old neighborhod and the music Frank and I and others made in that apt. on Cheever Place where I have some of the most happiest memories because of joe and this wonderfull family that gave so much. I'll miss him as I do all the Vaccarino's.
November 12, 2021
Oh Loretta, Pat, Lisa, Mary and all of the Vaccarino clan…my heart breaks with yours over Joe's departure. I know that his spirit will live on, but I wish he could have stayed on this earth a while longer. I will always carry fond memories of his singing, laughing, joking, and occasionally even putting me in my place 😉 He is a great man that will always mean a lot to me, and I know you will carry on his legacy for generations. I'm so sorry that I am out of town for the service today but you are all in my heart and on my mind. I pray that you find peace in his absence.
November 10, 2021
Prayers and strength goes out to Joe's family who I worked with many and highly respected for when you welcomed me in as family and helped me through a difficult time . I am here for all of you lots of love .
November 10, 2021
My sincere condolences to you and your family. May Joseph rest in forever peace and may God be with you during this trying time.
November 09, 2021
May Joe Rest In Peace. We have good memories from living on Cheever place. Also my husband work with Joe at Long Island College Hospital.
November 09, 2021
May Joe Rest In Peace. We have many memories of Joe working with my husband at Long Island College Hospital. Also of him singing on the corner of Cheever place.
November 09, 2021
I'm so very sorry for your loss. I enjoyed getting to know Joe over the years and will miss his musical Facebook postings. RIP Joe❤️🙏
Visitation

Friday, November 12, 2021
5:00 PM - 8:00 PM
Charles F. Snyder Funeral Home & Crematory
441 North George Street
Millersville, PA 17551

Map and Directions

Visitation

Saturday, November 13, 2021
9:00 AM - 11:00 AM
Charles F. Snyder Funeral Home & Crematory
441 North George Street
Millersville, PA 17551

Map and Directions

Services

Saturday, November 13, 2021
11:00 AM
Charles F. Snyder Funeral Home & Crematory
441 North George Street
Millersville, PA 17551

Map and Directions