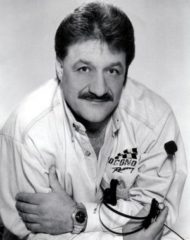 Joseph V. Mengel, 63
March 02, 2017
Joseph V. Mengel, 63, of Lititz, passed away at his son's home surrounded by his family on Thursday, March 2, 2017 after a 4 year fight with pancreatic cancer. He was born in Philadelphia and was the son of the late John A. Mengel Sr. and Thelma (Hostetter) Williams. Joe considered John his father who raised him, but his biological father was the late Anthony L. Rossi.
Joe was a graduate of Warwick High School. He was a devout Christian and was a member of LCBC in Manheim. Proud of his Lititz upbringing, he was a faithful volunteer and lifetime member with the Lititz Fire Company.
He was a former General President of Commonwealth Mailing, a division of LNP's Intel Printing in East Petersburg. He later became the owner of Commonwealth Fulfillment & Distribution Co. in Ephrata. His first and still loyal employee is his former wife and best friend, Beverly (Eckert) Mengel.
Joe's passion was his love for racecar announcing. He was a well-known Nascar Track announcer for many years. He announced races at Pocono International Speedway, Dover International Speedway, Talladega Superspeedway and Bristol Motor Speedway. For many years Joe was considered the voice of Pocono Speedway. He got his start announcing BMX in the early 80's in Lititz at LRC Raceway, and then branched into Motocross Racing announcing at Sleepy Hollow MX Park, Fredericksburg, PA. Joe then became the track announcer for Trailway Speedway in Hanover, Pa. He loved racing.
When Joe wasn't working, announcing, or volunteering at the Fire House, you could find him and his loyal dog Bailey at his home away from home at Gullsway Campground in Dagsboro, DE. Joe loved music and making people happy. He would host karaoke parties at his home or at the campground. Joe also loved cooking, especially his infamous cream of crab soup. He was also an avid Pittsburgh Steelers fan.
Joe was a loving and dedicated father and grandfather. He loved spending time with his family whenever and wherever he could. He is survived by a son, Michael J. Mengel, husband of Teressa, of Lititz, and three granddaughters, Kayla L., Courtney L., and Nicole B. Mengel.
Friends may gather at the Charles F. Snyder, Jr. Funeral Home & Crematory 3110 Lititz Pike to celebrate with the family on Thursday, March 9th, 2017 from 4:30PM-6:30PM. A Memorial Service will be held at 6:30PM following the gathering. Cremation will be held in the Snyder Crematory Chapel. In lieu of flowers, memorial contributions may be made in Joe Mengel's memory to Lititz Fire Co. PO Box 391 Lititz, Pa 17543
Leave a condolence on this Memorial Page
Condolences to the Family
March 06, 2017
Very sorry and shocked to read of Joe's passing in Sunday's paper.
I know of Joe's accolades in racing at higher levels but where he became a friend and an asset to my own racing career was when he was at his Friday night post as the track announcer for Trail-Way Speedway in the late 90's to mid 2000's. I raced micro sprints there at the time the sport was really just starting to take off and I myself had what started as a regional website that eventually grew into an international website that was dedicated to micro sprint racing. With Joe's vast experience, and grace to treat everyone with respect he offered a lot of advice to me and treated the website name (which also sponsored my car) like it was a corporate sponsor when obviously at that time it was a fledgling entity just getting started. He made everyone feel bigger then who they were at all levels. He obviously had been in the big leagues but even at a small time dirt track he made you feel like there were 50,000 fans and TV cameras. I remember having dinner with him several times in his small camper he had parked on the grounds where we would just talk before we both had to get ready to go racing. He was the first one to greet me back to that track after I had serious injuries in a crash there that sidelined me from the beginning of the 1999 season and I came back for the last two races. He was a major supporter of my website as well; and one of the most respected people I know. It's been years since I last talked to him after I stopped racing but he is what I remember the most about racing there. And it wasn't just myself; he made all the racers feel like they were at Pocono or Dover and after all this time he still left a huge impact on me. My best to his family and a huge thank you to Joe for helping to make a sport where some days it was hard to smile worth being at the track.
Regards,
Paul Fitzsimmons
Landisville, Pennsylvania
www.MicroRacing.com
March 06, 2017


After reading Joe's obituary, we can only say our acquaintance was such a small part of his busy life; being neighbors at the beach for the past eleven years. Just about every weekend, we looked forward to our short fifty minute drive always wondering how Joe could drive over three hours. We quickly learned. He had a passion for the beach and all of the friends he had made. We are proud to say that we had that privilege of knowing Joe. We share many stories; some sad, but most hysterically funny. We always kidded each other about having matching rocking chairs on his deck both pointing to the west and that we are going to grow old together there. He and I were the same age for four days of the year. Joe always told me I didn't have to respect my elder for those four days. Our long weekend chats covered everything from family to our businesses, golf carts to campfires and, of course, some things said at Gulls Way, stayed at Gulls Way!!!!!! Penny, myself and our children will remember Joe as one of my best and closest friends regardless of the miles between us. His neighbors will miss him calling asking if we wanted him to turn on our air conditioning before we arrived. Not only did he have a key to our camper, he had a key to all of our hearts. Penny, Randy Westergren & Family (and Bailey's friends Lady, Tramp, Targea and Winnie-the-Poo—-dle) Dover, Delaware
March 06, 2017
Our sympathy to you. Our sons were involved in BMX racing many years ago, we will always remember the time and dedication Joe gave at LRC. He was a great motivator and we have fond meories of the support he gave to kids. Lee Arment Family
March 05, 2017
Dear Michael Mengel and family,
We are deeply sorry to hear about the loss of our neighbor and friend Joe. Our thoughts and prayers are with you. May God Bless and be with you at this very difficult time in your life. We will miss talking to Joe about Nascar racing and his past experiences with the sport. Love Always, Chris, Brad, Brandon, and Nick Raubenstine.
March 05, 2017
I have known Joe since our days at Lititz El. A good man with a friendly smile and quick wit. Our paths haven't crossed much from school days until a few years ago, just prior to cancer. Joe fought a long, hard and honorable fight against an unrelenting cancer. Your memory will live on.
March 05, 2017
So sad to hear of Joe's passing, although I do believe he's in a better place now. I had the pleasure of working with Joe at Wagaman Bros., Printers, Inc., as well as Commonwealth Mailing, and, lastly, at Intelligencer. We alwayus had a good time when we were together. I will never forget the time when the fire scanner went off (Joe alwayus had it blaring at work at Wagaman's since the web press was loud), and Joe left to respond to the alarm. Unfortunately, nobody knew he was gone, and when the pressman finally looked at the end of the press line, there was a mountain of folded sigs. piled up. That wasn't a good day for Joe when he returned. 🙂
I will miss him very much. He wasd a good guy. RIP, dear Joe!
Don
March 05, 2017
So very sorry to hear this news, What a beautiful obituary,heart felt and showing how he loved life and family.Prayers for all of you. Robin Kline Strohm

March 04, 2017
Joe, we will always remember you from being our neighbor and friend at Gullsway Campground. I will never forget how when we first moved beside you at the campground and our little pugs got out when the camper settled and the door popped open. The little male could be caught but our female Jordin was afraid and would not let anyone near her. You were so gracious and so wonderful to sit on our deck and talk with her and keep her calm til we returned from shopping to find you there and found out what happened. No matter what you needed to do, you stayed with her and I will never forget….I am so grateful that we had the chance to meet you and know you……..We will forever love you as our friend and will always miss you and hold your memory in our hearts. God bless you Joe always. You are truly a brighter star angel in Heaven!!
Fran and David Ewell
Visitation

Thursday, March 09, 2017
4:30 PM - 6:30 PM
Charles F. Snyder Funeral Home & Crematory
3110 Lititz Pike
Lititz, PA 17543

Map and Directions

Services

Thursday, March 09, 2017
6:30 PM
Charles F. Snyder Funeral Home & Crematory
3110 Lititz Pike
Lititz, PA 17543

Map and Directions