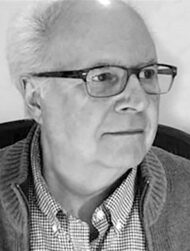 Joseph M. Ruffo, 80
August 30, 2022
Joseph M. Ruffo, 80, died Tuesday, August 30, 2022. Joe moved to Lancaster from Lincoln NE with his wife Judith in 2021 to be close to his daughter and her family. While Lancaster didn't know Joe, his impact on the people around him as a husband, father, friend, colleague, boss, and family member was as a champion of others' ambition.
He was an expert teacher–full of precise words to provide guidance and direction rather than judgment. He loved orchids, cooking, gardening, and the family pets; always calm with the perfect amount of humor and the best smile around.
Born in Norwich, CT his memories included living with his grandfather on a cove, with tomatoes growing in the summer and pots of them slowly simmering into paste. As a child he enjoyed taking his rowboat out and searching for clams. Upon moving to Miami FL he entered high school and was fortunate to have a teacher who kindled his creativity.
He graduated from Miami Beach High in 1959, earned a Bachelor of Fine Arts degree from Pratt Institute and a Master of Fine Arts degree from Cranbrook Academy of Art. He was a Fulbright Scholar to Brazil in 1963 where his love for orchids began.
Joe's professional career spanned 43 years at various colleges and universities. He was an accomplished administrator whose leadership contributed to faculty, student, and institutional success. At the University of Nebraska-Lincoln (UNL), he was Chairman and Professor of Art, and Director of the Eisentrager Howard Gallery for 19 years. In addition to degree program improvement, he initiated and managed the renovation and design of a multimillion dollar Art Department and Gallery building. Prior to UNL he was Chairman at both the University of Northern Iowa and Barry University in Miami. He taught at the Memphis College of Art.
In addition to his academic work, Joe served as President of the Lincoln Arts Council, as a member of the Public Arts Lincoln board, and Board of Advisors of the Kimmel Harding Nelson Center for the Arts. He served on the Board of Directors of the National Association of Schools of Art and Design (NASCAD), which accredits art programs in higher education. He served as an accreditation reviewer for Pennsylvania Academy of Art & Design (PCAD) and many other schools of art across the country, working intensively to bring art departments up to the NASCAD standards of education.
Joe's studio work focused on painting and drawing on paper and designing and publishing limited edition books. His book awards include: The Chicago Book Clinic Exhibition Award of Honor for, A Book of Things by Ted Kooser and Quintet #3 by Randall Snyder. His graphic design work included 23 Cliff's Notes covers. In 2020, he received the Lincoln Arts Council Legacy of the Arts Award and in 2004 the Mayor's Arts Award.
Joe, whose education and early career was as a printmaker, died of a rare blood disease, which is tied to the chemical benzene, a chemical used for the cleaning of ink from steel plates employed in the etching process. This chemical is now banned for that purpose. Joe was instrumental in promoting the use of safe materials and practices in both the construction of the art building at the University of Northern Iowa and the remodeling of Richards Hall at UNL.
Joe is survived by his wife, Judith; daughter, Amy; son-in-law, Howard Montgomery; granddaughter, Inez Montgomery; sister, Diane Ruffo-Nash; brother in- law, Paul Harrison; and cat, Beau Ruffo.
Memorial service will be held in Lincoln, Nebraska and a family ceremony in San Antonio, Texas. Memorials: Department of Art, University of Lincoln or the Lincoln Arts Council, Lincoln, Neb. and KNH Center for the Arts, Nebraska City, Neb.
Leave a condolence on this Memorial Page
Condolences to the Family
September 28, 2022
Sending my deepest condolences for the Ruffo family. Joe was a mentor to me over the year and a half that I was the program director at Kimmel Harding Nelson Center for the Arts in 2014-2015. He believed in me and always gave the best advice. I wish that I had stayed in better touch, but his words have stayed with me over the course of my professional life. His giving me that opportunity changed the direction of my professional career in the arts. He was such a grounded, kind person.
September 23, 2022
Dear Judith and the family, I am so sorry to hear about the loss of this great man. He was a brilliant mentor and friend when I was a MFA student at UNL. I learned much from him and he is still an inspiration to me. I wish I could be at UNL for the services. Sending love and blessings for peace and comfort. With best regards, Judy Stone-Nunneley
September 07, 2022
Dear Judi and Amy, We are so sorry to hear Joe has left us. The School of Art was such a lively place under his leadership, and that liveliness extended out into the whole community. He was a blessing to the University and to Lincoln. We're so glad that our paths crossed in so many ways over the years. May all your memories be sweet and fulfilling. Warmly, Pippa and Craig
September 07, 2022
Dear Judi and family,
Ralph and I were so saddened to learn of Joe's passing. He will certainly be remembered for his leadership at UNL and we have personal fond memories of our "good neighbors" on Fieldcrest Way. We are thinking of you during this difficult time. Sharon and Ralph
September 07, 2022
Dear Judyth, Thinking of you and meeting Joe knowing about his illness. You are blessed to have had such a loving and exciting time together with wonderful memories. Sad times, but know your friends are here to support you. Fondly, Jean Logan, Willow Valley G308