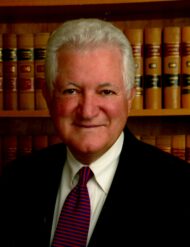 Joseph J. Lombardo, Esq., 89
January 11, 2022
Joseph J. Lombardo, 89, of Lancaster, passed away on Tuesday, January 11, 2022, at The Mennonite Home. Born in Lancaster, he was the son of the late George and Josephine (Caterbone) Lombardo.
He graduated from Lancaster Catholic High School, Franklin & Marshall College and Villanova University School of Law, class of 1961. Joseph proudly enlisted in the United States Navy and served 4 years during the Korean War.
Joseph served a number of years on the board of the Lancaster Chamber of Commerce and Industry, and the Millersville Zoning Board. He was a member of the Lancaster Country Club and the Rotary Club of Lancaster. A longtime parishioner of St. Leo the Great Catholic Church, he served on the parish counsel. Joseph practiced law in Lancaster for over 50 years and was a well-respected counselor. In his free time, he was an avid golfer and loved playing Gin.
Joseph is survived by his former spouse, Gail (Bowman) Lombardo; nephews, Michael Mastromatteo, George Mastromatteo, James Mastromatteo, and George Lombardo, all of Lancaster; and several great nieces and nephews.
He was preceded in death by his brother, Samuel Lombardo and sisters, Jenny Lombardo, Catherine Mastromatteo and Marianne L. Robertson.
Relatives and friends are respectfully invited to attend a Mass of Christian Burial on Tuesday, January 18, 2022, at 11 AM at St. Leo the Great Catholic Church, 2427 Marietta Ave., Lancaster, PA 17601 with the Rev. Stephen Logue as Celebrant. A visitation will be held from 10 – 11 AM at the church. Interment will be in St. Mary's Catholic Cemetery. In lieu of flowers, memorial contributions may be made to the Alzheimer's Association, Greater Pennsylvania Chapter, 2595 Interstate Dr., Suite 100, Harrisburg, PA 17110, or to a charity of your choice.
Leave a condolence on this Memorial Page
Condolences to the Family
January 18, 2022
I had the privilege of working with and alongside Mr. Lombardo as his assistant in the area of Estate Planning from about 2008 until he retired from practicing law after over 50 years. Even though I had already worked in law for almost 40 years myself, he shared his knowledge and continued to mentor me in how to best serve our clients. He was a gentleman both at heart and in the practice of law to our community. He will be greatly missed. I know I miss him. ~~~ Karen Mitchell
January 17, 2022
Our condolences to you Gail and the family. You two were wonderful friends with my parents and he was always kind and caring to our family. He will be greatly missed.
January 16, 2022
To the Lombardo family,
I was so sorry to read of Joe's passing. I haven't seen Joe since the 70's, but I remember him as a kind and understanding person. My prayers go out to the family, and I will light a candle in his memory.
January 16, 2022
Joe was such a nice man. I knew him since his days as our neighbor on N. Duke St. in Millersville. He remained a friend and advisor to our family over the years. My sympathy to his family and Gail.
January 16, 2022
I had the priviledge of caring for Joe when he was a resident at the Mennonite Home Communities. I cared for him when he was in Personal Care prior to him moving to Landis. Joe always remembered my name. I would frequently walk with him to Reed Run to visit Gail. Joe was a gentleman……it was a joy to offer care to him. May you find comfort in memories.
January 14, 2022
I am devastated to hear Mr. Lombardo has passed away. He was my absolute favorite boss! He took a chance on me when I was 19 with no legal experience. He was so kind and a wonderful mentor. He set the bar HIGH for future bosses and no one has lived up to him.
May his memory be a blessing to all who knew and loved him. 🙏🕊
Holly (Hocke) Smith
January 14, 2022
I worked for Mr. Lombardo in the early 70's as his legal secretary. He was a great boss! Sorry I cannot attend his funeral mass since I am living in Florida at the present time. The family will be in my prayers.
January 13, 2022
I am so sorry to hear of Mr Lombardo's passing. I worked in the same office building with him for 30 years. He was always very kind to me. My condolences to his family.
Visitation

Tuesday, January 18, 2022
10:00 AM - 11:00 AM
St. Leo the Great Catholic Church
2427 Marietta Ave
Lancaster, Pennsylvania 17601

Map and Directions

Services

Tuesday, January 18, 2022
11:00 AM
St. Leo the Great Catholic Church
2427 Marietta Ave
Lancaster, PA 17601

Map and Directions