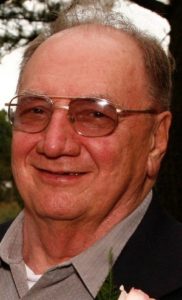 Joseph J. Gorlaski, 90
January 09, 2019
Joseph J. Gorlaski, 90, of Lancaster, PA, passed away on January 9, 2019 at Hospice & Community Care. Born and raised in Scranton, PA, he was the son of the late John Gorlaski and Mary Zuchlewski. Joe was the loving husband of 64 years to Kathleen "Kay" A. (Spathelf) Gorlaski.
A veteran, he served in the US Navy during the Korean Conflict. Joe retired as an Engineering Technician from GE. He was a self-taught wood worker who made furniture for his family's home. He was an avid Phillies and Penn State Football fan. One of his favorite pastimes was fishing especially when he could take his grandchildren along.
In addition to his wife, Kay, Joe is survived by his children: Joseph M. Gorlaski, husband of Joan, Ruth A. Bernhardt, wife of Tim, and Karen M. Shiley, wife of Dave; 7 grandchildren and 10 great-grandchildren. He is preceded in death by 2 brothers and a sister.
Friends will be received from 6-8 PM on Friday, January 11, 2019 at the Charles F. Snyder, Jr. Funeral Home & Crematory, 3110 Lititz Pike, Lititz, PA 1754. A Mass of Christian Burial will be private for the family at St. Leo the Great Catholic Church. Joseph will be laid to rest at St. Joseph New Catholic Cemetery, Bausman. In lieu of flowers, contributions may be made to Hospice & Community Care, 685 Good Drive, Box 4125, Lancaster, PA 17604.
Watch the tribute video
Leave a condolence on this Memorial Page
Condolences to the Family
January 12, 2019
Dear Kay, Karen, Rebecca, & Missy & the whole Gorlaski Family,
We are so saddened to hear of PopPop's passing. What a strong, wonderful, and loving man. Your memory lives on in the living legacy that is your warm and wonderful family, children, grandchildren, and great-grandchildren. Sending you all the love and prayers in our hearts, as you remember this amazing man and celebrate a life well lived. Thinking of you every day during this impossibly difficult time for your wonderful family. Love, Linda & Cal Cameron
January 10, 2019
To the Dear Family of Joe Gorlaski,
My Name is Betty Jane Foglio, RN. I had the privilege and honor of caring for Mr Gorlaski several shifts during the night. I offered Joe comfort and solace during those wee hours. Joe expressed his sadness and fear of dying. But, he responded to the knowledge of knowing that Jesus and his family here on earth loved him very much. I enjoyed working with him and thank God I could offer him the care that I did.
Please know he was a joy to work with and offer care.
Respectfully Submited,
Betty Jane Foglio, RN
Mt Joy IPU

January 10, 2019
We are saddened to hear of Joe's passing. We worked with him and were his friends. Our sincere condolences to his love ones.
January 10, 2019
Dear Karen,
I am so sorry for the loss of your father. He was a kind man. He always smiled when all the neighborhood girls would invade the basement. I will keep you and all your family in my thoughts and prayers as you grieve the loss to your family.
Janice Bofinger

January 10, 2019
Dear Joe,
When you lose someone you so loved, you are left with memories, and they are a precious thing- I am sure your dad in his 90 years has left you with many! Keeping your family in our thoughts and prayers, and also posthumously saying Thank you, Mr. Gorlaski, for your service to our country. Wendy(Rebman) and Brian Lefever
Visitation

Friday, January 11, 2019
6:00 PM - 8:00 PM
Charles F. Snyder Funeral Home & Crematory
3110 Lititz Pike
Lititz, PA 17543

Map and Directions