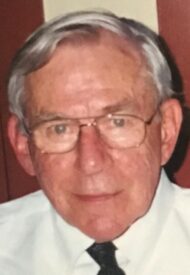 Joseph J. Gawarkiewicz, 86
August 21, 2021
Capt. Joseph J Gawarkiewicz, USN (ret) died on August 21, 2021 at Willow Valley Communities, Lancaster, PA after a long illness.
Joe was born on Staten Island, NY in 1934 to Helen Kochman Gawarkiewicz and Joseph J. Gawarkiewicz. He attended high school at the Augustinian Academy in Staten Island. He attended Villanova College prior to receiving a Congressional appointment to the United States Naval Academy graduating in 1957.
He joined the Civil Engineer Corps, earning a Bachelor of Science in Civil Engineering from Rensselaer Polytechnic Institute. His first CEC tour was at the Naval Air Test Center at Patuxent River, MD
Next, Joe earned a Master's of Science in Engineering at Princeton University. Joe completed two tours of duty in Vietnam in 1968 – 1969, along with tours in Thailand, Mississippi, London, England, Newport, Rhode Island (Naval War College) and the Pentagon.
He completed his career as the Public Works Officer at the Naval Academy. Joe's awards included the Legion of Merit, Bronze Star with Combat V, Navy Commendation Medal, and the Armed Forces Expeditionary Medal.
In 1982, Joe joined Princeton University as General Manager of Plant & Services and became involved in an expansion of Princeton facilities and Service Departments. In 1993, he retired from Princeton and with his wife Dolores moved to Island Heights, a small community on the Jersey shore. While there he was elected to serve on the Borough Council for two terms. Joe and Dolores moved to Philadelphia for several years before moving to Willow Valley Communities in Lancaster, PA where he was able to spend some time with fellow USNA grads.
Joe was a role model to many, a great thinker with a dry sense of humor and much loved by his family and friends. His reassuring presence will be sorely missed and hopefully emulated by his grace, dignity and humility.
Predeceased by his wife, Dolores Gleba Gawarkiewicz in 2018, Joe is survived by his son, Glen and wife Connie, and daughter Marlene Jane and husband Marty Franklin, five grandchildren Ellen, Thomas, Gwen, Delia and Teddy and his brother, Charles Gawarkiewicz and his wife Patricia.
Donations may be made to Water Street Mission, Lancaster. Services will be held at the Naval Academy in the spring.
Leave a condolence on this Memorial Page
Condolences to the Family
September 12, 2021
Dear Glen, Connie, Ellen, and Thomas,
Our sincere condolences on the loss of your father and grandfather. May the many beautiful memories bring you comfort as you mourn his loss. We are keeping you in prayer. Love, Bill & Margaret