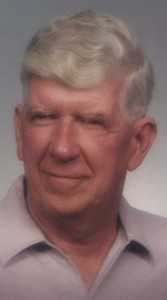 Joseph H. Hughes, 82
Joseph H. Hughes, 82, formerly of 99 Valleybrook Dr., Lancaster, passed away Monday morning at Landis Homes where he had resided.
He was the husband of the late Lillian "Lee" Grant Hughes, who passed away in 1989. Born in Bethlehem, he was the son of the late Ernest and Elizabeth Bebb Hughes.
Joseph had worked in management for Bell of PA / Verizon for 30 years, until retiring from the Lancaster office in 1980. Following his retirement, he and his wife resided in central Florida for 7 years.
He was a member of the Telephone Pioneers of America, and enjoyed reading and traveling with his wife.
Joseph was a member of St. John Neumann Catholic Church, and was a US Army veteran of World War II, serving as a First Lt. in Japan during the occupation.
He is survived by 7 children: Jean H. married to Walter J. Daly of Lancaster, James J. Hughes of Big Canoe, GA, Robert M. married to Linda Hughes of York, Kathleen H. married to David Sanders of Oakville, Ontario CA, Dorothy H. married to Jeffrey Horst of Allentown, Maryellen married to Gene DiPalma of Bethlehem, and Richard E. married to Shirley Hughes of Harrisburg. Joseph is also survived by 19 grandchildren and 11 great grandchildren. He was preceded in death by 2 brothers, William and Ernest Hughes Jr.
Friends will be received on Thursday from 10-11AM at St John Neumann Catholic Church, 601 E. Delp Rd., Lancaster, PA, with the Mass to follow at 11AM. Interment in St. Joseph New Catholic Cemetery. In lieu of flowers, contributions may be made in Joseph's memory to Landis Homes, 1001 E. Oregon Rd. Lititz PA 17543. Arrangements by the Charles F. Snyder Funeral Home and Chapel, Lititz 560-5100.
Leave a condolence on this Memorial Page