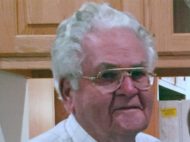 Joseph D. Reilly, 93
November 26, 2020
Joseph D. Reilly, 93, of Lancaster, passed away surrounded by his loving family on Thursday, November 26, 2020. Born and raised in Lancaster, he was the son of the late John Joseph and Alice C. (Davish) Reilly. He was the devoted and loving husband of Constance "Connie" (Streeter) Reilly, with whom he celebrated 65 years of marriage in September.
He will be remembered for his fondness of playing golf with his friends and family at Conestoga Country Club. In their free time, he and Connie also enjoyed traveling and skiing. Skiing in Utah and Europe were spots that they favored and for their 50th anniversary they traveled through Russia. Joe was also a member of the American Legion, VFW and Lancaster Leiderkranz.
Joe will be sorely missed by his loving wife, children: Karen, wife of George Boldizar of Lititz, Kevin Reilly, husband of Lee, of LaPine, Oregon and Chris Reilly, husband of Denise, of Pittsburgh. He was a beloved "Buppa" to his grandchildren and great-grandchildren: Meredith Karg (Tyler) of Tylersburg and their children: Lucas, Nathan and Grace, Marissa Boldizar of Akron, Rachel Reilly of Pittsburgh and Daniel Reilly of Jersey City, NJ. He is also survived by his brother, Luke Reilly, husband of Virginia, of Columbia and a step-granddaughter, Corie Agan (James) of Clarksville TN and their children, Shiloh and DJ.
The family would like to extend their gratitude to the staff of Homestead Village Health Center, for the care and compassion they extended to Joe and his family during this very difficult time.
A memorial service will be held at a later date.
Leave a condolence on this Memorial Page
Condolences to the Family
November 20, 2021
Dear Connie,
My sincere sympathy for the loss of Joe. I wanted to stop today at the celebration honoring Joe, but plans changed. Very sorry for your loss.
Mary Ellen Kopetz
December 09, 2020
I am so sorry to hear of Joe's passing. You are in our prayers as a Conestoga C.C. family.
ROBERT LEEMAN
December 03, 2020
Dear Connie,
My sincere sympathy on the death of your husband, Joe. I remember you both as golfers at Conestoga CC. My husband, Tom Sosnoski, also died on Oct. 19. He was in poor health, but, not expected to die so soon. We both have a long road ahead of us.
Sincerely, Shirley Ranck
November 30, 2020
I am sad to see that Joe passed away. Sorry for your loss. I will miss seeing Joe at conestoga country club. He did alot for the club over the years. Once he couldn't play golf any longer, he would still hang out and take on small projects at ccc. The members appreciate all he did for the club and for his friendship. RIP Joe. My thoughts and prayers are with the family.
Woodie Pickell
November 30, 2020
Prayers are with your entire family. We have many fond memories at CCC.
He is at peace!
Dick and Marge Trout
November 29, 2020
Uncle Jess, I'm so sad to hear you're no longer here with us and I will miss giving you your Christmas candy. Say hi to everyone up there for me – I miss them all and always will. Through tears and with love, Sue
November 29, 2020
Condolences to you all at this time. Aunt Connie, I am grateful that through our most recent phone call I got to hear his voice one last time. Our thoughts are with you; our hearts are for you. Peace be on you now and always.
John, Cindy and James Reilly

November 28, 2020
Love you Dad. Miss you so much.
November 28, 2020
So sorry to hear about Uncle Jess. I have been gone many years, but I have fond memories of him. I am glad you have each other to help you through this time.
Regina (Reilly) Medeiros
November 27, 2020
Connie. Our hearts go out to you on the death of your dear Joseph.
What a beautiful legacy he left to his family, especially all those who affectionately called him Buppa….
May Joe rest in the Peace of Christ.
Affectionately,
Bill and Mary Alice Jansen
November 27, 2020
Love you, Dad. You will be missed.
Chris Reilly