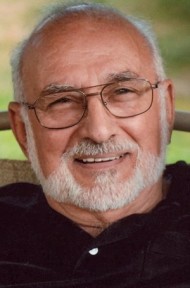 Joseph D. Galie, Sr., 80
August 13, 2015
Joseph D. Galie, Sr., 80, of Lancaster, died Thursday, August 13, 2015 in his residence, surrounded by his loving family.
Born in Horning, PA, he was the husband of Kathleen (Hohenwarter) Galie of Lancaster, and the son of the late Silvano and Veronica (Centini) Galie.
He attended St. Leo the Great Catholic Church, Lancaster, but was raised in Sacred Heart Catholic Church.
Joe was a 1953 graduate of LCHS, where he was involved in the band and orchestra. He learned the welding trade at the Armstrong Research Center on Columbia Avenue and became a welding instructor at LCCTC in 1973. He taught countless area students to weld for 33 years.
An avid off-road motorcyclist, Joe was a charter life member of the AMA and longtime member of the East Coast Enduro Association. He competed in off-road events for 50 years. It was his passion.
Joe played trumpet and bass for the Royal Tones, a popular local band, for 30 years. He was also involved in the Sound of Roses, a local band that played for charity.
In addition to his wife of 61 years, Joe is survived by a daughter, Sylvia M. Sanders and her husband John D. of Lancaster; a son, Joseph D. Galie, Jr and his companion Amanda Richards of Hellam, PA; 6 grandchildren: Melissa Sanders Giess and her husband Benham, Heather V. and Katrina L. Sanders, and Allison A., Kelsey J., and Cassidy J. Galie; and 2 great-grandchildren: John Sheldon and Beatrice Benham Giess. He was preceded in death by a brother, Dino Pantanella, and a sister, Philomena Fairgrieve.
A Mass of Christian Burial will be held at 11 AM Tuesday, August 18, 2015 at St. Leo the Great Catholic Church, 2427 Marietta Ave., Lancaster with the Rev. Peter I. Hahn as Celebrant. Friends will be received from 7 to 9 PM Monday, August 17, 2015 at Charles F. Snyder, Jr Funeral Home & Crematory, 3110 Lititz Pike, Lititz, and again one hour prior to the Mass at St. Leo's on Tuesday. Burial will be in St. Joseph New Catholic Cemetery, Lancaster.
Memorial contributions in Joe's memory may be made to the LCHS Music Dept., 650 Juliette Ave., Lancaster, PA 17601.
Leave a condolence on this Memorial Page
Condolences to the Family
May 22, 2017
I would like to offer my very sincere condolences to all of the Joe Galie family direct in person. I just learned of Joes passing to be with our heavenly father to Shepard him as he had with me. I would love nothing more to be the person to tell my story of what it was Joe saw in myself to set me up for success for my future. I so badly miss Joe. Joe, I so badly want to tell you how you formed a person, a worker, a father, a respectful community figure, a husband, a godly figure all molded from your values. This Joe, I will always be endowed from everything you had molded me in the best 4 years old budddy!!
Family, Please call Matt Bender @ 717-515-2111.
I would love to sit with the family and sincerely tell you about Joe and I connection. It was a true life changing story. I owe ALL of my success that started from my loving buddy JOE. I MISS YOU JOE! Forever Matthew Bender.
September 08, 2015
Dear Galie family: I am writing this note 2 weeks after Joe's passing so the direct effect of him being gone has now sunk in. I first met Joe in 1972 as my vo-tech welding instructor. From the very beginning anybody that met Joe liked him and I and all his other students liked him very much. He enjoyed what his students enjoyed being music, cars, and motorcycles. I don't need to tell you how blessed Joe was with many talents and was a master at many endeavors. He loved to learn new things and often excelled at new ideas and concepts. But i think Joe loved motorcycles and fast riding more than anything else i can remember. I can tell you for certain that the things Joe taught me as a 17 year old student changed my life forever. Both skills and discipline made a huge dirrene nce in my life outcome today. He was an irreplaceable mentor and myself along with many others were greatly affected by his influence. He and i would occasionally disagree about a few things but he changed the lives of many young people for the good…that is for certain. In closing i can say i will never forget the things Joe hlped me with and the great times i spent with him riding motorcycles and enjoying life. Sincerely yours,Jeffrey N. Millhouse
August 19, 2015
To a man that we all admire most. Joe, I will miss our small talk at the end of each race, always laughing, upbeat, and most of all your kindness. Our condolences to Joe Jr. and the Galie family. We may have lost a friend but we gained a new course to the road to heaven with Joe leading the way. Until we meet again. Godspeed Joe!!

Barry Seppy-Meteor MC
August 17, 2015
Joe,
God bless and God speed! You were a special person who saw good in everybody. I know that you and Tim are riding with the big guy. Hope they have some KTMs up there. All the best to the family.
Bob Martinez NYC Division SPER
August 17, 2015
Remembering Uncle Joe tenderly and fondly, and holding love in my heart for Aunt Tootie, Joey, Sylvia and all of the family who have lost a precious loved one. May your memories keep you warm as you cherish those days of music, motorcyles and chicken BBQs that you all have shared.

Donna Mitchell Finegold
Lantana, Florida
August 17, 2015
Dear family, We knew Joe from Hempfield Rec for many years. He was loved and respected by all and will be greatly missed. Our hearts and prayers are with you.
Marion & Doug Maxwell
August 17, 2015
Kathleen, My deepest sympathy and consolences for you and the Galie family in this sad time. I am comforted knowing that Joe and Frank are up in heaven striking up a tune and smiling down on us. We all had so many good times together!
You and your family are in my prayers.
Sincerely,
Pat Bostick and family

August 15, 2015
Sylvia and family,
You and your family are in my thoughts and prayers.
Fondly,
Mary Lynn DiPaolo
August 14, 2015
Joe will be missed. What a great friend. Remembering all the good times… the gigs with The Sound of Roses, chicken bar b que at the cabin, going out after rehearsals and all of your stories. You were such an inspiration. Our thoughts are with you Kathleen and the rest of the family. Keep the groove going in Heaven Joe!!
Jane & Tom Benton
August 14, 2015
Dear Galie family,
Please accept my condolences. I was saddened to read of Joe's passing in todays paper. Joe did various welding projects for me at Armstrong Research Center. My wife, Annie, and I enjoyed dancing to the great tunes Joe's band played. Joe was well liked as he has an engaging personality. In sincere sympathy, Ray Huber


August 14, 2015
My thoughts and prayers go out to the family and loved ones of Joe. Joe was an inspriation to all the guys in the South Penn Enduro Riders club. Thank you Joe for the good memories and good times!
Tim Grove
August 14, 2015
My deepest condolences to all of you! May the memories you have help you through this very difficult time!
Love, Erika Stetler
August 14, 2015
Met Joe at the old Armstrong R&D in 1962 after high school in Columbia. Remember him as a great person who drove an old
sports car. We took judo lessons together after work. I only worked there for a year before heading west to attend college.
Thoughts and prayers are with him and his family.
Joe Shary – Las Vegas, Nevada
August 14, 2015
To my dear friend Joe: thanks for always being there for me….thanks for all the wonderful memories…..thanks for all the laughs we shared…..thanks for being one of the most fun-loving people i've ever had the pleasure of knowing. you and i go back almost 44 years now and to say you will be missedby me is an incredible under-statement. Your work is done now….your riding is over. Rest in Peace my friend. Regards, John Lutz, Leola, PA.
August 14, 2015
Please know there is not a better man that can enter the WELDED gates upstairs to the ELITE! Angels walk this earth and some people are lucky to meet and spend time with such a person. A MENTOR to my son, teaching Ryan patience, welding and the love for speed, Ryan Flosser could have drawn the straw for the best teacher that walked this earth ! as well as a GOOD MAN !!. Joe lived with NO FEAR because he loved God's idea of give it YOUR ALL! He gave everything he had and more ! LOVE JOE !!! An ANGEL foresure. My Pop will be there to WELCOME JOE HOME !
Prayers to hold the family in their time of loss. Cindy Findley

August 14, 2015
Joe was an extraordinary person. The ECEA has lost one of our "legends". We will miss him and his smile.
~The Compton Family
Visitation

Monday, August 17, 2015
7:00 PM - 9:00 PM
Charles F. Snyder Funeral Home & Crematory
3110 Lititz Pike
Lititz, PA 17543

Map and Directions

Visitation

Tuesday, August 18, 2015
10:00 AM - 11:00 AM
St. Leo the Great Catholic Church
2427 Marietta Ave.
Lancaster, PA

Map and Directions

Services

Tuesday, August 18, 2015
11:00 AM
St. Leo the Great Catholic Church
2427 Marietta Ave.
Lancaster, PA

Map and Directions