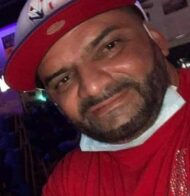 Jose "Noli" Manuel Garrastegui
June 19, 2021
Jose "Noli" Manuel Garrastegui of York, PA passed away June 19, 2021. Born in Brooklyn, NY he was the son of late Teodoro Garrastegui and Leida Perez Torres of Guanica, Puerto Rico.
He had been working as a machine operator for Bway Corporation of York, PA for the past 9 years.
Jose will always be remembered for his great sense of humor. Through the years, he enjoyed taking trips to the beach, watching and playing basketball, and singing karaoke. Above all, he cherished time spent with family and creating memories with those close to him.
He is survived in addition to his mother, by a son: Steven Mendez of Stevens,PA ; a granddaughter: Olenna Mendez and seven siblings.
A viewing will be held from 2pm-3pm followed by a time of remembrance at 3pm on Sunday, June 27, 2021 at the Charles F. Snyder Funeral Home and Crematory, 414 E. King Street, Lancaster, PA.
Watch the tribute video
Leave a condolence on this Memorial Page
Condolences to the Family
June 27, 2021
Siempre estarás presente en mi memoria! Gracias por el tiempo que me permitiste estar a mi lado.
June 27, 2021
I still can't believe this is real I will miss you always. I love you 🌹
June 27, 2021
Gone to soon. You were so pleasant everyday I saw you at work. Another good guy gone too soon. RIP "Hulk"

June 23, 2021
Mi más sentido pesame para la familia, mucha fortaleza lo siento mucho,Un gran amigo,Descansa en Paz noli.
June 22, 2021
Y estuvo casada con Olmeda Balbi durante 10 años Me quedo con todo tu recuerdo en mi corazón 💔
June 22, 2021
I will always Love you Noli you made a impact in my life & gave me a Precious son in the Process ! Watch over us I thank you for keeping it Real with me always . We will never forget you I will Kepp your memory alive Rest well My BFF . Love always Rosa 🌹♥️
Services

Sunday, June 27, 2021
3:00 PM
Charles F. Snyder Funeral Home & Crematory
414 East King Street
Lancaster, PA 17602

Map and Directions