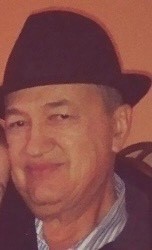 Jose M. Rodriguez Sr., 65
June 18, 2022
Jose M. "Ochi" Rodriguez, Sr., also known as "Villalba" passed away June 18, 2022. Jose was born in Villalba, Puerto Rico to the late Adolfo and Carmen Olivieri Rodriguez.
Jose "Ochi" was known for his numerous Puerto Rican Cuisine restaurants throughout Lancaster County, for the last 26 years, with his last location on Green Street, El Friquitin de Villalba. A philanthropist who strived and dedicated himself to improving the Hispanic community in Lancaster. Jose can be remembered as a strong-willed, selfless man, with a heart of gold. He was a man of few words but of great action. He was known for lending a hand to anyone in need without expecting anything in return. He never wanted any recognition for the things he did as he felt it was just part of being a good person. To known him was to love him. His loss is one we feel in the very core of our being as he exemplified what it means to be a great man.
Jose is survived by his loving wife, Maria "Angie" Arroyo; his children: Angely Rodriguez-Arroyo, Jose M. Rodriguez, Jr., Loudres Rodriguez and Joseline Rodriguez-Criado; his grandchildren: Kimberly Paola, Jose, Ariana, Nasir, Diego and Luis Fabian; his great-grandchildren: Ethan and Gianna Victoria; his siblings: Adolfo Rodriguez, Jr., Jorge Rodriguez, Noelia Rodriguez, Francisco "Javier" Rodriguez and Eva Judith Rodriguez.
In addition to his parents, Jose is preceded in death by his sister Maria Yolanda Rodriguez and brother Adoel Rodriguez.
Family will receive friends at Charles F. Snyder Funeral Home, 3110 Lititz Pike, Lititz, PA, Friday, June 24, 2022 from 6pm-8pm. A service honoring Jose's life will be held at Family of Christian Churches, 420 S. Queen St., Lancaster, PA Saturday June 25, 2022 at 11am. A viewing will be taken place at 10am, one hour prior to service. Interment will be held immediately following the service at Conestoga Memorial Park.
Leave a condolence on this Memorial Page
Condolences to the Family
July 05, 2022
My Condolences To His Family & Friends!
May He Rest In Peace🙏
Lancaster, Pennsylvania
😥😢🥺☹️🙁
June 27, 2022
Sentimos mucho la perdida de un excelente ser humano.Conozco a Don Jose atravez de Tia Raquel (en paz descanse). Siempre que tenia un acontecimiento importante que celebrar en mi familia no podia faltar ese sazon rico de sus comidas."Dios no prepara a los escojidos, Dios escoje a los preparados para estar con El". Nuestro mas sentido pesame a toda la familia. Carlos Medina.
June 26, 2022
Palabras no pueden describir la clase de persona que era el señor villalba en todo Lancaster y también en Puerto Rico Yo le doy el pésame a la familia tuve enfermo y vine averiguar hace poco esto que Dios me los bendiga y borrar por Paz en la familia en medio de la tristeza
June 25, 2022
Dios lis bendiga quiero expresar mis condolencias a mis amigo ochi y adus familia nos unimos a las pérdida de un gran amigo siempre lo recordaremos Eddie y Elizabeth from Columbia PA.
June 24, 2022
Mis condolencias pa la familia. Conoci a Jose comiendo en sus locales desde que era teenager y tengo 37 años. Compartia con él de vez en cuando y simpatizabamos porque los dos hablamamos poco. Me duele su perdida y me alegro de haberlo conocido. Que en Paz descanse y que sea bien recibido por nuestro querido Padre Celestial, amen.
June 24, 2022
Mi mas sentido pesame para la familia que descanse en Paz. Un abrazo muy fuerte desde la Florida para Angie que aunque este lejos siempre los recordaba una buena persona que era Ochie.
June 24, 2022
Mis Condolencia para Su Esposa Angie Y Toda Su Familia y Amigos De Parte de Maria Sevilla Y Sus Hijos Angel Ariel Jesus y Carmen Julia Padilla Que Papacito Dios te Recibas Con los Brasos Bien Abierto Vuelta Alto Orchi 😥😥💔💔🙏🙏
June 24, 2022
Our deepest condolences
A true legend of Lancaster
u was always a man of your words
Lancaster was blessed to have u around
thank u for all u have done
u will be missed

Saez n Suliveras family
June 24, 2022
Aunque no tuve el placer de conocerlo personalmente, lo hice a través de su hijo y se que la partida de un ser querido nos desgarra el corazón pero su alma seguirá con ustedes dándoles fortaleza y cuidándolos desde el cielo. Que descanse en paz.
June 23, 2022
Mi más sentido pésame para toda su familia. Angie te envio un fuerte abrazo desde la Florida. Que descanse en paz

June 23, 2022
Nuestros sinceros pesame a toda la familia, que Dios los Bendiga a todos, descansa en paz Ochi ahora hay otro angel mas
Nelson Torres y familia
June 23, 2022
Lo siento mucho la pérdida de una gran persona…..Que Dios lo tenga en su Santa Gloria…..mis oraciones para su esposa y hijos……que en paz descanse…🙏🙏🙏🙏😇😇😇😇Raquel Vazquez y familia
June 23, 2022
Mi más sentido pésame para Angie y la familia en este momento de dolor por la pérdida de Ochie, un gran ser humano. Se escapo de entre ustedes, pero nunca de sus corazones. Les deseo mucha fortaleza y que encuentren paz en su memoria y los momentos felices que compartieron.
Enelly Betancourt
June 23, 2022
Te acompaño los sentimientos Angie y a toda la familia! Que Dios lo tenga en su reino!!!
ivonne y Juan
June 23, 2022
To my dearest Angely. Our deepest condolences and prayers for you and your family during this difficult time. We love you so much Ruth and Tony Rosario🙏🏼❣️
June 23, 2022
Mis mas sinceras condolencias de parte de mi y mi familia Tata, Margie y Jeannette. Oramos por su eterno descanso y para que la paz y el consuelo de Dios los acompañen en este dolor. Tata
June 22, 2022
Mis mas sentido pésame y fortaleza a la familia Juli cruz
June 22, 2022
Mi más sentido pésame a la familia de quien en vida fue José "Ochi" Rodríguez. Un icono en nuestra comunidad de Lancaster. Un ejemplo de lo que define a una persona íntegra, humilde, servicial y con tantos valores que no hay espacio para compartirlos todos. Un gran ser humano querido por miles de personas aquí en Pensilvania al igual que en su tierra de Borikén, en especial en su pintoresco pueblo de Villaba. Perdimos una gran caballero en la tierra, pero el cielo ganó un gran ángel. Mucha fortaleza a la familia en estos momentos difíciles. ¡Vuela alto Ochi! 🙏🏼
Pedro Sánchez y Familia
June 22, 2022
Condolencias de la Iglesia Puerta De Refugio y su administracion. Fue un amigo, un companero. Nuestras oraciones para la Familia Rodriquez.
Pastor Manny Roman
June 22, 2022
Angie y familia siento mucho la pérdida de Ochie! Un gran ser humano!! Dios lo tenga descansado en paz!🙏🙏 Ada Lopez
June 22, 2022
Mis Condolencias para angie e fam les acompaño en su dolor.departe de piloto e familia. Gladixa Perez
June 22, 2022
Deepest condolences to Angie and family on the loss of a truly great guy. Ochi was such a kind and quiet person. Known for his restaurant business by many… I was blessed to know him more personally, as a dear friend, for many years. He will be missed very much. Rest In Peace my dear friend!!Your Friend,
German Pena
June 21, 2022
Mis condolencias para toda la familia .Compay como nos deciamos cuando iba al restaurant Descanse en PAZ Marcos Cruz
June 21, 2022
Nosotras condolencias a toda su familia. Ya que fue u. Gran Amigo. BELLA PERSONA QUE DESCANSES EN PAZ Y QUE NUNCA LO OLVIDAREMOS NUESTRO AMIGO Y HERMANO OCHI. DE PARTE CARMELO ( MITO) Y MIGDALIA ( YAYI) QUE DIOS LOS BENDIGA A TODOS 🙏 Migdalia Cintron
June 21, 2022
A nombre de la familia Andujar Otero les queremos dar nuestro más sentido pésame a toda la familia Iris otero
Visitation

Friday, June 24, 2022
6:00 PM - 8:00 PM
Charles F. Snyder Funeral Home & Crematory
3110 Lititz Pike
Lititz, PA 17543

Map and Directions

Services

Saturday, June 25, 2022
11:00 AM
Family of Christian Church
420 S. Queen St.
Lancaster, PA 17603

Map and Directions