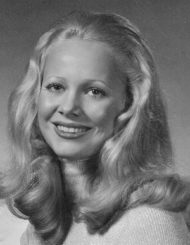 Jonelle Racusin, 61
August 28, 2016
Jonelle Racusin, 61, of Lititz, PA, passed away on Sunday, August 28, 2016, at Lancaster Regional Medical Center. Born in Wilkes-Barre, Jonelle was the daughter of Nancy (Dugan) Wheatley and the late Roy E. Wheatley.
A 1973 graduate of Lake Lehman High School, Jonelle participated in theater productions. In 1973, she entered the Miss Pennsylvania Pageant, where she was 1st runner up. Jonelle earned her Bachelor's Degree in Business Education from Rider University in 1977. She loved to cook, enjoyed ballet dancing, and volunteered her time with the Junior League of Wilkes-Barre. She loved animals of all kinds.
In addition to her mother, Nancy, Jonelle is survived by her loving daughter, Ashely Racusin Moriarty, of Lititz, PA and her 2 granddaughters, Mia and Charlotte.
Funeral Services for Jonelle will be private.
Leave a condolence on this Memorial Page
Condolences to the Family
September 09, 2016
I was so sad to hear of Jonelle's passing. We had lunch together recently. She told me she liked the 70s music I was playing in the car, remarking that she had not heard some of the songs in years. One in particular she liked a lot-a few weeks, after Jonelle passed, I heard the song on the radio and it was one of the top five songs this week in 1973-the year Jonelle graduated from high school. May God's peace and comfort be with Ashley and all Jonelle's family. Lisa Gockley
September 01, 2016
Dear Mrs. Wheatley – I am so very sorry to hear about Jonelle's passing. I was her classmate throughout high school and being in musicals with her. I will pray for you and your family and ask for God's peace and comfort during this time. God bless you.
Gail Shaw, Minnesota
August 31, 2016
Dear Mrs. Wheatley and Ashley,
I was so shocked and saddened to hear of Jonelle's passing. She was a special friend, and my very best high school memories were of the times we shared together, (Musicals with Mrs. Wheatley choreographing, twirling, dances, vacations, sleep overs, the list goes on and on…..) We had lost touch over the years but the memories will always remain. Sending you my deepest sympathy.
Marilyn (Ivan) Coughlin
August 30, 2016
Aunt Nancy and Ashely,
I was so saddened to hear the news about Jonelle/your mother. Hold close to your hearts the fondest of memories, and may those memories you shared with her beautiful soul sustain you. Sending you hugs and much love.
With deepest sympathy from your niece/cousin,
Maria Dragon Davis
Harrisburg, PA
August 30, 2016
To my "Best" childhood friend. We were always like brother and sister and we had so much fun growing up. I laugh each time I think about teaching you how to drive and all the great laughs and conversations we shared. I will always remember you with kind and loving thoughts, and know that now you are at peace and in a good place. God Bless my dear friend and I will see you again someday in a "Heavenly World" Your friend always, William K Jones

August 30, 2016
We are so very sorry for your loss. Our thoughts and prayers are with you. Jonelle was a beautiful and wonderful person. She was kind and giving. May she rest in peace. God Bless.
John and Virginia Zikor
August 30, 2016
Dear Nancy & Ashley, I simply can't
believe that beautiful Jonelle is gone.
We lost touch over the years, but I
have such fond memories of good times spent
together – playing tennis badly,
costume parties, and her wonderful cooking. she had a great sense of humor and how she
Adored Ashley , her only child.

i am so saddened by her loss.
God bless. Carol Feltz
August 30, 2016
Mrs. Wheatley and Ashley – I was shocked to see Jonelle's obituary in The Times Leader. I am so sorry for your loss. I considered Jonelle one of my best friends through Jr and Sr High School at Lake-Lehman. We were baton twirlers together – and if you remember Mrs. Wheatley – we practiced many routines in your front yard. We lost touch over the years but….we did reconnect for a while when we discovered we were back yard neighbors in Kingston. My thoughts and prayers are with you at this difficult time.
Donna Ashton DeCesaris