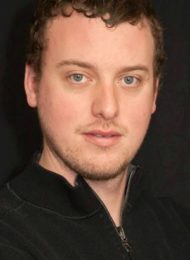 Jonathan W. Thorn, 32
November 19, 2019
Jonathan W. Thorn, 32, of Napa Valley, CA and Lancaster, PA, died in an early-morning collision on Tuesday, November 19, 2019 in Napa County. He was killed by a driver who crossed over the double yellow line and struck Jonathan's car head on. Both drivers were killed in the crash.
Jonathan was born in Lancaster, PA and was the son of John Templeton and Amy Louise (Zacharias) Thorn.
Jonathan graduated from Lancaster Mennonite High School in 2005.
He attended Shippensburg University where he was a BS major in Supply Chain Management. After college Jonathan utilized his supply-chain knowledge to help his parents' global supply chain business DBM. He started helping with the family business at 13 when he travelled with his parents to various locations as they hosted educational trade shows and conferences benefiting the supply chain industry.
He remained actively involved with DBM but took on a new role after college when he moved in 2010 to California to help his parents establish Thorn Hill Vineyards. During his time in California he assisted with vineyard development, building the Thorn Hill wine ranch, which houses the Lake County Tasting Room and luxury guest villa suites. During the building process he learned the craft of masonry and helped build the stone walls, pump house and gate at the ranch. He buried a bottle of the family's first wine vintages in the foundation of their building.
Jonathan assisted his mother winemaker Amy Thorn with bottling operations and the logistics of their family-owned wine business. In addition to his hard work at the family business he drove for Uber at night. He used part of his earnings to help many families in the area facing hardships in Lake County after fires and other challenges.
Jonathan loved running and was on the cross country team at Lancaster Mennonite High School. After college he went on to coach the Kelseyville High School Cross Country team when he moved to California.
An avid traveler, Jonathan visited many countries in Central America and Europe, including Scandinavia, the British Isles, western, central, and southeast Europe and most recently Estonia, Latvia, Lithuania, Ukraine and Moldova, where he cultivated deep friendships with people from a variety of cultures and religions. He represented the best qualities of an American abroad.
He had an avid interest in real estate and purchased three lots in Lake County and planned to start building rental properties in 2020.
He was a religious person. Baptized, Confirmed and a member of First Presbyterian in Lancaster. Jonathan attended First Presbyterian Kelseyville during his time in California. Jonathan was awarded the highest degree of Master Mason in 2018 with the Lake County Masonic Lodge in California. He had a deep interest in the Brotherhood and was a leader at the Lodge.
Serving as General Manager for his family's business, Thorn Hill Vineyards in Napa Valley, CA, he was passionate about growing high-quality grapes for their wines and providing their customers with a memorable experience and taste. He acted as a welcoming host to visitors at Thorn Hill Vineyards in California.
Jonathan believed it was important to be active in his community and assist to make it a better place. He supported numerous community events and donated to the Lake County Friends of Mendocino College to raise scholarship funds for theatre students. Shakespeare was his favorite author. Jonathan was also passionate about beach handball and worked with the Lakeport Economic Development Advisory Committee to help develop a Beach Oasis at Westside Community Park. He also assisted in any way he could during the numerous fires including providing housing for the Cal fire helicopter pilots at the ranch during the 2017 fires.
Jonathan made Lake County his home, where he embraced the lifestyle from adventuring in the outdoors to supporting local businesses to promoting the region when he was on his travels. He was a true ambassador of Lake County.
Surviving in addition to his parents is a sister Rachael Lauren Thorn, of Lancaster, a maternal grandmother, Eloise Zacharias, of Lancaster, an aunt Susan Schwartz, an uncle Peter Zacharias, both of Lancaster, and an uncle James Thorn, of Coatesville. He was preceded in death by his paternal grandparents Dorothy Ivy and John Templeton Thorn.
Funeral Services will be held on Saturday, December 7th at 4PM at First Presbyterian Church, 140 E. Orange St. Lancaster, PA with Pastors Dan Snyder and Bob Larson officiating. The family will receive friends at the Charles F. Snyder, Jr. Funeral Home & Crematory 3110 Lititz Pk. Lititz, PA 17543 on Friday, December 6th from 4PM-7PM followed by Masonic Funeral Rites at 7PM. The family will also be receiving friends at the church one hour prior to the service on December 7th.
The interment will be on Sunday, December 8th at his mother's ancestral cemetery in Madley, PA which was founded in 1776 by Jonathan's ancestor Ludwick Lybarger on his mother's side who settled the area in 1736. Jonathan will be laid to rest next to his great-grandparents Anna and Everett Kight, his mother's grandparents. There will be a Memorial Service at Christ Lutheran Church of Madley 7139 Hyndman Rd. Buffalo Mills, PA 15534, which was founded by Jonathan's ancestors, the Lybargers, officiated by Pastor Ryan at 2PM on Sunday, December 8, 2019. Jonathan is a direct descendant of William Henry Thorn 1635 of Massachusetts on his father's side.
There will be a Memorial Service in California at the Lake County Masonic Lodge on Sunday, December 15 at 2PM followed by a reception.
Memorial contributions may be sent in Jonathan's memory to Hartley Masonic Lodge #199 375 North Main Street (PO BOX 266) Lakeport, CA 95453
Watch the tribute video
Leave a condolence on this Memorial Page
Condolences to the Family
December 06, 2019
Jack, Amy and Rachel,
Our hearts aches for you. We only met Jonathan a few times but thought he was such a polite and pleasant young man. Reading all that he had done in his life is amazing. Knowing the three of you over the last few years has been such a pleasure as your entire family is so warm and welcoming. We are praying for you. With much love, John and Beverly Hartenstine
December 05, 2019

Johnny, Amy and Rachel,


The news of Jonathan's passing came as an unbelievable shock to us. Our hearts broke for you and your family. We had only met Jonathan recently on a trip to California and we found him to be an outstanding young man with a fantastic attitude. He accepted us instantly as family and made us feel completely at home during our visit. We cannot express the sadness that rocked our family when we heard the tragic news. Our thoughts and prayers are with you and your family. The loss of a loved one is hard to accept and the grief can be the heaviest of burdens, but please know that Dorothea and I are here if you need us for anything at all. We are family and we love you very much.

Jack and Dorothea Ivey



December 04, 2019
Dear Rachel, Amy & Jack:
My thoughts and prayers are with you at this most difficult time.
Jay Barto
December 03, 2019
Oh, Jack and Amy. I am physically shaken at the news of Jonathan's tragedy. I saw the lovely family photo that Jack posted to Facebook a few days ago, but I somehow did not see the explanation associated with it. I cannot find the words to convey the Goldsby family's sympathies to the Thorns.
It was a privilege to watch Jonathan grow up before my eyes and I know that he made you so proud. He was a model young man. I, like countless others, hold fond memories of his most kind and generous soul.
Know that your extended family of friends and admirers at SCLA are with you during this time of grieving. May God's grace bring you peace.
With prayers and heartfelt sympathies,
Tom & family
December 03, 2019
Dear Amy, Jack, and Rachael,
My heart is broken. Your dear son and brother was a wonderful, loving person and the world is poorer for not having him present in it. He is gone from sight but not from your hearts. He's part of you and all he touched.Love,Rachel Gawn
December 03, 2019
Dear Amy Jack and Rachael,
We just heard the horrible news about your beautiful son. Words can't express our sorrow for a life cut way too short. You had an amazing son and brother who exemplified a life well lived. Our hearts ache for you and we pray for healing. He had a huge impact on all the lives he touched.
Much love, Lucy and Bob Longo
December 02, 2019

Dear Jack, Amy, and Rachel, We just recently heard the tragic news about Jonathan's passing and are so terribly sorry for your heartfelt loss. Please know that you are in our thoughts and prays as you grieve. Even though we did not meet Jonathan in person, the pride in your voices when speaking of him conveyed just how special of a person and wonderful son he was. We hope that you are able to find comfort in your vast memories as you keep him close in your hearts. Our deepest condolences,

Dennie, Pam, and Amber Smith
December 02, 2019
Dear Amy and family:
So sorry to hear of your tragic loss.
With deepest sympathy.
Ron and Dee Smith
December 02, 2019
The grief clear across California is testament to the impact Jonathan had on our west coast. We all will miss him dearly. He was our friend, our support, and most of all, for a few of us, he was our brother. Our thoughts and prayers are extended to his family and friends who are struggling with this loss. He will never be forgotten in our lodge.
The Members of Hartley Lodge #199
December 02, 2019
Jack, Amy and Rachel,
We just heard the news today and are so very saddened by it. It was so wonderful to be able to meet and spend time with Jonathan while we vacationed in Lake County. He made it so memorable for us. Reading this tribute makes me realize what a full life he lived and how very much he will me missed by so many. Jim and I want to express our deepest condolences to you.
Jim and Wendy Mauger
December 02, 2019
Amy, Jack, and Rachel, this is going to be like a stream of consciousness because my heart is so sad and it feels like Jon is still here, just outside the door, ready to burst in larger than life. I met Jonathan on his first day in Lake County when he gave a moving testimony in a Sunday evening worship service, charismatically describing the adventures he and Sequoia had experienced on the long drive from Pennsylvania. Jon was living in the campground then and we hooked them up with food from the church food pantry, I did their laundry, and we had them over for dinner often. Jon actually became like a member of the family during the time he was getting established in Lake County. We sarcastically called him "our eldest son" because he was like a goofy big brother to the kids. Eventually Jon moved to the house in our Riviera neighborhood which thrilled my kids to no end; their "Uncle Thorn" was so close by! Jon could talk to our boys like no one else could, completely non-judgmentally, open, loving. He listened. While your winery was getting prepped, Jon and my son Skyler would spend hours walking the land, finding arrowheads, talking, exploring. Skyler, 18 now, just last week had a tattoo done of an arrowhead alongside Jon's name because those were times with Jon he will always treasure. I can't count the number of times Jon and I stayed up til the wee hours talking about the most random things after everyone else had fallen asleep. When I was in seminary school we had so much fun discussing theology, plus Jon had an amazing memory of a plethora of scientific and especially historic facts. He loved to learn new things and he was constantly surprising us with new information. I always loved hearing about his escapades to third world countries. If Jon was coming over to the house it was a good day – even if (who am I kidding – when) he came 5 hours late. Jon always remembered the kids' birthdays, even sent gifts and cards – who does cards in this day and age?! Jon ate absolutely anything I cooked and often he was the one cooking – that famous pasta sauce with the Magic spices is his cuisine legacy in our family. This guy would pile gobs of food onto his plate and get so absorbed in conversation that he'd forget to eat it for hours, then finally scarf it up cold. The silly "Thorn on Film" videos we made in our living room brought everyone to tears laughing – they were hysterical parody interviews starring Thorn as a presidential candidate discussing his opinions on controversial subjects. One thing that is so special about Jon is that he just loved to see people succeed. It was almost as if he felt best when others could do their best. He absolutely loved the kids he coached at Kelseyville High School and he truly admired them for the hard work and dedication they showed. He was never stingy with compliments. He was generous and was also kind to everyone he met, and new people immediately became friends. When we moved to Rocklin, it was a long way away, but that didn't stop him from coming out for parties, kids' plays and sports events, and sometimes just to surprise us for a visit. Once, when I had to run a church service the next morning, we stayed up half the night watching a comedian do a bit on French fries and just had to make a run to McDonald's to get some. I'm so grateful for the times I happily traded some sleepy hours for more time with Jon. I will miss his silliness. I will miss the BIG presence coming in the door, huge smile, ready to tell us about his latest adventure and ready to hear the things we'd been up to. He cared about other people, sometimes too much, and we'd have to remind him not to let himself be taken advantage of. He saw the best in most every situation, even when he lived in the campground or with a difficult roommate. He was so forgiving too, couldn't hold a grudge. It was amazing how he could go, go, go all day and night and then get up responsibly the next morning to run a wine event. I will miss the times he would visit us and then take off, leaving his stuff around; one time he even forgot his suitcase in our parking lot and drove all the way home from Rocklin to Lake County. Another time he left behind just one dress shoe! I will miss those crazy long-sleeved shirts he always wore, even in the heat of summer. I'll miss his spontaneity. I'll miss his Amish Paradise karaoke and midnight talks and bike rides. Jon had a short life but it was filled with more energy, activity and adventure than most people who live to 100 will experience. He really lived! I'm so grateful that you sent him out to California and that we had the opportunity to know and love him. Mom and Dad, you raised a good kid and the world is better off with him having been here. If we can be of any help to you and to Rachel now or in the future, do not every hesitate to contact us.
Gale
December 01, 2019
Jack,Amy and Rachael Our prayers are with you and we will all remember Jonathan. I'm sorry we can't be there with you but we are there in spirit . God Bless
John and Patty Fitzgerald
December 01, 2019
Dear Amy, Jack and Rachel,
What a beautiful tribute to a life too short but well lived.There are no words during this time of such loss and sadness. We cannot express how sorry we are for all of you. Please know that we are holding you in our hearts while you grieve.
The world was better because of Johnathan and won't be the same without him. He was always kind and attentive and so proud of you all. We are sending you blessings and strength as you celebrate the wonderful young man that he was. His spirit wil live on and it is so heartwarming to read all of the stories that his friends shared about him. He was one of a kind with a huge heart. May the memories you have keep him close in your heart and soul.Take care of yourselves and each other.
With love and hugs,
The Georgakas Family
Cindy, Gregg, Garrett, Blair and Bryana
November 30, 2019
Dearest Rachel, Amy and Jack, l just recently heard the tragic news about Jonathan's passing; l am so terribly sorry for your profound loss. It is utterly heartbreaking to lose a child (and brother) – it feels out of order and simply "wrong" in every way. Knowing Jonathan only as a teenager, it was a delight to learn about his accomplishments and passions. I hope that you are able to find a measure of comfort in your precious memories and in knowing the love that others have for him as well.
My Deepest condolences,
Karen Watkins

November 29, 2019
I am a local customer; not an acquaintance, but wanted to express my condolences. From the obituary, Jonathon sounded like an amazing young man. I appreciate what you all do with your business & for the community.
Bill Parke
November 28, 2019
Jon was a great friend and teammate. He was a big morale boost for the cross-country team, making the whole team laugh, but also pushing himself to do well and run hard. I am so sad we lost him so early in his life and have so many good memories from our high school and college years. My sincere condolences to his family, may the memory of the joy with which he lived his life comfort you in this difficult time.
Kate Hoffer
November 28, 2019
A beautiful and loving tribute to Jonathan! He lived a wonderful and full life with the love and support of his family and friends. Sending lots of love to Amy, Jack & Rachael!
Elaine Garyantes
November 28, 2019
With tears in our eyes, we read about Jonathon this morning. Our heart goes out to you Amy, Jack, and Rachael. We pray that God sends you the strength and grace to deal with a loss this impossible to imagine. What an amazing young man! And what a heart-breaking loss. Know that our prayers, love, and thoughts are with you all.
Ann and Rudy DeLaurentis
November 28, 2019
We were so sorry to hear about Jonathan's death, John and Amy. We are praying for Jesus' peace, presence and care to surround you as you grapple with this great loss in your family.
Jay and Anne Roth
Visitation

Friday, December 06, 2019
4:00 PM - 7:00 PM
Charles F. Snyder Funeral Home & Crematory
3110 Lititz Pike
Lititz, PA 17543

Map and Directions

Visitation

Saturday, December 07, 2019
3:00 PM - 4:00 PM
First Presbyterian Church
140 E. Orange St.
Lancaster, PA

Map and Directions

Services

Saturday, December 07, 2019
4:00 PM
First Presbyterian Church
140 E. Orange St.
Lancaster, PA

Map and Directions