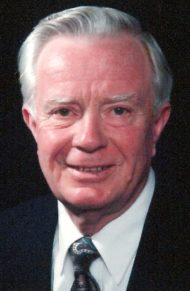 John T. "Jack" Adair, Jr., 87
September 01, 2019
John T. "Jack" Adair Jr., 87, of Lititz, passed away Sunday, September 1, 2019 at Luther Acres. Born in Philadelphia, PA he was the son of the late John T. Adair Sr., and Jennifer (Sivil) Adair. He was the husband of the late Dorothy Adair, the love of his life for sixty years.
Jack was an entrepreneur for most of his professional career and was one of the electronic technicians who was instrumental in the birth of the US space program.
He proudly served in the US Navy during the Korean War.
Jack was interested in woodworking, collecting old trains and cars.
He is survived by his son, David J. Adair husband of Cynthia (Eliason) Adair of Albuquerque, NM; daughter, Kathy A. Ravegum wife of Steven of New Holland, PA; seven grandchildren, Nicholas Moore of Albuquerque, NM, Turner John Adair of Redmond, WA, Rachael Lugo of Willow Street, PA, Jeffrey Benson of Glen Burnie, MD, Jennifer Knoche of Annville, PA, Justyana Sim of York Haven, PA, Kylie Lupold of Etters, PA and six great-grandchildren. He was preceded in death by his daughter, Susan Lupold and great-granddaughter, Juliet Benson.
Services will be private and held at a later date. In lieu of flowers, contributions in Jack's memory may be made to Masonic Village Hospice, 1 Masonic Dr, Elizabethtown, PA 17022. Arrangements entrusted to Charles F. Snyder Jr. Funeral Home & Crematory, 3110 Lititz Pike, Lititz, PA 17543. 717-560-5100.
Leave a condolence on this Memorial Page
Condolences to the Family
September 20, 2019
I am sincerely sorry to hear of Jack's passing. Jack was a dear friend when I worked at Luther Acres. We became very close since I was involved in Activities when he lived in Gardenia Court. I really strived to attempt to involve him, I dug deep in coversation with him to find out his interests. I found models for him to paint. We read books about travels, we listened to music. We mostly talked about the love of his life, his wife. I loved to make one on one visits with him to hear his lovely stories of goats, and cats living in the country. Some of the stories he told me shaped and changed my train of thought, forever. He is an inspiration and will never be forgotten. I think of him often, even now it brings me to tears. He will be dearly missed. All my love to your whole family, Sarah Hummer (formerly Luther Acres Activities Assistant 2018)
September 17, 2019
To the family. So sorry for the loss of Jack. We knew him as Kylie's pappy and Randy's father-in-law. He was a great guy loved by his family and friends. Rejoice in all the good things Jack accomplished in life and love. Rest in peace❤️🌺❤️🌺🙅🏼‍♂️🌠♥️
Norm and Nancy Deimler
September 04, 2019
Kathy I am so sorry for your loss my prayers go out to you and your family. I know how much your dad meant to you and everything you did for him. Please take care of yourself Dianne😔