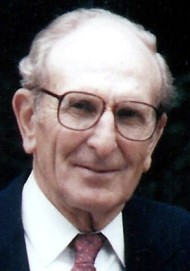 John Steiger Adams, 93
October 12, 2015
John Steiger Adams, aged 93, died peacefully on Monday, October 12, 2015, in Drumore, Southern Lancaster County PA, at his family's beloved country haven where he was happy to spend his retirement years. He was born September 25, 1922, in Lancaster, PA, the older son of the late Katharine Edgerley Clark and John Mehaffey Adams. His younger brother was the late William A. Adams II.
John graduated class of 1940 from JP McCaskey High School, Lancaster, and attended Franklin and Marshall College and MIT, Cambridge, MA, before enlisting in the U.S. Army during World War II. During those years, he was sent to Auburn University in Alabama for tactical engineering training. He was eventually deployed to the European Theatre based finally in Biarritz, France, where he was a member of a map making unit to facilitate bombing missions for the North Africa efforts. Although he insisted he never saw combat during his time "over there", his stories did include his harrowing times in London during the Blitz, as well as celebration in Paris on VE Day.
On January 2, 1944, he married the love of his life and high school sweetheart Loretta Mae Quade, with whom he shared more than 66 years of marriage until her death in 2010. Their life restarted after the war in Cambridge MA, where John completed his education with dual degrees in mechanical engineering and business.
Upon graduating in 1948, he started his career in Lancaster at Bearings Co. of America and later as Chief Engineer at Federal Mogul in Southfield Michigan as well as the research lab at Ann Arbor where his team was awarded many patents for the automotive industry. As his career drew to a close in the early 80's, he appreciated the chance to serve as board member and chair of the International Bearing Standards Commission. He and Loretta traveled to China and Eastern Europe among other places enjoying the camaraderie and experiences of that group.
As well as spending numerous cherished times with their extended family, John and Loretta also enjoyed good times together playing golf and bridge, as well as a general love for their life on their farm. John volunteered with the Lancaster County Conservancy, was co-auditor for Drumore Cemetery Association and was a life member of Meadia Heights Golf Club.
John's family left behind includes three children, Kathleen A., wife of Paul Weaver, New Canaan, CT, John S. "Kip" Adams, Jr. and partner Jennifer Carter, Drumore, PA, and Abigail M. Adams, wife of Jordan Miller, Elburn, IL; eight grandchildren, Amanda, wife of Jeff Meiler, Bryn Mawr, PA, Jocelyn, wife of Tom Jandovitz, Naples, FL, Bradley Weaver, husband of Kaisa, Norwalk, CT, Terra Adams, wife of Jim Rothenberg, Boston, MA, Jacob Adams, husband of Cassie, Phoenix, AZ, Jeremy Adams, husband of Jennifer, Chester Springs, PA, Elizabeth Kanaan, wife of Chris Kanaan, Royal Oak, MI and Benjamin Miller of Grand Rapids, MI; eleven great-grandchildren, Katharine, Victoria and Madeline Meiler, Kathleen, John, Nathaniel and Meredith Jandovitz, Zachary Weaver and Henry and Oliver Adams and Brody Adams; four nieces, Becky Reever of Millersville, PA, Vicky Kegel of Drumore, PA, Barbara Harick of Minneapolis, MN, and Beth Batista of Fort Worth, TX, and his faithful dog Obie.
A Visitation will take place on Wednesday, October 21, 2015, from 10 to 11 a.m., followed by the Funeral at 11 a.m., at Holy Trinity Lutheran Church, 31. S. Duke St., Lancaster, PA 17602. The Rev. Timothy A. Mentzer and Deacon Augustus G. Mauro will officiate. Interment with Military honors will take place in Drumore Friends Burial Ground. In lieu of flowers, please consider a donation to MISS Foundation, P.O. Box 9191, Austin, TX 78766 www.missfoundation.org or to Juvenile Diabetes Research Foundation, 26 Broadway, 14th Floor, New York, NY 10004 www.jdrf.org
Leave a condolence on this Memorial Page
Condolences to the Family
October 28, 2015
A truly remarkable man and gentleman. Love to the whole family. Diane Stoltz Halperin
October 20, 2015
Alice and Richard Bleacher would like to extend our deepest sympathy to the Adam's family. We only met John at limited family events. We remember his conversation and warm smile.
October 18, 2015
My thoughts are with your family as you celebrate a fabulous life well lived. I am very blessed to have known such a wonderful human being. I have many fond childhood memories memories in Bloomfield village where "Mr. Adams" Smiling face was. I can still hear his voice.
My deepest condolences,
Susie Winnie-Morrison
Oxford, Michigan
Visitation

Wednesday, October 21, 2015
10:00 AM - 11:00 AM
Holy Trinity Lutheran Church
31. S. Duke St.
Lancaster, PA

Map and Directions

Services

Wednesday, October 21, 2015
11:00 AM
Holy Trinity Lutheran Church
31. S. Duke St.
Lancaster, PA

Map and Directions