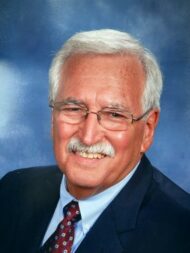 John Robert "Jack" Hirschler, 78
November 01, 2021
John Robert "Jack" Hirschler of Lancaster County passed away peacefully on Monday, November 1, 2021, after suffering with vascular dementia for five years. He was the loving husband of Maureen (Reenie) Hirschler until her death on March 30, 2011.
Born in Scranton, PA on June 4, 1943, he was the son of the late John and Jeanne Hirschler. He was a graduate of Holy Rosary High School, North Scranton where he was the class president, member of the basketball team and debate team. He also earned Eagle from the Boy Scouts while in high school.
After high school, Jack enlisted in the Air Force in 1962 through 1968. On June 26, 1965, he married his wife, Reenie. After his honorable discharge, he attended the University of Scranton and obtained his Business Administration degree while working at RCA at night. Jack continued to flourish at RCA, taking promotions moving his family from Scranton to Gurnee IL and eventually settling in Lancaster PA. He retired in 2004 as the sales manager for picture tube sales in South America. Jack didn't retire for too long as he was the office manager for his son-in-law's practice, Elizabethtown Family Health Center until 2016. He loved to travel, and South America was no exception. It was in Brazil where he gained lasting friendships.
Jack served as the Judge of Elections for East Lampeter for many years. He was a long member of St. John Neumann Church in Lancaster, and always enjoyed attending Mass. In his spare time, he enjoyed golfing, dancing, and driving his Triumph around Lancaster County roads. He also enjoyed spending time with his girlfriend of the past 6 years, Sandra Ridgway, who was a great support. Jack absolutely loved his grandchildren, and would make sure to attend all of their sporting events, plays, and activities.
Jack is survived by his son, Marc and his wife Annie (nee McKeon) Hirschler of Wayne, PA; his daughter Kristin and her husband, Doctor Patrick Gilhool of Elizabethtown, PA; and his seven grandchildren, Jack, Elizabeth, and Henry Hirschler, Wayne, PA; and, Gavin, Patrick, Matthew, and Daniel Gilhool, Elizabethtown, PA. He is also survived by his sister Helene Williams of Lake Wallenpaupack, PA; brother James Hirschler of Dickson City, PA; brother Robert Hirschler of Old Forge, PA; brother Paul Hirschler of Clarks Summit, PA; sister Linda Davailus of Scranton, PA; brother Thomas Hirschler of Haines City, FL; his sister-in-law, Anne "Bunny" Joyce of Moosic Lakes, PA; and many nieces, nephews, and cousins.
Jack is also survived by his Godchildren, Thomas Hirschler (brother), Haines City, FL; Jeanne Hirschler Sandy (niece), Scranton, PA; and Eric Williams (nephew), Wyoming, PA.
In addition to his wife and parents, Jack was preceded in death by his 2-year-old son, John "Jackie" Hirschler.
A Memorial Mass will be held at St. John Neumann Church at 601 E. Delp Road, Lancaster, PA, 17601 on Friday, November 5, 2021 at 11: 00 AM, with Father Dan Powell officiating. Friends will be received at Charles F. Snyder Funeral Home & Crematory at 414 King Street, Lancaster, PA 17602 on Thursday, November 4, 2021 from 6:00 – 8:00 PM, and at 10:00 AM at St. John Neumann Church. In lieu of flowers donations can be made to the Alzheimer's Association at 22 N Michigan Avenue, Floor 17, Chicago, IL 60601 (www.alz.org); or to the Children's Miracle Network at 205 West 700 South, Salt Lake City, UT 84101 (www.childrensmiraclenetworkhospitals.org)
Watch the tribute video
Leave a condolence on this Memorial Page
Condolences to the Family
November 07, 2021
Our heartfelt condolences to the Hirschler family from the Huesken family. My kids grew up next to Jack and Reenie, so we have a wealth of memories on which to hold. Jack was a tremendous neighbor, especially when we were both at home alone. We did not always agree, but that never got between us. But I do blame him for getting me involved as a poll worker! Moving a few years ago, I really had regrets about leaving great neighbors like Jack. We will all keep Jack alive with these wonderful memories, which can never be taken away. Again, my best wishes to his family. Gerry Huesken
November 05, 2021
My sincerest condolences are sent to Jack's family and Sandy on his passing. He was elected president of our graduating class at Holy Rosary High School in 1961, and we didn't know then, as seventeen year olds, that he would be the best person we could have chosen. As the years progressed, Jack took charge of our class reunions, making sure that we heard about them either by emails or phone calls. He was a true leader, and he had a remarkable life.
Rest In Peace, Jack! You will be missed!
Maureen Gallagher
November 04, 2021
With Deepest Sympathy for your loss. Jack was a wonderful man and cousin. I have so many great memories of times together during our teenage years. May a dawn filled with beautiful memories follow this sad time of darkness. So grateful for the times we had together. Thoughts , prayers and love to his family.
November 03, 2021
Please accept our sincerest sympathiesn. Your family and loved ones are joined by so many far reaching friends in mourning the loss of such a nice man. I knew Jack from Thomdon, Lancaster and he could always make us smile ! May he Rest In Peace
November 03, 2021
Jack was a super human being. I admired him, and I respected his guidance. I recall Jack telling me that the one and only time he was ejected from a customers office was when he traveled with me. I am sad to know of his passing. I was at Reene's funeral, but I am not able to attend Jack's. May he rest in eternal peace.
November 03, 2021
My deepest sympathy to the family and Sandy! Jack will be missed by all who knew him! Please know he has been in my prayers in recent months and my prayers will continue for him and the loved ones he left behind. Susan Williams Dunleavy Hoffman ❤️🙏
Visitation

Thursday, November 04, 2021
10:00 AM
St. John Neumann Catholic Church
601 E. Delp Rd.
Lancaster, PA 17601

Map and Directions

Visitation

Thursday, November 04, 2021
6:00 PM - 8:00 PM
Charles F. Snyder Funeral Home & Crematory
414 East King Street
Lancaster, PA 17602

Map and Directions

Services

Friday, November 05, 2021
11:00 AM
St. John Neumann Catholic Church
601 E. Delp Rd.
Lancaster, PA 17601

Map and Directions