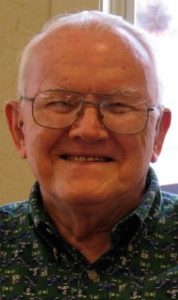 John R. Hess, 87
May 16, 2017
John R. Hess, 87, died Tuesday, May 16, 2017, surrounded by his loving family. He leaves his wife of 66 years, Daisy M. (Loose); his daughters, Linda, Carolyn and Dorothy; five grandchildren and five great-grandchildren. He was preceded in death by one grandchild.
Born in Lancaster County, the son of Harvey and Helen (Stauffer) Hess, John spent most of his life in the Bernville, PA area until 2004, when he and Daisy moved to the Luther Acres Retirement Community in Lititz.
John was a devout husband and father, and was a very active member of his church and local communities. He was the epitome of the self-made man, progressing over the years from work as a farmer to being a self-taught mechanic to ultimately running his own small-engine repair business, John's Mower Service. John brimmed with curiosity, particularly about anything mechanical, and was a natural builder and inventor. He was a life-long learner, and in his later years, enjoyed gardening, personal investing and working at his computer.
John brought incredible energy, hard work and a positive attitude to everything he did and the many lives he touched. He will be sorely missed by his family and his wide circle of friends.
A Memorial Service will be held on Saturday, May 27 at the Luther Acres Community Room, 250 St. Luke Ave, Lititz. Visitation is at 1:00 pm with the service starting at 2:00 pm. In lieu of flowers, contributions may be sent to Luthercare, Attn: Caring Fund, 600 E. Main St, Lititz, PA 17543.
Leave a condolence on this Memorial Page
Condolences to the Family
May 24, 2017
Hi Daisy,
We were so shocked to see John's obituary in the paper. We're so very saddened by his passing. Sandy and I often talked about looking you folks up, but it just never happened.

We sincerly hope that you and your family will be able to find peace in always remembering the good times that you shared during your time together.
with our deepest sympathy,
Sandy and George Martin
May 20, 2017
Very sad to hear John is gone. I really enjoyed him in life, being a brother in law. We did quite a few things together also He will be sorely missed. A great person, and although being self taught in some things, he did well. ,
Walter Loose
May 20, 2017
Dear Daisy and family. Know that you will find comfort with your family. John was an amazing man. 66 years. You have beautiful memories.
Helen Baker
May 19, 2017
Dear Daisy so often Faye and I think of you guys down there and wish we could visit sometime. We're sorry it didn't happen and sorry for you and the girls to lose a wonderful husband and father. God Bless. Luther & Faye Stoudt Muncy PA.
May 19, 2017
My sincere condolences go out to the loved ones of Mr Hess. During this very difficult time, may you find Peace in the hope to be reunited with your loved one again.
John 5: 28-29
Do not be amazed at this, for the hour is coming in which all those in the memorial tombs will hear his voice 29 and come out, those who did good things to a resurrection of life, and those who practiced vile things to a resurrection of judgment.

Keith
Visitation

Saturday, May 27, 2017
1:00 PM - 2:00 PM
Luther Acres Community Room
250 St. Luke Ave
Lititz, PA

Map and Directions

Services

Saturday, May 27, 2017
2:00 PM
Luther Acres Community Room
250 St. Luke Ave
Lititz, PA

Map and Directions