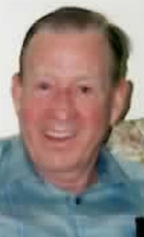 John Patrick Ward, 86
April 27, 2013
John Patrick Ward, 86, beloved husband of Barbara Strantz Ward, father of Patti Jo Brautigam and Timothy Patrick Ward and Pop to Kailey and Corey Brautigam, went to be with his Lord in Heaven on Saturday, April 27, 2013. John completed his journey home with the assistance of Hospice and Community Care in Mount Joy. It was a peaceful, comfortable passage surrounded by his loving family.
John recently resided at Oak Leaf Manor North located in Landisville, PA. He was displaced from his hometown of Point Pleasant Beach, NJ because of Hurricane Sandy in October 2012. Sixty years of marriage to his loving wife, Barbara, were celebrated on April 11, 2013.
John loved his church, family, friends, and his turtles. He was an inspiration in his help, caring and kindness to others.
A Mass of Christian Burial will be celebrated at Saint Leo The Great Catholic Church, 2427 Marietta Ave., Lancaster, on Thursday, May 2, 2013 at noon. A memorial service will be held in Point Pleasant Beach, NJ at Saint Peter's Roman Catholic Church at the convenience of the family. In lieu of flowers, please make contributions in John's memory to Hospice and Community Care, 685 Good Drive, Box 4125, Lancaster, PA 17604-4125.
John would have loved to be remembered in prayer by others. His spirit continues to inspire those who knew him. To send an online condolence, please visit SnyderFuneralHome.com. Charles F. Snyder Jr Funeral Home & Crematory 560-5100
Leave a condolence on this Memorial Page
Dearest Barbara, Tim & Patti Jo-
We are saddened by John's passing and want you to know we love you all and are holding you close in prayer-
LaVerne & Nancy
Aunt Barbara, Patti Jo, Tim,
You have my deepest heartfelt sympathy, and praying that God above will comfort you and ease the loss you bear.
Jan Strantz Lord and family
Aunt Barbara, Patti Jo, Tim – Uncle John was one of a kind – a true sweetheart who loved family, and appreciated his loved ones. Hard to imagine him gone, but I take comfort in the deep faith he had, and knowing he is where he knew his journey would send him. I'm thinking of you all at this sad time….Love – Linda, Danny and Matthew
Mrs Ward, Patti and Tim,
So sorry to hear of the passing of your Dad. I will fondly remember him as always willing to lend a hand, able to fix anything and always smiling. He will be missed by many. You are all in my thoughts and prayers.
Jane McNeill