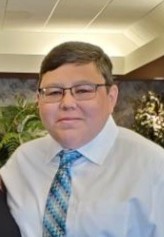 John Melvin Rodriguez, 52
September 18, 1969 - January 05, 2022
John Melvin Rodriguez, 52, passed away on Wednesday, January 5, 2022, at his Manheim residence. He was born September 18, 1969 in Lancaster, the son of Xavier and Patricia (Smith) Rodriguez of Ten Mile, TN.
John graduated from Penn Manor High School and worked at Service Merchandise until they closed. He lived in Ten Mile, TN for 20 years and worked as a manager for Patterson Appliances for 20 years. He moved back to Manheim two years ago and worked for Martin's Appliances, Brownstown until his death.
He loved to travel with friends and his sister. John was a Master Mason while in TN. His hobbies were photography and target practice so he could shoot competitively. John was a member of the NRA and he was member New Danville Mennonite Church.
In addition to his parents Xavier and Patricia, John is survived by his sister, Jennifer, wife of John Bailey, Manheim, his nephews Tanner and Tate Bailey, and several aunts and uncles.
A celebration of John's life will be held in June with details to follow. Burial will be private.
Leave a condolence on this Memorial Page
Condolences to the Family
January 13, 2022
My Condolences 💐!! John was a classmate back in high school. Such a shame to hear he has passed away! Glad it seemed peaceful and not painful!! John was ALWAYS a nice person and ready to help anyone who asked politely.. He will always be remembered as such a fine soul! 💐💐💐💐😎
January 10, 2022
So sorry for your loss.Worked with John at Pattersons.Loved him like a Brother.As I have said many times,He's one of the good ones!He will be so missed.
January 10, 2022
Sorry for your loss!
John 16:22 "So with you: Now is your time of grief, but I will see you again and you will rejoice, and no one will take away your joy."
January 09, 2022
So sorry for your loss and so young! Prayers for your family. I have many memories on the farm with you all. Hugs to you!
January 09, 2022
Very sorry to hear. I hired John at Service Merchandise in Lancaster and watched him grow into a fine young man. He had a good heart and always had a smile on his face. Gave 100% all the time. Deepest condolences to family and friends. Rest in Peace John, you will be missed.
January 08, 2022
So sorry and shocked to hear this sad news. He was such a super sweet and kind person he will be so missed. My thoughts and prayers for the family .This news just breaks my heart for you all. Karen and Keith Crabtree friends and neighbors Ten Mile Tennessee
January 07, 2022
We were so shocked and sadden to hear about John. He will be greatly missed by all that knew him and worked with him at Pattersons. Our thoughts and prayers are with you all.
Elaine, Steve, & Mark Patterson