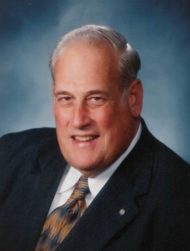 John M. Ganse III, 80
January 22, 1940 - February 02, 2020
John M. Ganse, III, 80, of West Hempfield Township, passed away on February 2, 2020, at the Lancaster General Hospital. Born in Lancaster, he was the son of the late John M. Ganse, Jr. and Catherine Mae (Wagner) Ganse.
A proud graduate of Lancaster Catholic High School, Class of 1958, John continued on as a loyal alumni. He served his country by joining the US Navy, and served during the Vietnam era. After being honorably discharged, he worked as a certified payroll professional at CNH Industrial, New Holland, from where he retired after 41 years of dedicated service.
John was very interested in both coin and stamp collecting. He was a past member of the Conestoga Country Club where he enjoyed golfing with friends. Always an active member of the community, he served as past President of the New Holland Jaycee's and was a member of the Navy Club of Lancaster County. He formerly served as President of the Susquehanna Valley Payroll Assoc. from 2001-2002. He was a devoted member of St. Leo the Great Catholic Church, where he enjoyed singing in the choir. Family was John's greatest love.
John is survived by two sisters: Rosemarie Bertz and her husband Perry of FL, and Patricia Ann Rohrer and her husband John of Millersville. Also surviving as two nieces, Cynthia Ann Gorham and her children Frankland and Jonathon, of VA, and Cheryl Lynn Seeger and her children Logan and Courtney, of West Chester. John will also be deeply missed by his beloved Schnauzer "Dolly". In addition to his parents, he was preceded in death by a nephew, Christopher Kaufhold.
The family would like to thank the staff at the Lancaster General Hospital Constant Care Unit for the compassionate treatment John received under their care.
A Mass of Christian Burial will take place at 12 Noon Friday February 7, 2020, at St. Leo the Great Catholic Church, 2427 Marietta Ave., Lancaster, PA 17601, with The Rev. Peter I Hahn as Celebrant. A viewing will be held from 11 AM to 12 PM at the church. Interment with Military Honors accorded will take place in Saint Joseph New Catholic Cemetery. In lieu of flowers, contributions in John's memory may be sent to Lancaster Catholic High School, 650 Juliette Avenue, Lancaster, PA. 17601.
Leave a condolence on this Memorial Page
Condolences to the Family
February 09, 2020
We are deeply saddened to hear of Jack's passing. He was a wonderful part of my childhood memories of vacationing in Maine and Wisconsin. My parents Barry and Priscilla Simmons also extend their prayers for the family and are smiling at their memories with him. Lori (Simmons) Rathman
February 06, 2020
Rosemarie and Patsy,
We are sad to part with John as a friend and next door neighbor for over 30 years, and sorry for you as we know you will miss him. He was kind and generous to our children. We will miss his cheerfulness and smile as well as the easy going conversations we have had these many years. John is a quality man and it won't be the same without him.
Mike and Geralyn Hull
February 05, 2020
Dear Rosemarie and Patsy,
we were very sad to hear of Jack's passing.
Our thoughts and prayers are with you. May God bless you and your families
love
Betty Jo and Ed
February 05, 2020
Hi everyone,
Jack was an important part of my Saturdays growing up. Mom would take Nana and I to Kate and Jack's house to visit in the afternoon. I remember the Christmas parties and how much fun they were with everyone celebrating the holiday. Telling stories is the best way to keep his memory alive. My best to all of you.
Love,
Ryan Stoner

February 05, 2020
I was very sorry to hear of John's death. I remember him well from our LCH days. My condolences to his family,
ron (coz) cannizzaro
February 05, 2020
We are extremely sorry about your loss! He was so such sweet/nice guy and always walked with a cute Dolly dog every day.
Our sweet neighbor,
Tim & Pansy Kelly
(3220 Maplecrest Terrace)
February 05, 2020
Dear Rosemarie and Patsy:
I was saddened to hear of Jacks' passing and want you both to know I am thinking of you and wish you strength and understanding as you go through the process of losing brother Jack.
Please make every effort not mourn but to CELEBRATE HIS LIFE! My thoughts and prayers are with you.
Love,
Terry Ganse
February 05, 2020
Pat, Rose and families:
We are very saddened to learn of Jack's passing. We experienced first hand how much he cherished his family. Our prayers and sincere condolences are being sent to all of you.
Best,
The Stoner Family (Greg, Diane, Gillian, Alex, & Riley)
February 05, 2020
Have a great after-life buddy. Good luck playing golf in the sky.
Karl Schoener
February 05, 2020
Sorry for your loss. Good man John Ganse. RIP John.
Harold Wright
February 04, 2020
Jack was a kind and wonderful man. I was blessed to have spent time with him over the past year during my Dad's illness. He was generous with his time and brought so much joy to my Dad with every visit. Going to breakfast with Jack and John was the highlight of any week for my Dad and I am so thankful for their kindness. Jack celebrated the 4th of July with us at my Dad's club picnic this past summer and it is a great memory of a special day that I will always remember. I'm comforted to think that my Dad was there to welcome Jack to his new home.
Karen Bakey
February 04, 2020
Dear family, Jack was such a great friend and cousin to my father! My Dad could not say enough about the really fun times he had with Jack and John (the marine,as dad would alway refer to the duo)!! Those times were so kind, thoughtful and loving!! Please except my deepest sympathy in your time of sadness. I'm pretty sure my dad was there waiting at the gates of heaven for Jack! God bless, you are all in my prayers. Much love, Mary (Carl Schweiger's daughter)
Visitation

Friday, February 07, 2020
11:00 AM - 12:00 PM
St. Leo the Great Catholic Church
2427 Marietta Avenue
Lancaster, PA 17601

Map and Directions

Services

Friday, February 07, 2020
12:00 PM
St. Leo the Great Catholic Church
2427 Marietta Avenue
Lancaster, PA 17601

Map and Directions