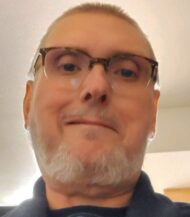 John L. Moody, 59
March 02, 2023
John L. Moody, 59, of Lititz passed away March 2, 2023. He was born to the late John R. Moody and Carolyn M. Moody in Lancaster.
John was the creator of Moody's Creations, a salad dressing company where he created his own salad dressings. He eventually sold this company to Beanie Chuck Wagon. John loved movies especially action and sci-fi movies. He was also a member of the optimist club.
John is survived by his sons Travis Moody of Wrightsville and Eric Moody of Lancaster, his siblings Bob Moody of Mt. Joy, Bill Moody of Columbia, and Ruth Nixon of NC.
A graveside service will take place March 7, 2023, at 11am at Mellinger Mennonite Cemetery, 1916 E Lincoln Hwy, Lancaster, PA 17602.
Leave a condolence on this Memorial Page
Condolences to the Family
March 12, 2023
I got to know John about 3 years ago as I was doing some feral cat trapping where he lived. He was kind enough to keep me posted on new cats who wandered not the property and he took great joy in befriending two young girls who lived in the same complex. He celebrated their birthdays and was sure to have Christmas gifts for them every year. Right after Christmas 2022 he was proud to tell me his one son gave him Sees' chocolates and offered me a piece. He was a kind man with a big heart. I'll miss seeing him sitting outside in the Spring.
Jessica
March 07, 2023
Sorry for your loss
Kenny Myers, Suzanne Myers and everyone at Kegel's Produce
March 06, 2023
This really saddens me. John and I had some fun times in school and he did have a contagious laugh. He will be sorely missed. Heaven gained a great one! Until we meet again John….
Bonnie (Keppley) Gerz
March 06, 2023
I'm so sorry to hear of John's passing. I really admired him for creating his own business at such a young age. Prayers being lifted for John & his family.
Lisa Rittenhouse Stoltzfus
March 06, 2023
Travis, many fond memories of your father coming to drop you off at our house where you spent some time before school started in the morning. And the times we would drop Derek off at your house for play time we never got out without talking to your Dad. Our thoughts and prayers are with you and your family at this time. Larry and Donna Ridinger
March 05, 2023
Hadn't seen John in years, but he was a good man. Walk with God, John.
Thomas D Dell
March 05, 2023
Much Sympathy to John's Son's, and Siblings. John's salad dressings were quite tasty, and John was a very likeable person.
Cathy Duffy
March 05, 2023
He sat behind me in homeroom. What a funny and sweet person. I'm so sorry for his family's loss. I never and will never forget his contagious giggle. We lost a good one
Deb Moore/Zeller
Services

Tuesday, March 07, 2023
11:00 AM
Mellinger Mennonite Cemetery
1916 E. Lincoln Hwy
Lancaster, PA 17602

Map and Directions