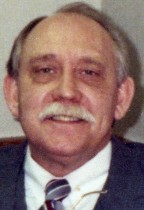 John K. Gabriel, 70
John K. Gabriel, 70, of Lancaster, PA passed away peacefully Saturday, November 24, 2012 at Lancaster General Hospital, following an illness of several years.
Born in Lancaster, he was the husband of Joan M. Gabriel of Lancaster, and the son of the late James K. Gabriel, Sr. and Grace (Brasch) Gabriel.
John was a graduate of Lancaster Catholic High School and attended Millersville University.
He was employed with the Fulton Financial Corporation for 48 years, retiring in 2006.
John loved spending time with his family, especially his granddaughter Lily. He enjoyed playing the guitar, and was a huge fan of the NY Times Newspaper and its daily crossword.
In addition to his wife of 40 years, he is survived by a son, Lewis Loren and his wife Diana DiPaolo-Loren of Boston; two sisters: Jeanneine, wife of Richard Otero of Virginia and Justine, wife of Dr. Joseph Rogevich of Lancaster; a brother, Jere Gabriel of North Carolina; a granddaughter, Lily Loren of Boston; and several nieces and nephews. He was preceded in death by a brother, James K. Gabriel, Jr.
All services will be private.
Please omit flowers. Memorial contributions in John's memory may be made to the Arthritis Foundation, 630 Janet Ave., Lancaster, PA 17601 or to the Lititz Library, 651 Kissel Hill Rd., Lititz, PA 17543. To place a condolence online, please visit SnyderFuneralHome.com. Charles F. Snyder, Jr. Funeral Home & Crematory 717-560-5100
Leave a condolence on this Memorial Page
I knew john from the time I was a child, he was a friend of my dad's and my brother, then I worked with him at fulton bank. I will miss his humor.
Nancy Beth Meier
905 Huckleberry Lane
Anderson, SC 29625
Dear Joan and family, Jim and I were very sad to read of John's death. We have many wonderful memories of our friendship with him (and you, of course). He and Jim shared a special relationship at Fulton Bank. I always enjoyed John's sense of humor and literary bent. We were honored to be in your wedding. I was pregnant with Elizabeth that summer, and now she is expecting a baby any day–time passes so quickly. I am sorry that our busy lives have kept us apart in more recent years. Please know that we are thinking of you and your family.
With deepest sympathy, Linda and Jim Campbell
Hi Joan-it was with a sense of real sadness that I read of John's death. He took an uncertain girl just out of high school under his wings at the Fulton Bank and showed her the ropes. That young girl was me. Yers later, John would work with my dad, Dick Garrett, VP of Fulton Bank, now deceased 21 years. I know by dad thought a lot of him too. I extend to you and your entire family my deepest sympathy. Pam (Garrett) Young
Joan and family – So sorry to hear of dear John's passing – love you and thinking of you,
Marian Walters