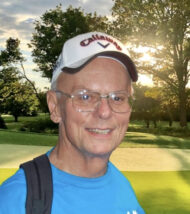 John "Jack" D. Reece, 81
November 12, 2021
Jack Reece, 81, of Lititz, PA passed away peacefully at home on Friday, November 12, 2021, surrounded by his loving family.
He was born in Ft. Wayne, Indiana to the late John R. and Valrie Reece. He was preceded in death by a sister Louanne Stoeckley, and a brother Henry Reece.
Jack was a graduate of Indiana University, Bloomington, Indiana. He worked in Human Resources and Engineering at Eli Lilly, RCA, and Lockheed Martin. He finished his career by developing his own consulting company – Jana Associates.
Jack enjoyed cheering on the Eagles and playing fantasy football with his family. He was an avid golfer. He coached softball for many years. Jack, along with his wife Nancy founded the Matthew 25 Thrift Shop in Lititz, PA. Giving back to his community was an important part of his life.
Jack is survived by his wife Nancy, whom he met at age 15. They were married for 60 years.
In addition to his wife he is survived by his three daughters Laura wife of Bruce Smeltz of Lancaster, PA, Ann wife of Tad Becchetti of London, United Kingdom, and Amy wife of Russell Hunter of Flagstaff, AZ., six grandchildren Abby Swynenberg, Matthew Smeltz, Emily Ransing, Mollybeth Reece, Micah Reece and Helen Becchetti, and two great grandchildren Payton and Decker Swynenberg.
Jack was loved dearly by his family. Time spent with family was what he treasured the most. He was loved by everyone he met and he will be greatly missed by so many.
Jack enrolled in Humanity Gifts Registry and is currently at Hershey Medical Center.
Instead of a funeral Jack requested a "Celebration of Life" where everyone can share stories. This will be scheduled at a future date. Please check this memorial website for updated information https://everloved.com/life-of/john-reece/.
Memorial donations in Jack's name may be made to the Matthew 25 Thrift Shop, 48 East Main St., Lititz, PA 17543 or via the Ever Loved memorial website.
Leave a condolence on this Memorial Page
Condolences to the Family
November 29, 2021
Nancy and family,Sorry to hear of Jack's passing. I have many fond memories of him and I working almost every Saturday at Matt25 for many years. We were such a good team!! It wasn't the same after him and Nancy retired. My prayers are with the family!
November 16, 2021
Dear Nancy and family,
So saddened to read of Jack's death. I send much love, prayers and hugs to you all. How blessed I was to serve at M25 for nine years and even more blessed to serve with Jack. Some of my fondest memories! His servant's heart and great sense of humor brightened the lives of many. May he rest in God's arms of peace. May you find comfort and hope in God's presence and promises and in knowing that there are so many friends enveloping you with love and prayer. Linda Hanus
November 15, 2021
Thoughts and prayers for you Aunt Nancy and my cousins Laura, Ann and Amy. May you each find strength and comfort in knowing he was loved by so many. I have such fond memories of the fun and laughs he brought anytime our families were all together so many years ago. I will always cherish these memories. Rest in peace Uncle Jack.
November 14, 2021
Remembering Jack. First time I met Jack he tried to blow up the back yard at your home in Marion. I still remember looking out your kitchen window as the grill exploded in a fireball. Always loved the stories told when you came to visit…..his version and your version of what really happened. He was special. Will be thinking of you and the girls.
November 14, 2021
Our sympathy to you, Nancy, and the family. It's been many years since we last saw Jack, but we remember him fondly.
Barbara and Andy DemyanekSarasota, FL