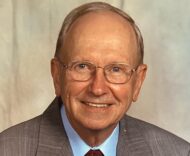 John J. Schubert, M.D., 90
July 27, 2022
Dr. John J. Schubert, 90, went home to the Lord on July 27th, 2022. John was the husband of Eileen (Merunka) with whom he shared 61 years of marriage. He was born the 5th child of the late Frederick and Mary (Dieckhaus) Schubert in Philadelphia, Pa. He is predeceased by his siblings Fred (Maria), Mary (Mike), Betty (Ed), and Rev. Gerard, OSFS. He is survived by his brother, Joe (Peggy) of Downingtown.
John dedicated much of his life to his medical career as a nephrologist. He attended LaSalle College and Jefferson Medical College. During his residency, John developed a unique interest in studying the complicated physiology of the kidney. After a fellowship at Penn, John worked at Philadelphia General Hospital, opening its first dialysis unit in 1970. John was a founding member of the Greater Delaware Valley Kidney Advisory Committee, an organization that truly pioneered the establishment of dialysis units and patient dialysis training throughout the Philadelphia area.
In 1972, John chose to bring his expertise to Lancaster General Hospital, opening the first kidney dialysis unit there, as well as taking on the education of family practice residents. John was a brilliant physician who loved to learn and think creatively about the intricacies of his patients' problems. In addition, he treated his patients as if they were family and dedicated much time and energy to the success of the Lancaster Area Kidney Foundation (LAKA). This foundation educates and supports patients with kidney disease.
In addition to medicine, John enjoyed fishing, tennis, skiing, traveling, and wood carving. He was a dedicated member of St. Mary's Catholic Church and volunteered there as a eucharistic minister, parish council member, decorator, diocesan tribunal advocate, and as a funeral choir member. After his retirement, John also volunteered for several years as a physician with the Water Street Rescue Mission.
In addition to his wife and brother, he is survived by his children: Greg (Anne Bradbury), Steve (Mary Peterson), Liz (Steve Woratyla), Joan (Hunter Johnson), Jerry, and Kate (Matt Wallin). He is also survived by 9 grandchildren.
John's family would like to thank the kind and vigilant staff of Wissler Run and Trout Run–at Mennonite Home Communities– who provided loving care during his final weeks.
Friends of John are invited to attend a viewing on Monday, Aug 1st from 6-8 pm at Charles Snyder Funeral Home (3110 Lititz Pike, near Neffsville). A mass of Christian burial will be held on Tuesday, Aug 2nd at 10:30 am at St Mary's Catholic Church at the corner of Prince and Vine Streets in Lancaster, PA. Family and friends will be received from 9:30 am until the start of mass.
In lieu of flowers, contributions can be made on John's behalf to either LAKA (lancasterkidney.com) or St. Mary's Church (stmaryslancaster.org).
To leave an online condolence, please visit Snyderfuneralhome.com
Watch the tribute video
Leave a condolence on this Memorial Page
Condolences to the Family
August 07, 2022
Dr Schubert seems like he was incredible person. I never met him but from what I can tell he was kind and hardworking with an infectious sense of humor and non-stop yearning for adventure. I wish him nothing but peace and I know he is looking down happily at the legacy he created and the family and friends that can keep his memory alive. Rest in peace.
August 02, 2022
Farewell Dr Schubert. Be on your way to your Heavenly home. Thank you for all you taught this IMCU nurse. Your calm demeanor and interest in mentoring was so appreciated. You and several others made an impact in this nurse's growth along the way. Thank you for being the physician you were and the difference you made in others lives.
Debra McClain RN BSN
August 01, 2022
We are long time, good friends of John's brother, Joe and his family. We had the pleasure of meeting John and his lovely wife Eileen during the occasional Schubert Family gatherings that we had the honor of attending. It was always a pleaure to talk to John with his very welcoming smile and the twinkle in his eye. He will be missed. Sam and Connie Piccione

July 31, 2022
Johhn J. Schubert, M.D. was one of Lancaster's finest clinicians. He had a superb Knowledge of medicine and knew how to convey his clinical acumen to our residents and the students who had the privilege to learn from him. He founded the renal dialysis program in Lancaster and it left its mark on helping to improve the quality and extend the life of so many lives. His compassion and understanding of human suffering was evident to the patients who came under his care. I am personally indebted to John for all that he did to elevate the training and education of our family practice residents . He will remembered with great fondness and admiration. What a wonderful legacy he left on the Lancaster community. My deepest sympathy goes out to Eileen and his entire family. He lived a good and worthy life. Nik Zervanos, M.D.
July 30, 2022
We were so sorry to see of Dr. John's passing and want to extend our sincerest sympathy to his family and friends. It was our great pleasure to have worked with him as case assessors for the Marriage Tribunal of the Diocese of Harrisburg. May his soul rest in peace and in the arms of Our Blessed Mother and her Divine Son, Jesus.
John and Nancy Straw
July 30, 2022
It was a privilege to work with Dr. Schubert. He was a kind & caring physician. Remember fondly as he made rounds taking time to not only review the chart, but spent time sharing with each and every patient. He also had this habit of using his pen as a q-tip. Condolences & prayers. Dr. Schubert is now singing with the heavenly choir.
July 30, 2022
As one of the many family practice residency graduates who had John Schubert's teaching & support over the years, I want to say how much I appreciated his contribution to Lancaster's medical care and with his most approachable manner & sytle.
July 30, 2022
I had the priviledge of working closely with John when I began my practice in surgery in 1979. He was totally dedicated to his patients and I quickly noticed what a gifted physician he was. I've told many fellow physicians in the years since that John was truly a giant in medicine and at the sametime was always modest and unassuming in his demeanor. He pioneered the specialty of nephrology in Lancaster and set the bar for what high quality medicine was all about. John carried a big stick but only used it on the tennis court where he was a great competitor and always a pleasure to be around.
My sincere condoloences to his Family and many friends.
July 30, 2022
OUR CONDOLENCES AND PRAYERS TO THE FAMILY. WE MAY BE RELATED. KARL F. AND JUDY SCHUBERT
Services

Tuesday, August 02, 2022
St Mary's Catholic Church
119 S Prince St
Lancaster, PA 17603

Map and Directions