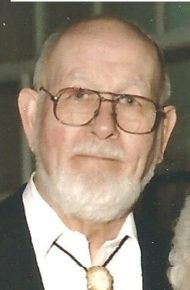 John G. Gates, II, 94
July 2, 1925 - May 29, 2020
John George Gates II, age 94, of Lancaster, passed away peacefully on Friday, May 29th, after a brief stay at Hospice and Community Care in Mount Joy. He was the son of the late John George Gates and Barbara Mineur Gates. John was the loving husband of the late Doris Thatcher Gates, who passed away on February 12, 2015, after 66 years of marriage.
Born in Lancaster, John was a World War II veteran who served in the 94th Infantry Division. After his military service he attended Franklin and Marshall College and enjoyed a long and successful career as a professional photographer and portrait artist. Throughout his life, John was active in the creative and performing arts and enjoyed playing tennis, traveling, and boating on the Susquehanna River with Doris and the family. John enjoyed sharing his strong singing voice in the First Presbyterian Church choir, and he was beloved for his sparkling sense of humor, creativity, outgoing nature, and generosity.
John is survived by his children, Cynthia L. Gates and John G. Gates III. He is also survived by five grandchildren, and six great grandchildren. He was predeceased by his daughter, Debra Sadler.
Services for John will be private. Interment will be at Millersville Mennonite Cemetery with Doris.
Leave a condolence on this Memorial Page
Condolences to the Family
June 11, 2020
My name is Phil Hartenstine. It was my pleasure to have known John many years as we regularly played tennis together. "Sparkling sense of humor"-absolutely! "Generosity"-yes, he invited me to his home to visit with himself and Doris or took me for a drive in his motor home. We had many interesting and fun conversations together. I'm sure you will miss him dearly.
Phillip Hartenstine
June 09, 2020
Jack-My sincere sympathy to you & your family. Your Dad was so talented & fun; I know he'll be missed.
Take care-Cindy LaMaster
June 08, 2020
Dear Family.
I was a close friend of Deb when Michelle was a little girl. Through her I met your lovely parents numerous times and always enjoyed them – especially your father's/grandfather's humor. I think John's portrait of Deb with Michelle as a baby is the most beautiful mother-baby picture I have ever seen. My most sincere condolences at his death.
Tanya H West
June 08, 2020
Condolences from the 94th Infantry Division Historical Society WW II.
John Clyburn, Secretary 908-781-1406
June 07, 2020
So sorry for the loss of your father. Reading his obituary, the 94th Infantry WWII veteran caught my eye in the paper this morning. My father passed away 5 years ago this month and was also a veteran of the 94th Infantry Division. They certainly were a special generation of brave men!
Diane Creme
June 07, 2020
So sorry for your loss Cindy. My heart goes out to you. Peace and prayers always. Love Brenda
June 07, 2020
Jack, I'm so sorry to hear of your fathers passing. We shared many good and interesting years at Armstrong and he was great to work with. My condolences to you and the family, may he Rest In Peace…MARK USCIAK
June 07, 2020
My heart goes out to Cindy and her family. John is and always will be one of a kind. We will miss him.
Connie Divido