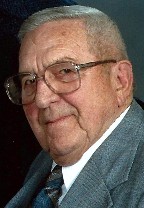 John E. Weaver, 89
March 25, 2013
John E. Weaver, age 89, a lifelong resident of Lancaster went to be with his Lord and Savior on March 25, 2013.
He was the son of the late Harry Weaver and Lillian Knosp Weaver Keller. He was predeceased by his wife, Thelma Weaver, the love and joy of his life. He was also predeceased by his sisters and brothers: Mildred, Rita, Henry, Leo, Robert, Vincent, Johnny, and Gregory.
He is survived by his five children: John Jr. (Esther) Weaver of Lima Peru; Pamela (James) Henderson of Vernon, NY; and Brenda, Patrick (Nanette), Ron (Kathe) Weaver of Lancaster; his grandchildren: Janine (Peter), Sharon (Michael), Philip (Michelle), Ronald II, Samantha, Robert Rowe, Madeline, and Melissa, and his three great-grandchildren: Amanda, Micah, and Jillian.
John graduated from McCaskey High School. A veteran, he served in the U. S. Marine Corps during World War II where he witnessed the raising of the flag at Mt. Surabachi. He also served during the Korean War. An avid sports enthusiasts he coached his sons baseball teams, attended every sporting event held at Lancaster Catholic High School, and taught his children to enjoy a fun Sunday afternoon watching sports on TV.
John was an active member of St. Anne Church in his younger days and St. Anthony of Padua Church later in life. He retired from IBEW Local 414 after working as an electrician for 42 years. During his retirement he spent countless hours 'fixing up' his children's homes and keeping the neighborhood clean. He will be remembered for his sense of humor, his willingness to lend a helping hand, and his devotion to his family.
John was a life member of Knights of Columbus Council 867, and a 4th Degree K of C Santa Maria Assembly, and 4th Degree Honor Guard. He was past president of LCHS and St. Anne's School Athletic Associations. He was a member of American Legion Post 34, VFW Gold Circle Member, a member of the Fighting 4th Marine Division, WWII, and the Lancaster County Marine Corps League.
A Mass of Christian Burial will be held at St. Anthony of Padua Church, 501 E. Orange St., Lancaster on Tuesday, April 2 at 11:00 am with Rev. Daniel Mitzel as Celebrant. A viewing will be held at Charles F. Snyder Funeral Home & Crematory, 414 E. King St., Lancaster, PA 17602 on Monday, April 1from 6:00 to 8:00pm. The Rosary will be recited at 7:45 PM following the 4th Degree K of C Ceremony. A second viewing will be held Tuesday morning from 9:30 until 10:30 AM at the funeral home. Final Farewell and Commendation will follow Mass at St. Mary's Catholic Cemetery. In lieu of flowers, contributions may be made in John's memory to LCHS Athletic Association, 650 Juliette Ave., Lancaster, PA 17601. To send an online condolence, visit www.SnyderFuneralHome.com. Charles F. Snyder Funeral Home & Crematory 717-393-9661
Leave a condolence on this Memorial Page
May God be with all of you and give you strength. Your dad is in a better place now with your mom and I am sure they are both smiling down on all of you.
God Bless and Love
Kathy Hedstrom
Our thoughts and prayers are with you and your loved ones at your time of loss.
Glenn and Mary Reaves
Mr. Weaver was dad to all of us kids of yesteryear! I will always remember His sense of humor and his deep kind voice. My deepest Condolences to my dear old friends Ron and Pat and the entire Weaver Family. May Our Lord Jesus Bless you all and keep you in His care. We love you.Steve and Pam Mellinger
My husband, Rudy worked with you Dad in 414 for many years. Rudy would tell me stories about their times together and always it was with respect and a big smile. Rudy died 9/1/2012 after a long and difficult illness. You have my sympathy and prayers. Special blessings for each of you.
From Florence Vaitl
Ron and Kathe, my prayers to you and your family on your loss. I remember your Dad's visits to the office Ron and what a gentlemen he was. Very sad to hear of his passing.
God Bless,
Mary Lou Kemp
Dear Pam and Pat,
We are sorry for your loss of your great dad. We will keep your family in our prayers.
Peace,
Mike and Mary Lynn Hobday DiPaolo
Our thoughts and prayers are with you all. We have peace in knowing that John is with his Lord!
Carol & Pete
What a terrific person! My first memory of Mr. Weaver was his handing me my St. Anne football uniform……and it sure seemed that he was at every Catholic High football game since. He will be missed.
Bruno S. Schmalhofer
John and Ron, I saw the obituary online while on vacation and could not get back for your Dad's service. I am sorry for your loss, but hopefully, John, you were able to get back home to share this time with the rest of your family. God bless you.
Steve Senkowski